Mythica
Lady of Twilight and the Soul Merchant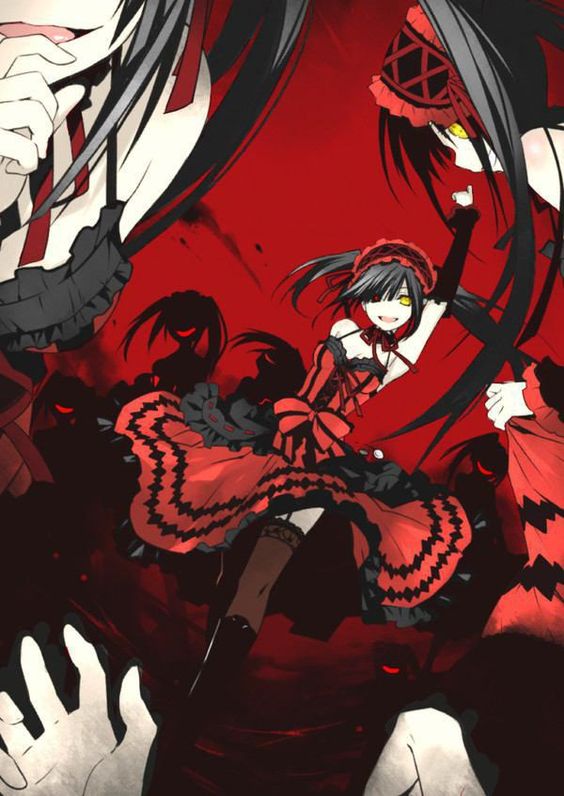 Base Stats

Name:
Mythica (Lady Twilight or Soul Merchant are also common aliases she goes by.)
Gender:
Female
Age:
Unknown
Birthday:
December 26
Sexuality:
Straight
Special Characteristics:
Her left eye depicts a golden clock
Personality
For years legends and stories about the golden eyed demon of unknown origin circulated the globe under hushed whispers. Tales of a lady that walked between the lines of Night and Day. A monster that lures you into its welcoming arms only to steal your soul away and torment you for eternity... Because of these tales Mythica was feared by many, yet known by few. She earned the titles "The Lady of Twilight" and "The Soul Merchant" through the legends and stories told by the mortals of Earthland.
Mythica is at first glance innocuous and plane. Her looks and attire unremarkable (besides from the golden clock eye) and how she behaves in public never suggesting that she is anything but a simple traveler. The truth is that Mythica consciously cultivates and projects in her image intentionally. Her harmless facade in fact hides a very dark entity of extreme power, devious intellect, and cruel intent.
Mythica is first and foremost a lady. She has impeccable manners, an affable demeanor, can be very friendly, easily approached, and is quite charming. While she uses these qualities to manipulate others to her own ends, their affability is not entirely an act as she will always act polite regardless of the circumstances. She has no problems moving about in normal society and interacting with the population at large partially to find her "marks" or "accomplices" but also because she genuinely enjoys watching the lives of others and events of the world unfold. In her words to a demon slayer she met in Talonia: "What I find fascinating are true tales of human lives". Mythica has a fondness for mortals and while she generally sees them as beneath her or primitive, loves interacting with them and even working with them.
Aside from her charming personality, Mythica also has standards and personal ethics. She believes that when one makes a deal they must keep it. She cannot abide blatant dishonesty and people who go back on their word. As she has said to others "I never cheat" nor does she ever lie. She also cannot stand people who are rude and will act viciously towards any who scorn her or rebukes her polite overtures. A notable example being when a vagrant interrupted her meeting with a contact, Mythica shoved a spoon into his eye while she had stopped time, killing the man when time restarted.
Despite her positive qualities and overall affability, Mythica is a being of extreme sadism, cruelty, manipulation and spite. She will always honor a pact but plays with the wording of the agreement to her own advantage and the pain of the deal maker. A scholar that studied her under her alias "Lady Twilight" stated that "She gives you what you ask for but not what you want" and that she's fond of riddles, wordgames, and misleading statements. Mythica will often follow the letter of an agreement as she interprets it but most certainly not the spirit in which it was meant. Mythica also greatly enjoys the pain and misery of the fates she inflicts on the unsuspecting fools she dupes. She lives for these contracts, and spends much of her time seeking out desperate mortals to manipulate and snare within her word games. She uses her facade to gain their trust and eventually she ends up helping them. However, in return Mythica always expects their help as well. Those that try and escape paying their debts to her often do not have happy endings.
In the end, Mythica is undoubtedly and completely insane. Despite her calming personality she is truly psychotic. Nothing gives her more pleasure than twisting the lives of those around her for her own cruel sense of entertainment. In the past, these instances would be more obvious as Mythica was fond of typical maniacal behavior. However, over time her personality changed to hide that side of her unless someone was truly able to push her over the edge.
And may God help the poor soul that does bear witness to Mythica's unrestrained insanity...
Likes
Mura Kensho:
Mythica's true love and the mortal she has an interest in more than any other.
History:
Mythica loves stories, and often considers herself a story teller. However, there is no greater story then the history of this world… And all the others.
Travel:
Mythica is always on the hunt for new and exciting people to meet, and quite possibly snare. As a result the time wizards often travels all around the world, leaving no stone unturned.
Dislikes
Being tricked:
Mythica is normally the one who does the manipulation and trickery… She's not a fan when the tables have been turned.
Unwarranted Rudeness:
Like most people, Mythica isn't fond of those who are rude without reason to her. This is a good way to get on her bad side.
Alcohol:
For unknown reasons Mythica can't seem to stomach any type of alcoholic beverage. A vile drink for mortals with boring lives as she calls it.
Motivations
Adding as many souls to her collection as possible:
Mythica is a soul merchant. She trades her help in exchange for the souls of others. Of course, it's never that obvious to those contracted with her, but Mythica loves to take hold of the very life essence of people's being. It's what satiates her hunger for misery, and it provides an interesting hobby to see what kind of souls she can snare.
Reminding the world of terror and misery:
Mythica knows that no matter how happy things may seem for any given person, all that happiness can turn to bitter ashe within an instant. It is the way of life. Happiness requires sacrifice, and Mythica is determined to remind as many people as she can of this factor. For you cannot know peace without the concept of chaos…
Destroying her curse:
Nobody knows this, but Mythica struggles with the effects of a curse every day. She was born with the blood of a long dead demon. A demon she can feel in her veins, forcing her to act like an animal under certain circumstances. She is motivated to find a weakness in this bloodline of hers, and exploit it under any means necessary.
Fears
Being consumed by her curse:
Mythica fears that if her hunger is not satiated, she will eventually resort to the animalistic urges of her bloodline and descend deeper into madness than even she's willing to go.
Dying before accomplishing her goals:
Death is something Mythica fears, even if it's not something she ever shows. She knows that if she dies too soon, this world will continue on and forget all the lessons she tried to teach it. She will not leave this realm until she's scarred it to the point that it will never forget.
Being exposed:
Much of Mythica's work relies heavily on the obscurity of her person. If she was ever exposed to the public eye it would make her life significantly harder.
General Appearance
Height:
5'5''
Weight:
125 lbs
Hair:
Black
Eyes:
One is red, the other is golden and depicts a clock. (Formerly both red)
Skin Tone:
Pale
Appearance:
Mythica has long, black hair usually tied in long twin tails. Her right eye is red tinted while her left eye appears as a gold, inorganic clock face. The battle dress Mythica wears is made out of orange and black frills, giving her the appearance of an elegant Gothic Lolita with uneven twintails. On her head, she usually wears a big crimson net bow to hold her hair. She also wears a crimson and black collar on her neck. When not in her battle dress, Mythica usually tends to wear either a white buttoned shirt with a black skirt and tights, or a black gothic loltila dress.
Mythica's normal appearance:
Mythica's True Appearance:
Guild:
Abyssal Fleet
Tattoo:
Red and in the middle of her back
Ascendant Ability:


Name: Gold Rush
Description:  Centuries ago, a tribe came to Fiore from a continent that is so incredibly far away that to this day those who ventured to find it have failed; the tribe members claimed to have come from a place called "Egypt". Wherever the tribe went, they prospered beyond belief; to each country and continent they went to, they rose to become the most powerful group of people there. Eventually, they were captured by all dark guilds at the time for their fortune and ability to prosper, and when the tribe refused to cooperate, they were all killed. Luckily, some were not captured, so your bloodline still lives on today. However, you must be wondering - "How did they do it?". Well, it's quite simple.

The tribe from Egypt, which were known as Egyptians, were cast away from their homeland by raiders with absolutely nothing. An Egyptian goddess, who was saddened by what could potentially happen to her people, cast a powerful spell over the tribe to make them the luckiest people on the planet (literally!). Because of this, the tribe was able to find a significant more amount of jewels, items to sell, and they were said to be so lucky that they could even cheat death and danger; of course, that wasn't the case when they were completely obliterated...

Ability: The user is given 3 passive abilities and 2 active abilities, though they can only ever choose one ability from the passive and active parts of this lineage. Whenever going on a job, the user must always pick from one of the following abilities:
* Increase your own jewel reward by 100%
* Find a custom weapon, item, or armor (rank depends on the difficulty of the job; you get to choose the type of item)
* Increase the jewel reward of you and ONE other participant of the job by 50%
The user's active ability are the following:
* The user is able to sacrifice their EXP gained from jobs for additional jewels
* The user's luck will become at its peak (as though you needed any more...) and will now have great things overall happen to them. This ranges from getting a simple kiss from that one special person, to having your opponent stumble, causing them to, even if narrowly, miss the direction they were sending their spell at.
Usage:  Lineage has three passive abilities and two active abilities; you MUST pick one of the passive abilities at the start of any job. The second active ability of this lineage can only be used once per thread, with a duration of 4 posts; again, you can only pick pick one of the two active abilities.

Whenever the second passive ability of this lineage is used, the rank of the weapon/item/armor is found at the following job ranks:
* D-Rank: Nothing
* C-Rank: Strong
* B-Rank: Strong+
* A-Rank: Strong+
* S-Rank: Legendary
* SS-Rank: Legendary+
* 10Y: Legendary+
* 100Y: Artifact

Whenever the first active ability of this lineage is used, the jewels gained for the amount of exp sacrificed is as the following:
* 25 EXP: 1,000 (D-Rank)
* 50 EXP: 2,500 (C-Rank)
* 250 EXP: 7,500 (B-Rank)
* 1,250 EXP: 17,000 (A-Rank)
* 6,250 EXP: 30,000 (S-Rank)
* 18,750 EXP: 45,000 (SS-Rank)
* 56,250 EXP: 70,000 (10Y-Rank)
* 168,750 EXP: 100,000 (100Y-Rank)
Last edited by Mythica on 2nd August 2021, 9:17 pm; edited 6 times in total