Username:
Lord Frederick
Secondary Magic Name:
Heavy Artillery Magic
Evidence of Accomplishment:
-
Description:
What was thought to be the Crawford family magic, that started with Harland Crawford a former member of the Magic Council before he was killed during Acnologia descent onto Era. Is actually a magic that belonged to somebody else first. The first user and refiner of the Heavy Artillery Magic, the on who taught Harland how to use it before he made his mark on the world with it.
Essentially, Heavy Artillery Magic can be seen as some sort of requip. A magic that allows mages to have acces to a multitude of weapons and armor, like Erza from Fairy Tail has acces to armor with special abilities. This also counts for the guns that Becca uses, she requips certain guns allowing her to fight close and even long range.
Heavy Artillery Magic grants the same purpose, only on a much grander scale. The ability to acces weapons of such destruction that guns and swords easily pale in comparison. It's a magic that allows the user to summon forth large cannons and barrage the opponents. Some for close range, and others from a very long distance. Though it is mostly focussed on cannons and artillery, meaning that it often lacks in the versatility other requips often have. Like those who use armor with certain abilities. It makes up for it in the raw destruction this magic is capable of. Think about a continuous barrage on an entire town, laying it to waste in a matter of moments.
Strengths:
- High defense capabilities
- Strong offensive capabilities
- Damage and impact are severe
Weaknesses:
- Restrict movement
- Most spells are ranged
- Not as versatile as other magics
Abilities:
-- maximum of two. Must relate to the magic. See magic rules for further rules on limits
S-Rank Signature Spell Name:Rank:
S
Duration:
4
Cooldown:
5
Type:
offensive
Description:
Without even doing any special gestures or moves, the user can summon up to six cannons that float along side him. Up from his shoulds into an unfinished arc bow above his head. He is free in how many cannons he summons, and can adjust the number for the entire duration of the spell itself. Each cannon can shoot indefinitly, however each cannon can only deal one A rank damage per post. Even if it is an continuos barrage.
Normally this spell is free of any magic cost, however the user has the ability to even control the location of these cannons as well. Having them fly around a target and blast them from all sides. However for this the D rank spell slot is sacrificed as an utility spell for the signature spell. And moving these cannons will take the casting cost from the D rank spell as well.
Range is 100 meter.
Strengths:
- Can fire each infinite times each post
- Deals massive desctruction on a smaller scale
Weaknesses:
- Moving them freely away from the caster costs mana
- D rank slot is used to utilitize this spell further
- Each cannon does a single A rank damage per post, even when fired more often.
S-Rank Spell Name:
A Savage Descent
Rank:
S
Duration:
10 posts
Cooldown:
15 posts
Type:
offensive
Description:
If you thought Harrigans or Harlands fortress of destruction was massive, then wait till you've seen Dahau's. Instead of a more futurstic looking array of arrtilery. Dahau's ultimate weapon is an entire castle with walls, buildings and other structures surrounding it. And most importantly filled with cannons that deal massive destruction on a target. Or to be more accurate an entire area.
The entire fortress can fire infinite times. However never deals more then 1 S rank hits per post, per target. Even though it's large and can even house people for the entire duration. It is fairly limited to the fact that it can't move. However despite that, it is quite an impressive feat.
Range is 150 meters.
Strengths:
- Deals massive damage
- A giant fortress
Weaknesses:
- Doesn't move
- Areas of impact are widespread, everyone can be caught in it.
- If it holds allies, it also mean it can hold enemies as well
- Its more for plot useage then an actual spell.
A-Rank Spell Name:Rank:
A
Duration:
5
Cooldown:
6
Type:
offensive
Description:
The user requips an armor that only exists out of several cannons that point in each direction. Or a direction he wants the cannons aiming at. And can fire them simultaneously or fire them as single shots one after another. Because he is covered in in the thick layers of cannons. He can't be easily hit by melee attacks or magic spell that cause physical damage. The only downside is that his movement is restricted to nothing. He can't move from his place, or turn around at all. Shoots up to an infinite times per post however never deals more then 50% of an A rank damage per post.
Strengths:
- High defense that protects him against physical damage
- Can fire simultaneously, or fast after another
Weaknesses:
- Really restricted movement, in fact it has none
- Since he can't move, it makes him an easier target
- Defense becomes less effective against higher ranks
B-Rank Spell Name:
King's Barrage
Rank:
B
Duration:
5 posts
Cooldown:
6 posts
Type:Description: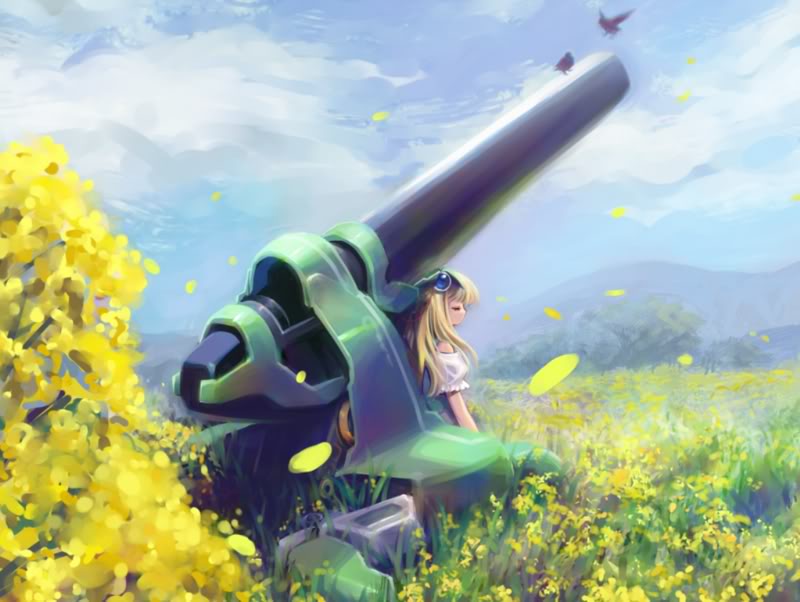 If you would visualize power then how would you do it. Damn right, a throne with on top of it. A giant cannon that can obliterate anyone, standing as large as an actual tank. A modern tank that is, not the small ones from the first world war. That can fire a single shot over a 65 meter distance. Dealing 1,5 B rank worth of damage.
Now that on itself isn't such a special feature, except the fact that this one can actually move. Hovering over the ground, making it even capable of close quarter combat. For how much that goes with a cannon that is designed for a bit more wide scale destruction.
Strengths:
- Can be used for long and close ranged combat
- Does damage on a wider scale
Weaknesses:
- The impacts of the cannon is a bit more widespreak, making close combat a double edged sword
- User sits on a throne, to control it mentally. However when not seated the cannon doesnt work and disperses. Resulting in an immediate cool down
- User can be an easy target.
C-Rank Spell Name:
Ammunition switch
Rank:
C
Duration:
instant
Cooldown:
3 posts
Type:
Utility
Description:
What is a good artillery without the ability to switch the type of ammunition. By using the C rank slot as an utility spell that can affect all the spells in Dahaus secondary arsenal, Dahau has the ability to deal different types of additional conditions and damages to his target.
For this Dahau's has two other types of ammunition to fire besides the normal magical barrages he does:
Fire Barrage
It changes the contents of the magical shells being fired into those that can set a fiery ablaze accross the entire battlefield. Big downside is, the fire can easily be eaten by slayers. The impact is lesser then the normal shells, but has a widespread fire.
Laser
Instead of the normal ammo, Dahau starts using white lasers that instead of exploding on impact, is shot straightforwards, and can penetrate through walls, targets and everything that is behind it. Down side to this spell is, that it can't be used by 'A Savage Descent' and that lasers are an form of energy. Which means it can be eaten by white slayers
Strengths:
- Additional ammo choices with other effects besides the normal shells
Weaknesses:
- Each ammo type has it's own downsides
- When changed the spell needs to be cast again to change it back to normal or a different ammo type
D-Rank Spell Name:
Utility
Rank:
D
Duration:
The remainder of the signature spell
Cooldown:
5 posts
Type:
Utility
Description:
Activating this spell allows for Dahau to move the cannons around freely.
Strengths:
- Utilizes the Signature spell some more
Weaknesses:
- Only affects the Signature spell
- Costs mana to utlitize the signature spell more