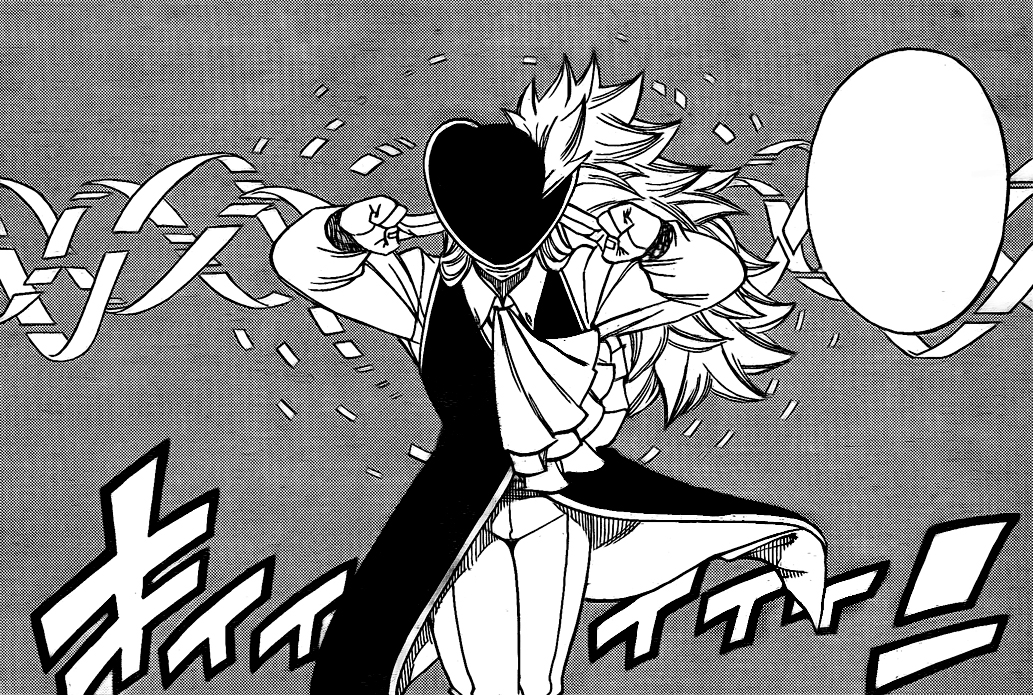 Magic
Primary Magic:
Memory-Make
Secondary Magic:
N/A
Caster or Holder:
Caster, Lost/Ancient (Prevalent Benefit - 10% less MP to use this magic)
Description:
To suit Yuvon's visions and aspirations best, he cared not to choose a very limited type of magic. No, during his early life, he picked up what might have been the perfect magic for one who wishes to unveil the secrets of all magic - none other than a Caster Magic and a Molding Magic above Molding Magic, Memory-Make. Memory-Make uses the user's memories to mold spells that he has experienced in his life, in which he is capable of using so many different spells that the magic makes him seem almost omniscient. It is, indeed, a powerful, Ancient Magic, but along with its distinctive drawbacks that characterize any powerful magic, this magic sure gives Yuvon a lot of powers and abilities in the long run; first and foremost can he copy other wizards' spells just by observing them from a distance or close by, by vision or by physical contact, and he develops and mashes spells into fancy techniques that affect all types of magic as he learns more and more during his lifetime. Interestingly, the source of his magic power comes from his memories, so one must be able to know and store a lot of information as well as be able to handle the strains of such a magic to be the 'onmiscient' one.
Strengths:


Essentially, Yuvon can utilize all types of magic - from Lost Magic (just without the Lost perks) to regular wizardry.

It's very effective against elemental magic as they are often the easiest ones to be remembered.

By copying spells, he can utilize all the affinities and their counterparts to their fullest.

Weaknesses:


He can't copy too many spells at once, so 'spamming' spells would be effective against such a wizard.

His spells will all have the same weaknesses as they had with their original creators.

This magic focuses a lot on copying, so little space for 'unique' inventions.

He can only copy spells of his own rank and below.

Lineage:
Victor's Descent:
Description:
There once was a cannibal that used forbidden blood magic to slay and devour his victims. After many years of eating human flesh and drinking their blood through magic, it corrupted him. He could no longer live without it and needed the blood to stay refreshed and focused. When hunting new prey, Victor used his Blood Vision to track down his victims. His offspring had the same corruption in their blood, and they could use the Blood Vision. However, they did not grow the same hunger, unless they started to feed on humans.
Ability:
The user can see all enemies within 100 meters in their field of view, regardless of what might be impeding their vision. By tasting someone, directly or indirectly (Licking something they touched / blood drips on the ground,  ect.) they become persistently aware of the direction that person or creature is so long as they're flesh and blood.
Usage:
Passive toggle on/off.  
Unique Abilities:


Memorized! "Remember! Truly wise words!": This is the signature ability of this magic; Yuvon can copy one spell of his rank or lower that is used by his opponents/allies per post (player character spells must only be copied with permission from the players).


Limitbreaker! "True magic has no bounds!": With ancient knowledge about the core and essence of magic power, Yuvon has the ability to bring forth a wizard's true power in the blink of an eye! To do that, he must've got contact with the target at least once in the thread, either through his body or through his magic - weapons and items not included in that. However, when ready for activation, a seal appears on the marked area, in which what appears like white treads of hieroglyphs begin to envelope the target's body (WARNING: similarity to tentacle fanservice may occur if used on well-endowed boys and girls, attempt at own risk). When the treads have covered the entire body, they will begin to light up and grant the target these abilities for 5 turns:

- 25% 'mana discount' on any spell used during this UA.
- 25% extra spell damage.

However, with all of these comes a cost; for poor Yuvon, his spells will all have a 20% decreased effect output and cost 10% more mana for as long as he is using this active.


No, You "I'm three nerds now!": In the beginning of each battle, max three clones of Yuvon are spread out with character-rank physical speed in an area of max 50 meters diameter. Yuvon can use them for decoy; they move in the same speed as him, and each clone takes only 1x character-rank spell to take down. They can only use spells other than those of the character's rank (C-rank clone can only use D-rank spells, A-rank clone can only use D to B-rank spells etc.) and to perform spells, they share the same manapool inside the original.


Tentacles of Apocrypha "… I-I don't have any wise words about this one, it's just plain perversion.": Basically, this ability is a passive one; a dark-greenish aura surrounds Yuvon all the time. This aura is directly connected to the other plane where his library is, and from there, tentacles can emerge and aid him; they deal 50% extra user-ranked melee damage and can reach as far as 40 meters with the user's normal speed + D-C Rank speed boost. They have user-ranked duration, though, and when brought down, they'll leave Yuvon vulnerable and 25% more fragile to attacks for 5 posts.

Advanced Spells:

Name:

Memory-Make: Leech

Rank:

D+

Type:

Single-Target

Range:

60 meters

Speed:

60 m/s

Duration:

3 posts

Description:

A tentacle-looking leech erupts from Yuvon's body - either through his arms, legs, stomach, head, anywhere on him - and latches onto whatever target he aims at. The leech will then proceed to absorb mana from its target; 60% of a D-Rank Single-Target Spell Damage in MP per post will be sent to Yuvon or to another ally, until the leech dies and falls off.

Strengths:



It's quite sweet to steal someone else's mana like this.


Weaknesses:



A D-Rank Spell is enough to kill this leech…

It does no damage to the target's health.


----------------------------------------------------------------------------------

Name:

Memory-Make: Dimensional Exchange

Rank:

C+

Type:

Area of Effect

Range:

90 meters

Speed:

45 m/s

Duration:

5 posts

Description:

A mirror dimension spreads out from Yuvon's body and covers everything within the radius. Those that are caught under the mirror-like area are susceptible to Yuvon's ability to change their position from their current one to another via teleportation - just within the same radius at the same speed as this spell.

Strengths:



Very convenient to move people around like a game of chess.


Weaknesses:



The spell highly depends on the actions of those who are caught under it; Yuvon can only use it efficiently if changing someone's position within the radius guarantees the wished effect - for instance if the opponent is charging a spell at another person etc.

He can only switch places with wizards at max one rank higher than this spell (including himself) and spells with the same rank as this one or lower.

Signature Spells:

Name:

Philosopher's Stone

Rank:

D

Type:

Multi-Target

Damage:

30 HP

Range:

45 meters

Speed:

30 m/s

Duration:

2 posts

Description:

Clenching a fist, Yuvon summons a small orb in his palm; pitch-black in color, this stone is controlled telekinetically by Yuvon himself, granting him the ability to charge it towards the enemies and even change course.

Strengths:



It's a fast and versatile spell that comes in handy in many occasions.


Weaknesses:



It's a small orb, so it's fairly easy to evade it if one's eyes are sharply targeting it.

Due to its size, the opponent also has a chance to trap it; that is also easy given its size, strength and magic rank.


----------------------------------------------------------------------------------

Name:

Restoration

Rank:

Character-Rank (C)

Type:

AoE

Range:

60 meters

Speed:

30 m/s

Duration:

Instant

Description:

This spell releases a sort of vacuum around Yuvon's body that he can stretch and resize at will with at max the sizes and speeds mentioned above; this spell's purpose is to absorb any upcoming spells of his own rank or below from either opponent or ally and restore the amount of mana used to channel such spell for Yuvon.

Strengths: Weaknesses:



Higher-ranked spells can't be absorbed by Yuvon; they'll deal full damage to him if he tries.

He can only absorb up to two spells of his own rank at the same time (as in the duration of this spell).

D-Rank Spells:

Subspace Collapse:

Name:

Memory-Make: Subspace Collapse

Rank:

D

Type:

Multi-Target

Range:

45 meters

Speed:

30 m/s

Duration:

3 posts

Description:

Yuvon opens a small portal in front of him that can be connected to multiple other portals that spread out from the original one. Each of these portals release what is sent into the original one; if Yuvon was to punch into the first portal, then all the others would release his punch even if being several meters away. The portal can also channel D-Ranked Spells and other items (the items won't multiply if sent through, though…)

Strengths:



It's a nice way to target more opponents at once without changing positions.


Weaknesses:



The portal is dependent on the object's power to be useful.

Higher-Ranked spells can't be sent through, sadly…


Twin Dragon Plague:

Name:

Memory-Make: Twin Dragon Plague

Rank:

D

Type:

Multi-Target

Range:

30 meters

Speed:

15 m/s

Duration:

Instant

Description:

Releasing two to six red, auric dragons out from Yuvon's palm, these beasts will begin to circulate around a purple orb that one of them wields. Whilst doing so, the density of the air increases, blitzing light explodes and a chilling sound covers the area around them, immobilizing whoever is caught within the radius of the attack by attacking their sensual system.

Strengths:



This spell aligns to Yuvon's own alignment, making it possible for allies to move freely during the spell's emergence.


Weaknesses:



It doesn't deal any damage. If Yuvon doesn't do anything within the duration, then it's practically just a pause in combat.

There are ways to counter this spell if the opponent is able to cut off two of the three senses that this spell affects; hearing, seeing and feeling. This works better for higher-ranked wizards.


Caine's Razor:

Name:

Memory-Make: Caine's Razor

Rank:

D

Type:

Single-Target

Damage:

40 HP

Range:

60 meters

Speed:

60 m/s

Duration:

3 posts

Description:

Yuvon channels magic through one of his hands, causing a dark-red and black aura to envelop it entirely. Like this, he can jab and slash his hand like a blade, every charge of attack with intense speed and bloodlust.

Strengths:



It's swift and easy to use.


Weaknesses:



It's not very devastating, since it's focused around his palm.

Any damage dealt to Yuvon whilst having this spell equipped cancels it.


Preluding Ray:

Name:

Memory-Make: Preluding Ray

Rank:

D

Type:

Single-Target

Damage:

40 HP

Range:

60 meters

Speed:

60 m/s

Duration:

Instant

Description:

By pointing at the target with a finger, Yuvon shoots out a straight beam of light that shines in all colors, quickly darting towards its goal.

Strengths:



It's a very neat and swift long-range spell that can be cast under a lot of circumstances.


Weaknesses:



It's very thin, so it's quite easy to dodge.

The beam is made of light, so other Light Wizards take only half damage from it.

C-Rank Spells:

Seeker:

Name:

Memory-Make: Seeker

Rank:

C

Type:

Normal Summon

Damage:

12 HP

Requip/Summon HP:

100 HP

Speed:

30 mph

Duration:

5 posts

Description: Strengths:



Two versus one is always best.


Weaknesses:



It's a minor summon compared to the usual summoning magic that exists. Because that it isn't Yuvon's main field, his summons lack the full potential that they could have if performed by a true summoner.

They're susceptible to Water Magic due to their acidic bodies, and therefore they take double damage from any type of Water Spell.


Active:

Name: Sonic Roar
Rank: C
Type: Single-Target
Damage: 60 HP
Range: 120 meters
Speed: 120 m/s
Description: When the summon roars, a greenish, auric wave emerges from its mouth and charges towards the target.

Passive:

Name:Acidic Body
Description: Their bodies contain acid right under their skin, so whenever a target hits them, the acid emerges and cuts down 50% of the target's damage power once (doesn't work against spells).

Explosion:

Name:

Memory-Make: Explosion

Rank:

C

Type:

Area of Effect

Damage:

30 HP

Range:

60 meters

Speed:

30 m/s

Duration:

Instant

Description:

Simply put, light surrounds Yuvon's body in a brief moment before a huge wave erupts from him in form of a classic explosion that hurls in every direction.

Strengths:

(List all the positive aspects of the spell Like above, list all of the strengths of the spell. These strengths much represent your spell, and not the over-all strength of the magic.)



It's a good spell to clear some space from him.


Weaknesses:



Metal Wizards take half damage from this spell.

It covers Yuvon's field of vision for a moment, making it difficult for him to track down people's positions (which can result in hurting the wrong people).


Naraka's Pot:

Name:

Memory-Make: Naraka's Pot

Rank:

C

Type:

Healing

Healing Rate:

100 HP per post for player/pet, 50 HP per post for weapon/armor

Range:

90 meters

Speed:

65 m/s

Duration:

3 posts

Description:

Yuvon spawns a giant, 10x10 meter in width and length plus 4 meter in height POT - charcoal black and fuming with a green, warm substance. Upon dipping yourself into the pot, it immediately begins to heal the target even if they're completely out of condition or even near-death.

Strengths:



Delicious healing pot for Yuvon's allies when they need a quick dip.


Weaknesses:



The pot can actually be broken by the opponent if dealing with 2x C-Rank Multi-Target Spell Damage or more.

The pot ignores the wished target's own healing powers for the duration that they're in it.

Last edited by Yuvon on 16th October 2018, 1:57 am; edited 8 times in total