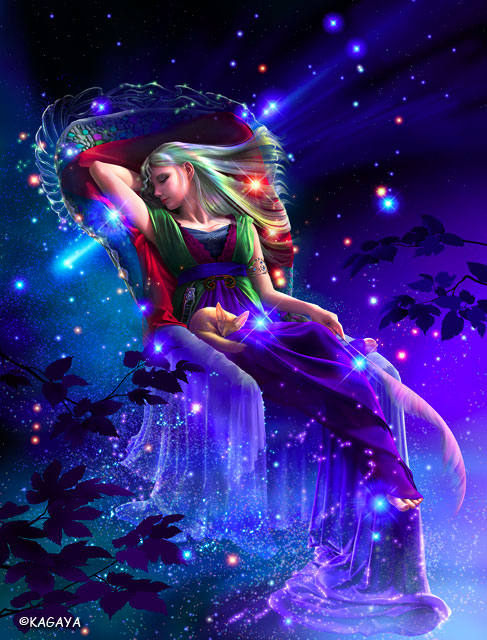 Image Source: Cassopeia by Kagaya
Lineage Name:
Gods of the Celestial Spirit Realm
Wielder:
Odhran Aegisbane
Purchase Proof:
https://www.fairytail-rp.com/t35419p625-the-trading-hub#387085
Description
Within the Queendom of Seven, there lived a family that had particularly strong ties with the Celestial Spirit Realm. While Seven as a whole had a thorough connection with nature, this family's reach extended beyond Earthland, and even beyond the mortal realm itself. Matriarchs and patriarchs, heirs and second sons, many members of the family were talented Celestial Spirit Mages, and they always had one particular rule that the family possessed: Never be unkind to a Celestial Spirit. The family rose to fortune off of their talent with Celestial Spirits, and the Celestial Spirit King saw fit to grant the forebears of the family with a boon.
The nature of this family was, fittingly enough, unnatural for some members of Queen's Court. They saw the Celestial Spirit Realm as a place that could invade the fabric of their own nature, and sought to destroy this family. A small civil war broke out amongst the people, and the family was slain, and many of their keys were scattered. However, in recent times, a member of this family was found living, and he returned to the world of the Celestial Spirits, with the King granting that boon once more. These members opted to alter the boon that their sponsor had given. Rather than their Spirits gain more power, they merely wished for more Spirits. The King, sensing this humility, granted them the ability to not only have more Spirits bound to Silver Keys and Unkown Keys, but also be allowed to summon more Spirits simultaneously and granted them higher power.
Within the realm of the Celestial Spirits, there are three ranks: the ranks of Silver, the ranks of the Zodiac, and those that merely float in the ether: The Unknown Keys. Their existence is mysterious and fabled, yet they all contain great power. It was often said that, due to their unstable nature, no more than two could be wielded by a single keybearer. This family wished for their boon to be one that many thought impossible: wielding more of these unstable Spirits. The King, content with the family's years and generations of service, granted this boon, gifting members who share a high enough concentration of this blood to bear more of these keys.
Abilities:
•
Friends in High Places:
Wielders of this lineage may travel to the Celestial Spirit Realm with little effects to themselves. This is purely plot-based, and cannot be used for such things as teleportation or dodging attacks. (+0 effects)
•
Master of the Unknown Keys:
Wielders of this lineage are granted with a high affinity for Unknown Summoning Keys, allowing them to bring an additional Unknown-Ranked Key into a thread. (+1 effect)
•
Silver Heart:
Wielders of this lineage may obtain an two additional Silver Celestial Key / Grande Summons for the "Celestial Spirit Magic: God of the Celestial Spirit Realm Form" magic. These can be used to add into any rank, removing the cap of one of this type in ranks B-S to change the cap to three. (i.e. The summoner can have three Silver Celestial Spirit Keys in S Rank, as well as one in B and A, but cannot have five Silver Keys in S-Rank). (+3 effects)
•
General of Those From the Other Worlds:
Wielders of this lineage can have one more active summon. (+1 effect)
•
A Tribute to the Heavens:
Wielders of this lineage gain 100% more Jewels from jobs. (+1 effect)
•
Spiritual Zealotry:
Summons brought forth by wielders of this lineage have 40% more spell damage and physical damage, each increasing by 5% per rank up to S (+2 effects)
•
Cassiopeia's Boon:
Long has the Aegisbane family been friends with not only the King of the Celestial Spirit Realm, but the entirety of the royal family of the Celestial Realm has found themselves bearing the bearers of the Lineage in their good graces. As a result, the youngest daughter of the King, Cassiopeia, Princess of the Stars, has made herself available for use by those bearing this lineage. This effect grants an extra H+ spell slot, using the Crystal Key from the Solitary Summoning effect from the "Celestial Spirit Magic: God of the Celestial Spirit Realm Form" magic, allowing that key to be used even if there is a Zodiac Key present within the magic. However, Cassiopeia finds herself much too proud a woman to simply bide by the powers of most Spirits, requiring the MP Cost of an H+ Spell in order to be summoned, unlike most summons that do not require MP to summon. This spell is still required to be approved within magic approval. (+3 Effects, -2 drawbacks, 1 effect)
See "Extra Details" below
•
A Gift from a King to a God:
Wielders of this lineage have an additional Advanced Spell Slot that ranks with them up to H+ in the "Celestial Spirit Magic: God of the Celestial Spirit Realm Form" magic. (+1 effect)
Extra details:

The effect of "Cassiopeia's Boon" is based off of the effect "Dark Serpent" in the lineage

Summoner of Divinities

. As this effect is based off of this one, I have acquired permission from the lineage's creator, Samira Nassar, via Discord, as seen below
Last edited by Odhran Aegisbane on 14th January 2021, 2:58 pm; edited 12 times in total