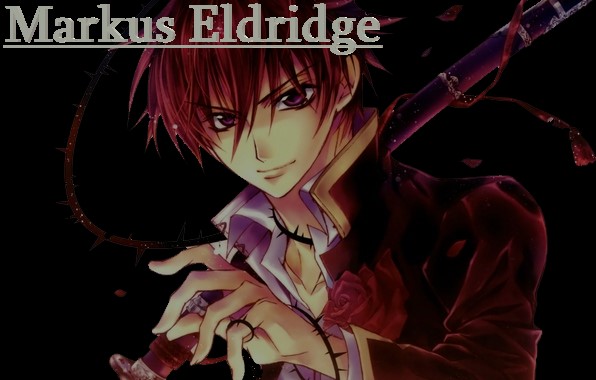 Standing on a small hill, just as the sun would rise was a man. Dressed in a torn cloak, face wrapped in a black scarf, one would think he was a vagabond. If, it wasn't for the pristine clothes and boots under his outerwear, and the look in his eyes. A piercing look of steel, and calculated risks. One which flicked with magic, and mystery. On his shoulder sat a Raven, and at his side a Wolf, both as dark as the man's attire.

Markus squinted his eyes and the morning shafts of iridescent lights cascaded over the distance horizon. Casting deep shadows, and strange shifting lights over the landscape in front of him. Once, the chaos mage would have avoided the sight, avoided the lights, and the morning sun, favoring the darkness, the night. However, things have changed for the mage. Three years in…

The black clad mage shook his head, sending his long crimson hair flipping from side to side. He no longer wished to think of that place, of those years. Looking around, Markus realized he had arrived. The landscape was forine to him, though he knew it as Fat Monsterland, a strange place full of rotund, and rather dangerous monsters, those of whom most wizards only saw in their deepest dreams, and worst nightmares. The area was deep within the Cursed Lands, and the job was dangerous, to say the least.

Markus glanced at the Raven on his shoulder. Arinia sure had a sense of humor picking this one when scouting the Guild Hall. Not yet ready to return home, Markus had asked Arinia to find him a job. Something to preoccupy his mind and prepare him for the questions he was sure the others would have.

Rereading the job Markus was sure if would fit his requirements and keep him too busy to think on the past. Signing, Markus continued forward. From what Arinia had said, he would be meeting with another mage not too far from his location. Something the black clad man was behest to do. He had come to… appreciate, his solitude, and even fear it. Perhaps that was why Arinia was certain to make sure his first job back in Earthland would not be solo.

'Always plotting', Markus thought to himself. Arinia was a strange Fairy, with the ability to shift her form into that of a raven or cat(maybe others, but Markus was unsure), and she seemed to have a knack for knowing just how Markus was feeling. A power the mage had come to loath… and appreciate, though he would never tell her that.

"It should be just up ahead," The fairy spoke up, a strange feminine voice coming from the beak of a raven. "You are supposed to meet on the main road before entering Fat Monsterland." The Raven cocked its head, "Fat Monsterland, a strange name for a place don't you think? Might as well call it Rotund Land of Creatures, or Bulging Creatureplains,or…"

Markus started to drone out the Fairy as he crests over the hill. When she got on her tangents, nothing would stop her.

Markus was curious if he would be alone and must wait. Or, if the other mage would be here, waiting on him. To the chaos mage, neither option really mattered. He was in no hurry, and generally enjoyed taking his time. However, more than anything Markus was hesitant to work with another wizard. The time he had been alone had changed him, previously company mattered little to the mage, and he had lost more than one partner to carelessness on his part, and lack of attention on theirs.

Finally, as he neared the crest of the hill, and watched the road in front of him as the path into Fat Monsterland cleared.

---
<~~~~~"Only with Darkness can there be Light"~~~~~>

Current WC : 633 || Total : 633 || Target : 4,667
Notes:

Last edited by MarkusEldridge on Wed 28 Nov 2018 - 21:57; edited 1 time in total