Job:

Job: For a good cause
Rank: D
Player Requirements: D-rank and above.
Job Requirements: Minimum of 5 posts of 150 words per character. Must use magic creatively to help raise money for a charity.
Job Location: Hargeon
Job Description: A charity (of your choice) is having trouble collecting money for their own cause and needs a mage to be able to attract people to their cause. They hope that a basic mage using magic will attract attention and will in turn give them more charitable donators. Please do your best to be creative with your magics and through RP give the people of Hargeon a small show to remember.
Reward: Nothing, but gratitude.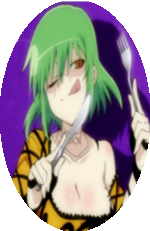 Zolona had been staring at the board that was filled with nothing but job flyers all over it for a long time. Then one had caught her eye so she reached out and grabbed then had brought in closer to read it better. Oh it's charity for neglected kids. Zolona herself felt that she was very neglected as a child and knows how hard it is to get anything done or even have anything to eat. This is something I must do! An in a way it would help her out because of all the mess Zolona gets into most think of her as nothing but a rampaging mad woman. Those this had been the truth, she didn't want others to think that cause no one really wants people thinking bad about them. Zolona had folded the flyer up and put it into her pocket and walked out of the guild hall. Zolona had to make her way from Magnolia where her guild is to Hargeon where the job says to go.

@Solo
Job
-
Word Count: 172
-
Template Made By @Tyriel
_____________________________________________________________________________________
⨀
Jian Liu the Stalker
|
Unknown
|
Unknown
|
Unknown
⨀
Jobs:

Completed:
D:0
C:0
B:0
A:0
S:0

Working on 0/3:
Open
Open
Open

Exp: 0/150
Theme:

Unknown