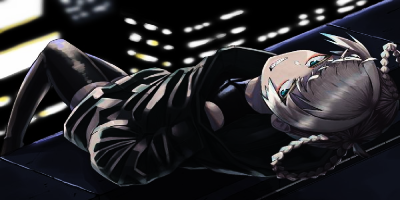 There were a great number of bars all throughout Black Water Port. Not much of a surprise there. It was a haven for pirates. Drinking was one of the very few creature comforts and bad habits that were easy enough to transport on a ship without taking up too much space. It was only a matter of time before even the newest arrival to the port and the guild at large began to develop a 'problem'. And then there were people who had already begun to become more common faces around the port.
The veritable flood of grayish pink hair that was spread out across a small section of countertop at the very front of one of the less busy bars--The Teetering Toad--belonged to one of them. While her hair was usually done up in twin loops, and that thick coat was usually across her shoulders, it was all too easy to recognize one of the newest members of the fleet. Anya Elspeth. A girl who had found her way into the fleet by sheer determination to meet someone.
Unfortunately, being part of the guild didn't also mean you automatically had a spot on any of the ships. She groaned as she ran a fingertip around the edge of the glass of greenish liquid she'd been sipping from. "I swear, if another crew relegates me to just an emergency shipwright.." She muttered as she sat up once again, lifting the glass up to her lips before draining it entirely, slamming it down on the counter afterwards. She was certainly an interesting sight, what with her sleeveless top combined with those rather small shorts leaving her fairly exposed, as well as the dirty pink color of her hair.
It certainly made for a memorable customer. "Bartender! I'd like another one of these~!" She chirped, a broad smile spreading across her glossy lips. With a 'yeah yeah' as the only response she got, she gave a soft giggle as she reached up to her hair. Making those slim braids and that updo always looked like something that might take a while. But she'd always had quite deft hands and slim fingers. So by the time she got her drink refilled, she'd gone from having hair that went down to her waist to her signature hairstyle, including those slim braids that looped around the sides of her head. Why bother redoing it if she'd already let her hair down? Easy. Last time she'd been drinking alone, she'd gotten into a bit of a problem when it came to having her hair down.
Eventually the glass clinked against the wooden tabletop of the bar. Anya all but snatched the glass up and began to take another, worryingly deep swig.  
"It's insane, you know that? I can create all kinds of metal out of thin air, and what do they do? They only ask for my help when the ship springs a leak. I get that everyone has to do grunt work for a while, but
jeez
. You could at least have me work making artillery. At least then it'd feel like all of this floating I've been doing hasn't been for just all of the incompetent crews around here."
Was it the wisest to bitch and moan about the work she did in her role as a 'floater' bouncing between crews? Not really. But she was already about five glasses in at this point. And between the Absinthe in her system and her own experiences these past few months? It felt good to get it all off her chest.
Word Count: 590
Total Word Count: 590
Tags: