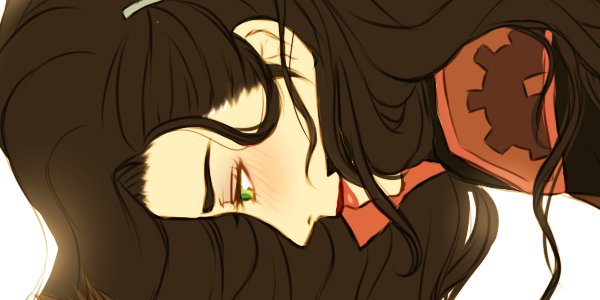 "Much is lost, but much lasts. . ."
From below Cassandra's feet came a crunching sound as she waded through the snow. A slow drizzle made the snow on the ground grow steady but slow. The flocks melted in Cassandra's raven hair. A crimson scarf with a madras pattern covered most of her face. Her green eyes with their thick eyeliner and purple shadow peered out above it, looking in awe at the wintery world around. She hulled within a thick woolen coat, with a leather belt around her waist, to battle the cold. Tucked between the belt was a peculiar glove of brown leather, brass, and a blue lacrima. A crimson skirt peaked from out bellow her coat and to keep her legs from freezing she wore thick leggings and long black leather boots. The town of Hargeon had truly packed out all of their Christmas lights and decoration. Colourful lacrima lights adorned nearly all the houses and the streets decorated with Christmas trees, stalls and fireplaces. Kids surrounded the fire with marshmallows, dough, and sausage on sticks, to warm their treats. Adults talked with one another around the stoves to warm up and to drink their warm spiced winter wines. Market stalls sold all kinds of wintery trinkets and gifts. Street vendors sold hot food and drinks. From sausages, waffles, pastries to coffee, chocolate milk, and spiced wine.

Cassandra had never really been interested in Christmas itself, but she loved the food and gifts. Deep down, she did really like all the glittering lights and the cozy fires to hurdle around but, she would never admit to that. Cassandra shuffled towards a stall that seld both food and drink. "Could I have a cup of spiced wine and a waffle with sugar," asked Cassandra the street vendor after she lowered her scarf to show her frost-kissed nose and her bright red lips.

"Sure," said the vendor as he filled a cup with the requested wine, "are you sure that you want to miss out on the warm cherries? They are delicious."

"I am certain," said Cassandra with a smile.

"Okay," said the vendor as he raised his hands. He took a waffle from the iron and placed it on a paper plate. Covered it royally with powdered sugar and handed it to her. "450 jewels."

Cassandra took 500 jewels from her wallet, "you may keep the spare."

"Thank you kindly," said the vendor with a wide grin.

Cassandra blew in the steaming cup before she took a careful sip. The hot liquid, and the alcohol, burned in her throat but warmed her up. It made her cheeks blush. As she drank, she stood silently watching at the pedestrians and sparkling lights. She nibbled from the warm waffle it was wonderfully sweet. Her cup was still half full when she had finished the pastry. She threw away the plate in a trash bin and continued her way.  

"For just 500 jewels you can get a gift, but you need to guess what's in it," said a vendor from a particular stall.

Cassandra could not help but be curious about it. She loved mysteries. That was the reason she had become an archaeologist. She plowed through the snow and looked, with her head angled to the side, at the rows of presents.

"500 jewels, you can smell, shake, and whatever you can think off. As long as you don't cheat, of course, no looking into the box nor using magic to figure it out," said the vendor.

"You don't have to worry about me using magic, don't have it, but I do have 500 jewels to spare," said Cassandra with a grin. She handed the vendor the jewels, placed the cup of wine on the counter, and picked up a present. It was heavy. She shook it and heard a rouble. "Hmm, this is actually quite difficult," said Cassandra, looking at the vendor with squinted eyes.

"Perhaps you should give it a smell," replied the vendor with a devious smile.

That made her even more suspicious, but she did it anyway. She brought the present close and sniffed. "Yugh," Cassandra reared backward and held the gift far away from her. "That smells like a cesspit," she exclaimed. She shook her head. For a moment she stood there, tapping with her foot deftly in the snow, with a deep frown on her face. A grin appeared on her face and snorted out air through her nose as she burst in a short laugh. "It is a bottle of perfume inside it's package," said Cassandra, eagerly looking for a response from the vendor.

"There is only one way to find out," laughed the vendor.

You don't make it easy for people to guess what the present is, and neither too hard. To make it smell like the opposite would be a great way to fool someone. And Cassandra loved fooling around with people. She opened the box and looked at its content but quickly reared back again as a cloud of green vapour left the box; leaving an awful smell. But alas, there was the package of a perfume brand in the box.

"You got a sharp nose or sharp wits," said the vendor, "I hope you enjoy the smell."

"Haha, thank you. Have a nice evening sir," said Cassandra as she picked up the perfume and tried to figure out where to put it. She did not have a bag with her.
   
900/900
⧫
@Yuel Lilerre
⧫
job sign-up
Φ
job info
⧫
Cassandra's winter clothing
Last edited by Cassandra on 18th December 2020, 11:04 am; edited 2 times in total