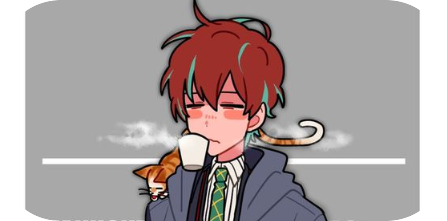 Capital Crocus—the capital of Fiore and home of the King and other royal families. It was a melting pot of Fiorean culture in all sorts of tangible forms: food, craftsmanship, architecture, museums and the lot. But such knowledge that even young children had known was a mystery to Chiyuki Suzuki, or otherwise called Doppo, who knew very little of the town. In fact, on his way there he had purchased a convenient brochure meant for tourists to guide him about the town when he only ever looked at what sort of restaurants were famous there. There was a steakhouse for casual diners and other fine dining restaurants with names he couldn't pronounce. The list was seemingly endless and kept him occupied during his train ride there.
The list wouldn't keep him
too
occupied since right after he stepped off the train the place he was heading to for today was in the complete opposite direction from any other place that was even mildly interesting. He was not visibly upset by this and instead brooded. This place was nothing particularly spectacular—it was some petite building named "Tom's Exterminators" scrunched in between two much larger, more refined ones with, to no surprise, some more long and unpronounceable names that Chiyuki was sure was plain English but too complex for his tongue seeing as he was both somewhat sheltered and uneducated.
Chiyuki, who was wearing a black, baggy hoodie and equally baggy, ripped jeans to compliment, went to this petite building and stopped in front of it. He looked left, right, behind him and then back in front. It was the place where he was supposed to meet with two other mages accompanying him on today's job, which is why he had come to Capital Crocus in the first place. The job was simple—something to do with rodents and their removal but seemed mundane compared to the building's emptiness and the lack of other
mages
being here aside from him, as far as he could tell. He looked around him one last time before allowing himself to slip inside the building with a quiet "excuse me" to follow.
The room he stepped into was relatively spacious and had no tables or chairs beside an empty receptionist's counter in front of him and benches lining the seasoned walls, which he assumed were placed there for customers to sit on to wait—but there were no customers and the only signs of life were ugly, wilting white flowers he couldn't identify in a porcelain vase on the desk and the sounds of hammering metal against metal downstairs. Chiyuki said nothing and went to sit on one of these benches, his legs sprawled and back reclining as deep as it could into the wooden bench. He slunk into his seat and folded his arms over his chest—a messy red vineyard he called his hair spreading over his incredibly baggy and weary blue eyes. He heaved a deep and heavy sigh from the bottom of his stomach and let his head hang back to snooze, and snooze he did, and rather quickly. His snores were deep and gurgly, and his mouth hung open while he did it. If the workers downstairs couldn't notice him, the mages he was soon to work with sure would.
547/4,666
https://www.fairytail-rp.com/t33876-dethrone-the-rat-king-one-time-only