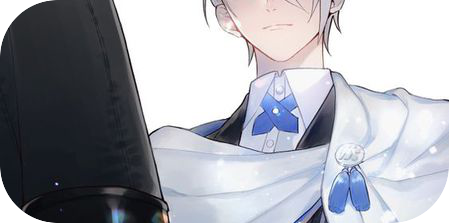 The evening skies were their usual oranges and blues, and the sun was young and brilliant in its roundness, resting on the horizon. But everything seemed otherworldly in the private town of Ace of Spades. Horizons were wider and the skies' blues were deeper and more saturated. The silhouettes of buildings overwhelmed those who'd offer a glance with a feeling of home and inner peace. It was nothing like the cold, barren wasteland that was Mt. Hakobe or Morgate Town, where its embrace was far more detrimental.
But not even a privatized town could keep Giovanni Tesoro at bay, for his shiny loafers found themselves tapping against the very stone pavement meant for the feet of the townspeople. He walked the streets, not in his normal, glamorous attire, but in a white trench coat and black denim jeans. Perhaps the only brilliant thing about this man's appearance was his flawless skin, without blemishes, and striking azure eyes, perhaps bluer than the Calm Sea itself.
There was no particular reason behind this man's sudden appearance in The Ace of Spades, for his impulses were about as mysterious as his character, strange and without reason. He watched the townspeople go about their routine with an indifferent, mildly amused smirk. Something about venturing among the living filled this man's capsule with vigor and delight, so much so that he had become a keen people-watcher as of late. But he walked their streets with a certain sense of direction, turning sharp turns and looking which ways as if he were navigating to a particular spot. Yet no matter how many turns he'd take or paths he'd follow, his destination always seemed undetermined.
His choices, however, led him to a particularly dirtier part of town where the roads had not a single stone constructed into them and the buildings that surrounded him seemed older than the dust itself. Some of them had begun to fall apart, and although this was an obvious observation, the skinny men and women who idled by them continued to idle, handwash their clothing and rot their rotting teeth even more by puffing a cigarette thicker than their fingers.
Many of these observations almost compelled the wandering Giovanni to approach them, but instead, he grinned bitterly to himself while passing them by. He'd invite them to take shelter for service in the Tesoro Estate, but few would perhaps live to see it before their anorexia and heart problems kept them. He'd passed them all until he'd reach an alley, wide and devoid of any sunlight from the tall buildings that created it. Inside, a wavy-haired boy and two larger ones.
Giovanni stopped and stared with a curious countenance, eyes wide and lips stretched indifferently as he watched them. The dark, wavy-haired boy curled reclined against the building wall, arms and legs sprawled across the dirt path with an apparent weakness. His legs were long, and if he were to stand at full height he would easily tower over the two other boys who hunched over him. These other boys, on the other hand, were also tall, taller than Giovanni, but were skinny and would only make a lanky man if they combined into one. Compared to the supposedly defeated boy who sprawled on the ground below them, who was rather muscular, it simply did not make sense for him to be in this situation.
563/2,000