Armageddon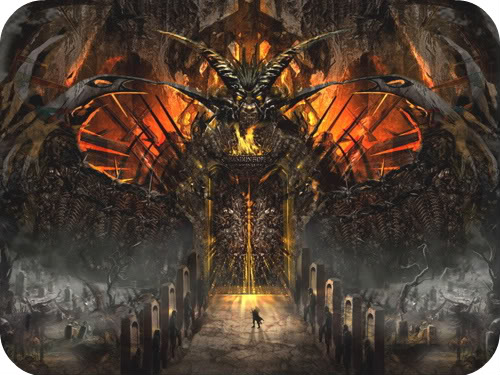 Job Title:
Armageddon (Can only be done once!)
Rank:
100 Year
Player Requirements:
500 words a posts, 125-150 Post,  At least 25 monster rolls.
Solo:
Saint Wizard, Guild Ace or Guild Master only
Team:
Up to 8 Mages must be equivalent to SS rank, and must be one full team from two different guilds.
Job Requirements:
Must have at least two S ranks in your team.(Legal Guilds &Magic Council Only)
Job Location:
Unknown Lands
(The Nine Circles of Hell)Job Description:
A series of massive Hell Maws has opened along the borders of Fiore and an army of demons have taken hold of many cities and towns. Form a collaboration team from two different guilds and invade the enemies territory and enter the maw leading to the gates of hell. Enter the first of the nine circles of hell and fight your way though an endless hoard of demonic spawn to put an end to Lucifer's plot to destroy all of earth land. The first circle of hell is called the realm of Avarice it is a dry and magma filled waste lands, large demonic settlements lay upon towering mountains of brimstone, the air is filled with a demonic energy and countless hellish minions roam the grounds, patches of land hundreds of miles long are lined with the souls of evil humans are erected on gargantuan crosses. At the edge of the first realm a single massive demon city about the total size of Fiore with a single castle towing above the entire city guarding the second gate. The second realm of hell known as The forest of Otiose is a seemingly unending forest of decay. Everything in the forest is filled with a thick mist full of demonic energy, the smell of rotten vegetation and dead wood permeates through out the second realm, the gate to hell's third circle is hidden somewhere deep within the endless mist filled maze. The third realm of Hell is called The city of Inequity or the city of demons, here in this circle of hell many of the demonic residence live such as succubus or vampires, werewolves etc. In this realm there is no light or sky only buildings of immense size an gothic design, the towering structures blot out the ground and ceiling and traverse throughout the entirety of the third realm. Search the endless maze like city and find the next gate. The fourth realm also known as the fields of Gula the monolithic plains are filled with a verity of plant life and is filled with vicious predators. In this circle of hell there is no food chain everything is tying to eat everything including you, demonic wildlife, the ground, the plant life, everything. Eating any thing from the fourth realm will not satisfy hunger it will only make it grow worse. The fifth circle of hell known as the sea of Invidia, this limitless realm has nothing but vasts source of water and Continental size ice burgs, the sky has a single moon and is always lit as if it were early in the evening. The freezing temperature is 110°C below zero and the air is as thin if you were on top of the highest mountain, small patches of demon villages rest on one of the many ice bergs each belonging to different clans. The sixth, seventh, and eighth circles of hell hold a variable amount of eye popping scenery in the sixth realm a ocean of magma boils beneath floating continents of stone and ore all connected by bridges, the seventh realm is a clear white desert were the souls of the most vile humans have their very existence ground to sand like particles so their souls can return to the great stream to be reincarnated. The eighth realm is were Satan's domain resides, a massive spiraling castle reaching both up and downwards with a single bridge stretching out along the void. The final realm of hell belongs to Lucifer it is his recreation of the garden of Eden fulled with every plant in known to mankind, all surrounding a crystal city full of fallen angels, The realm is filled with Celestial and holy energy, the skies are blue and perfectly cooled in a comfortable environment.
Job Benefits:
Demonic Atmosphere: On the 1st- 8th layers of hell demon and devil slayers gain 2%HP&MP regeneration per post.
Go Towards the Light!: Holy, Angelic, Divine, or Light based magic deals 2x to the creatures of Hell
Plentiful Elements: Their are many natural elements in the environments that spell casters with the ability to absorb such elements could do so as if it were A ranked magic.
Job Disadvantages:
Death Traps:There are many pitfalls and environmental altering events that take place in the underworld such as entire plateaus sink into magma, random and massive lightning storms that last for days all dealing a substantial amount of damage ranging from A rank to SS Rank
The Realms of the Seven Sins: As you traverse through the 9 circles of hell your character experiences a slight personality altering side effect, if they are in the realm of greed they become slightly possessive, and greedy, the following sins realms effect them in the same manner. This must show in the writing.
Spacial Difference: Time flows much faster in the realms of hell two years is equivalent to one day in Earthland, once the gate opens it will not open for another year.
Enemies:
"Descriptions":

Cerberus:

Cerberus is a 18ft 2½ ton three headed dog that guards the gate of hell, it has guarded hell since the birth of the realms it's self, Cerberus is capable of speech and each head has it's own personality.  

Hell Hound:

Hell hound are 8ft and ½ a ton they are vicious wild pack animals born from the very fires of hell themselves, their black and red fur glows as if they were on fire. These creatures are not capable of speech and have rabid tendencies such as eating their own kin.

Demon Riders:

These 4 to 5 feet red skinned humanoid imp looking demons have a symbiotic relationship with hell hounds their entire way of living revolves around taming hell hounds to collect souls on earthland, however they are even more so fierce when mounting a hell hound in battle.

Pit Fiend:

15ft tall 1,000lbs this deadly humanoid creature's body is covered in the thickest hide among demonic creatures it has a pair of gigantic, flame-seared wings, it's eyes smoldering like embers, it's razor sharp fangs and claws gleam in the light from the smoldering ember skin, and a immensely powerful demonic aura give this towering demon a truly horrific appearance.

Arch-Duke of Hell:

Out of all of hell's minions the Arch-Dukes are considered to be the strongest they are something akin to a demon general. Clad in powerful demonic armor and weapons forge in the depths of hell's inferno these 8 feet tall 2 ton humanoid demons are considered to be royalty among demons and command an army for each circle of hell.

Knights of Hell:

Powerful and legendary warriors that were formerly human, some were great heroes in times of war others vicious criminals whom have perfected the art of killing. Trained in battle against devils so that they fear no mortal threat, the knights are a powerful force of order in the underworld's lands They keep evil souls from escaping hell and follow the direct orders of the four horsemen.

"The Four Horsemen of  the Apocalypse":


Death:Draped in a heavy black semi-transparent shroud, this skeletal demon has no flesh or presence, no scent or life. The fierce demonic aura that envelops this creature kills everything it touches. The 7 foot visage of death rides a pale steed cloaked in the ghostly spirits of the dead, and wields a mighty scythe made of bone and blood.  

Famine:Donning white and gold robes and wielding a pair of golden scales this 5.5ft thin old man is the incarnation of Famine or starvation, the demonic creature generates an aura that cause everything in it's presence to starve the pangs of hunger never leave no matter how you try to sate it. Famine rides a pitch black steed cloaked in an ominous black smoke.

Pestilence:The incarnation of plagues and diseases this sickly 6ft middle aged man wares a thin green cloak and black robes, donning a large bow in order to spread pestilence abroad. At his back swung the brass quiver filled with poisoned arrows, containing the germs of all illness and disease. The creature spreads out a demonic aura that cause illness for any and all who approach. Pestilence rides a pure white steed cloaked in a sickly green stream of energy.      

War:7ft tall 280lmbs young and in his prim, War is clad in blood stained crimson red full plate armor and wields a massive blood red great sword, as the incarnation of violence war is proficient in every form of martial combat, able to wield any weapon and use any form of martial might, War is the ultimate combative horsemen and his skills know no equal. War generates a battle aura that induced rage forcing the victims who fall prey to it to act out in great fits of violence. War rides a blood red steed cloaked in the crimson flames of battle.


"The Seven Rulers of Hell":


Lucifer: Also know as the sin of pride, was the first angle to fall from God's grace. The once great arch angel, called "Light Bearer." was thrown from heaven because he refused to bow to mankind. Because his jealously of humans he lashed out against his creator, he claimed that the angles were his greatest creation and that every human should be killed to prove it so. He was cast out of heaven for treason, one third of all angels followed him and damned themselves by doing so. After many millennia Lucifer had conquered the vast majority of hell's nine circles and now rules at the top of the higher-archy.

Satan: Also know as the sin of Wrath is the only King not of angelic origin, Satan was Lilith's and Adams first child a true demon in all rights some would say he is the true heir to hell. Rumored to be on par with Lucifer, Satan reigns over the  sixth, seventh, and eighth realms of hell and is not to be taken lightly he is a master of every form of combat and known for slaughtering half of heavens army's single handedly. It took the combined might of two of gods mightiest angles to cast him into the abyss, the arch angles Michel and Gaberial fought with the brutal demon for seven years, seven days and seven hours when Michel finally cast him into perdition sealing in hell for all of eternity.  

Leviathan: Also known as the serpent of Envy was once a great celestial deity  that bit the hand of god, when it did it's form skewed into a grotesque demonic form befitting it's action, among the angles in God's kingdom the leviathan was said to be God's greatest mistake in making a creature not even he could kill. The creature immortal as it was did not mean it was grater the God that created it, as it soon found out. In a blinding furry god banished the Leviathan into the fifth realm also known as the fifth circle of hell. Now over a two thousand feet tall and two hundred thousands tons this colossal serpent traverse an endless ocean searching for any prey like a rabid animal.

Beelzebub: The sin Gluttony of  Also know as the lord of flies was an angle of immense beauty and Satan's most loyal follower. Unlike Lucifer Beelzebub agreed with Satan's methods humans may be a necessity for the realms but they should be punished for their wicked deeds rather than be forgiven. The day Christ was murder was the day she revolted, instead of being forced out of heaven she chose to fall of her own free will. After a grueling fight with the entirety of Hell's fourth Circle she conquered the realm to claim as her own. It was shortly after she had taken the throne Satan had demolished her castle, laid waste to her demonic hoard, and claimed ownership over her rule. Beelzebub was fascinated by Satan and fell in love with him, and now serves him loyally with out question.  

Asmodeus: The sin of Lust was of the order of Seraphim and he carries the title "Queen of the Damned." She governs the third circle of hell known as the realms of pleasure. She is a master of the arts of astronomy, arithmetic, geomancy, and craftsmanship. Her every move can seduce any man, women, or creature and her beauty is second to none. As an angle whom once governed love and led the Cherubs a.k.a Cupids in their holy duties, she was tricked by Lucifer into betraying their god by sleeping with the first son Adam. It was after the creation of Eve and being and angle of Love he could not refuse her, After the birth of their child god saw this as and act of rape and betrayal he than spirited away their child and cast Asmodeus in to the third realm of hell where she became a creature of nihilism.

Belphegor: The Sin of Sloth Belphegor was said to grant wishes of undeserved wealth and astounding, yet unearned, intelligence making the recipient capable of great discoveries or inventions with little or no effort on their part. Thus by tempting man with laziness and a wealth disproportionate to one's efforts, she was able to sow discord among men. She was once a great angle of inspiration other wise known as a muse but during the war with Lucifer she saw no meaning to the senseless slaughter of her own kin that the war wrought and refused to fight. The Angels that fought on the side side of heaven saw this as an act of betrayal and tore off her wings and sent her to hell. There she thrived as she laid wast to the entirety of the second realm and now rules over it.

Mammon: The Sin of Greed Mammon is depicted as a handsome gentleman, suave and sophisticated demon. This demon is often seen making attractive deals with humans for their souls and is thought to be quite persuasive. While originally thought of as the Devil himself, however he was one of a faction of angels who took no side in the struggle between Hell and Heaven and were thus shunned by both. After Mammon fell from heaven he forced his way the the gates of hell and conquered the realm with force. Out of the seven rulers Mammon is the weakest and ruler of the first circle of hell.

Weak:
1xCerberus, 4x Hell Hounds
(Cerberus can only be fought once!)
Cerberus:
The gate keeper of hell is the fastest beast in hell it can move over 380 mph and has Intense S Ranked hell fire magic. From it's mouth it can launch multiple fire balls 3 at a time from each of it's individual heads, the projectile can travel up to 450 feet and has a 250ft on contact explosion, both the contact of the fire ball and the detonation deals S Ranked demonic fire damage. Cerberus can spew 50ft pillars of molten magma that deals S ranked damage, the three heads can combine their streams of magma to make a SS ranked 150ft pillar of magma. The Hell Fire damage burns for 5 post dealing A ranked damage if left untreated. The fire can be doused by  any magic water of higher rank, or holy water from Rank B and up. It's Bite and Claws deals A ranked damage and cause 3 A Ranked bleed damage per post for 5 post if left untreated. Cerberus has three lives Each of it's heads must be dealt 2 S Ranked attacks to kill, 6 S Ranks total. When Cerberus fist dies it will feign death and will attempt a surprise attack.
Hell Hounds:
The hell hounds gather around Cerberus to assist in combat they are fast, traveling up to 130 mph with full maneuverability, the deadly monster can Launch multiple B ranked demonic fire balls from it's mouth, the projectile can travel up to 100 feet and has a 80ft on contact explosion, both the contact of the fire ball and the detonation deals B Ranked demonic fire damage. The fire damage burns for 4 post dealing C ranked damage if left untreated. The fire can be doused by  any magic water of higher rank, or holy water from any rank. It's Bite deals B ranked damage and cause 2 B Ranked bleed damage per post for 5 post if left untreated. The vicious dogs takes a single A  ranked attack to kill.
Normal:
6xDemon Riders, 3x Pit Fiends, 1x Arch-Duke of Hell
(You can only fight 1 Arch-Duke of Hell per circle of hell you travel through. 9x Total)
Demon Riders:
Are tricky, shorter humanoid creatures that have B Ranked demon fire magic and entrapment magic, and ride around on A ranked hell hounds. The hell hounds under the riders command can Launch A ranked demon fire balls from it's mouth, the projectile can travel up to 200 feet and has a 160 foot explosion on contact, both the contact of the spell and the detonation deals A ranked damage. The Lesser demon takes 2 B Ranks attacks to kill while the hell hound takes 2 A ranked to die, all of the hell hounds abilities are lowered by 1 Rank if the rider is Killed first.
Pit Fiends:
Are massive tank like beings quick in the air but slow on the ground, They have S Rank Infernal magic and are capable of leveling an entire city by themselves with brute force alone. Their melee attacks deal A Ranked damage and have a natural poison claws that paralyze their targets for 3 post, can be treated with an equal or higher ranked purification spell. Pit Fiends take 3 S Ranked attacks to kill
Arch-Duke of Hell:
Are fully equipped demon generals They wield S Ranked Infernal and Curse magic along with A Ranked weapons and armors. They can summon a single demon minion of lower strength once per post to do their bidding. Arch-Dukes take 5 S Ranks to kill. 
Strong:
6x Knights of Hell x1 Horseman of the Apocalypse
(You can only fight 1 horseman of the apocalypse a total of 4 times one for each rider War, Death, Famine, and Pestilence)
Knights of Hell:
serve under the four Horseman of the Apocalypse They have each have S ranked Elemental control magic with the Darkness attribute attached, each knight has control over one of the following elements Dark Fire, Dark Water, Dark Lightning, Dark Wind, Dark Ice, and Dark Earth. They all don armor and weapons forged in hell that have A ranked damage and resistance towards their specific element. The Knights of hell will fall with 3 S Ranked attacks.
"The Four  Horseman of the Apocalypse":


Death: As his name suggest this demonic being is the incarnation of the death, known as the horsemen of Death he rids a pale horse that can move at unimaginable speeds. Death wields S Ranked Absolute Death magic and carries two very powerful Relics a mighty 8foot Death Scythe that can steal the very souls from the targets body and a Cloak that seals away all forms of Death's presence. Death generates an aura that drains the life from up to 60 feet of it's surroundings Each non full blooded demonic creature takes S ranked life drain damage per post. If you loose consciousness Death can reap your soul and control soulless body, of death is defeated the souls taken will return to your allies bodies. Death can turn his fallen Hell Knights into Skeleton Knights after they've fallen returning them to max HP. Death and his horse can only be seen once he's attacked due to his relic The Shroud of Death. Death's pale horse can move as fast as lighting and makes no sound when doing so, a ram or kick from the demonic pale horse deals A Ranked damage and marks you for Death as permanent target if the horse marks the whole party than all of Death's spell apply regardless of distance.  It takes 2H ranked to kill both the horsemen and their steed.

Pestilence:The horsemen of plague and disease he rides a white horse and is the right hand of death., wielding powerful  S Ranked Absolute Pestilence magic the horsemen infects his victims with a verity of life threatening ailments. Pestilence wields two powerful relics a Homing Long Bow that and a quiver of never ending arrows that are dipped in every poison and disease known in existence. Pestilence generates an aura of illness infecting any on within 60ft of him causing A ranked plague damage per post for 5 post. Pestilence's white horse can move as fast as lighting, a ram or kick from the demon horse deals A Ranked damage and infects you with A ranked poison damage that persist for 3 post. It takes 1H ranked to kill both the horsemen and their steed.

Famine:The horsemen of famine and starvation, Famine rides a black horse and wields powerful Absolute Famine magic, the horsemen carries two magical artifacts The scales of Justice this allows him to change the weight of any object within 30 feet and only those whom have lived a life of virtue may approach him, the Robes of Absorption allow Famine to absorb any form of energy except physical energy or kinetic force. Famine emits a 60ft aura of starvation that cause intense S Ranked Pain Damage, and they loose 10 pounds off their weight per post as long as they remain in the aura area of effect.  horse can move as fast as lighting, a ram or kick from the demon horse deals A Ranked damage and causes you to loose five pounds. Once you reach half of your body weight you loose consciousness. Any more after half and your character will starve to death. It takes 1H ranked to kill both the horsemen and their steed.

War:The horse men of war is the epitome of combat, he rides a red horse that burns in the flames of battle, he wields powerful Absolute War magic and carries two immensely powerful artifacts, The sword of Absolution is a crimson red great-sword that can become any weapon in existence that deals S Ranked damage, and the God of War's Full Plate, the Armor of Mars reduces any physical damage received by half. War fights with amazing martial prestige, and can fight in both in close quarters and long range. War emits a 60ft aura of battle rage while in this state you will ignore the pain from any wounds that may occur and will think of nothing but killing the enemy in front of you. However any melee attacks made in this state do a full Rank higher. War's red horse can move as fast as lighting, a ram or kick from the demon horse deals A Ranked damage and burns the target in the flames of battle dealing A rank damage per post for 5 post. It takes 1H ranked to kill both the horsemen and their steed.

Boss:
The 7 Rulers of Hell
(1 Ruler from each boss roll, Can't fight the rulers outside of the realm they rule over.)
The Seven Rulers of Hell:

Mammon: This Demon King has many magic items and wields powerful Crash magic and Poison magic. All of it's melee attacks deal 1 S ranked damage and is made with an artifact level weapon. The demonic king's poison deals A ranked cursed magic damage per post for five post and takes an S purification spell to cure ranked attacks to cure. Mammon is immune to poison damages and effects. Any magical items that are not protected with a divine energy, holy, or blessed energy are immediately stolen at the beginning of combat and are used against you. Mammon Takes 10 S Ranked Attacks to kill. Mammon's released form restores him to full HP, and all spells and melee attacks deal an addition rank of  damage.

Belphegor: The Queen of the realm of second realm of hell, Belphegor is a master at emotional control, and sleep magic. All  of her attacks deal 2 S ranked damage and is made with an artifact level weapon or item. The sleep effects last up to 5 post and can only be removed by a S Rank status removal spell. If Belphegor uses her emotional control magic on a sleeping target than she can control their actions and even use their magic spells up to A rank against you. Belphegor is immune to any form of control effect and takes 12 S Ranks of damage to kill.  Belphegor's released form restores her full HP deals 3 S Ranked damages with both spells and melee attacks

Asmodeus: The Queen of the third realm, the sin of Lust Asmodeus is an water, fire, sky, and earth  demon slayer magician, and is able to charm any one lower than S Rank. She carries a Artifact level weapon and armor able to deal and resist up to S ranked melee damage. Her attacks deal 2S Ranked damage 3S Ranked when made with an artifact level weapon. Every time an attack of any kind whether it be spell or melee lands it has a chance to charm their target for 3 post at most the character can resist this effect at most twice in any one post but only if they are in a long term relationship and if they truly love their significant other. It takes 14 S Ranked attacks to kill Her. Asmodeus's  released form restores her full HP deals 4 S Ranked damages with both spells and melee attacks

Beelzebub: Beelzebub the Queen of gluttony  the forth realm of hell wields S Ranked Plasma Arc, and Devour magic, he also carries two Artifact level items both weapon and armor, 1 Per post Beelzebub can devour any target below S Rank and gain their powers and abilities for 3 post, dealing 2S ranked acid damage for as long as they remain inside her stomach afterwards she regurgitates the victim, she can only devour one host at a time. You can force your way out by dealing an attack or spell worth 2S ranks damage His Plasma Arc deals S Ranked damage stuns and burns the target for 3 post dealing S rank Plasma damage if left untreated. Her melee deals 3 S Rank damage, 4S Ranked when made with an artifact level weapon. It takes 16 S Ranked attacks to kill Her. Beelzebub's released form restores her full HP deals 5 S Ranked damages with both spells and melee attacks

Leviathan: The serpent of Envy the ruler of the fifth Circle of Hell wields SS ranked Demonic Ice and Water magic because of it's gargantuan size all of Leviathan's spell have a area of affect that covers 100ft and can swallow an area of 80ft and any one in it. The Leviathan deals 2 SS Ranked damage for it's melee attacks and unlike the other Rulers of Hell he has no magical items of any sort however Leviathan can not die under any circumstance, it can however be knocked out for 5 post   It takes 18 S Ranked attacks to K.O him. Leviathan's released form grows to twice it's original size and increases it's spells and bite range by x2, restores it to full HP, and deals 3 SS Ranked damages with both spells and melee attacks, if Leviathan is beat in it's released form it will remain unconscious for the remainder of the quest.

Satan:The most powerful full blooded demon, with Overpowering H Ranked physical Strength, Chaotic and Spacial magic Satan rules over the sixth, seventh, and eighth circles of hell with supremacy. Donning living weapons and armor forged in the abyss Satan deals 2H Ranked melee damage and resist any damage less than an SS Rank. It takes 10 SS ranked attacks to kill Satan. Satan's released form restores him to full HP, and deals 2 H Ranked damages with spells and 3H Rank if with a melee attacks

Lucifer:The fallen Arch-Angel wields H Ranked Holy and Creation magic, Donning living weapons and armor forged in the celestial realms Lucifer deals 2H Ranked Per spell damage 1H Rank if with a melee attacks and resist any damage less than an SS Rank. It takes 10 SS ranked attacks to kill Lucifer. Lucifer's released form restores him to full HP, and deals 3 H Ranked damages with spells and 2H Rank if with a melee attacks. In Lucifer's released state he can revive and summon the 4 Horsemen of the Apocalypse to aid him in combat.

Reward:
175,000 J And you become known through out Earthland as the saviors of Fiore
Total Annihilation Bonus:
If you beat all the mid bosses (Cerberus, Every Arch-Duke of Hell, and all 4 of the Horsemen of the Apocalypse.)You get  x2 Exp and the reward becomes 200,000 J; if you beat all the main bosses (The Seven Rulers of Hell) as well than you get x3 Exp and the reward becomes 225,000 J
Last edited by Z3R0169 on 9th August 2015, 10:25 pm; edited 2 times in total