Fallen God Slayer
The Darkest Before The Dawn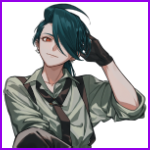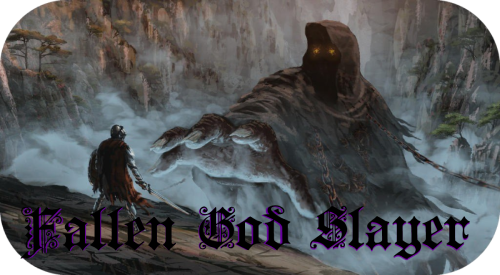 In truly ancient times, beings known as Gods walked the earth alongside the Dragons and Demons. Caught between these three titanic races were the beings that would become the ancestors of modern humanity. Humanity itself was often ignored at the onset of their existence, with the Gods--as well as the Dragons and Demons--leaving them be in favor of clashing with one or both of the other two more dangerous races. However, whispers began to spread through a particular domain. Whispers of a human who fought with the strength of a dragon.
As history would tell it, the gods were the last beings to deign to teach humanity their magic, leaving them with a much smaller 'army' in comparison to the other two. However, the very whispers speaking of the First Dragon Slayer were spread through the domain of night. As a result Astraeus--the God of Darkness who would come to be better known as the 'Fallen God--was the first God to deign to bless humanity with the knowledge of Godly Magic. This created the First God Slayer, under the condition that they only operated under the cover of his domain.
Eventually, the other gods began to teach humans. Unfortunately, this would come back to haunt them the same way it haunted the Demons and the Dragons. A day came where the gods found themselves vastly outnumbered, under assault by the very descendants of the humans they had taught. It was during this time that the majority of God Slayer Lacrima were created. However, Astraeus was more clever than most. He had already hidden away a crystallization of his knowledge and power in the form of a diamond that sucked away any and all light, making it appear so black it could be mistaken for a Void.
It is this very Lacrima that Nessa has not only discovered, but actively incorporated into her body. Utilizing the Fallen God's lacrima, Nessa can create, manipulate, and even consume darkness itself. This is not normal Darkness however, as it is inherently Corrupted and Unholy in Nature, making it a far more vicious offensive tool than 'pure' Darkness, as well as preventing Demon or Dragon Slayers from being able to safely consume the Fallen God Slayer's Darkness.
This magic forms a
Hybrid Slayer Magic
with
Remnant Hydra Slayer
Proof of Acquisition:
Here
Magic Type(s):
God Slayer Magic (Solitary)
As a Slayer, Nessa has access to the following:
+50% passive increase to Strength, Speed, and Spell Damage.

Greatly enhanced senses of Hearing, Sight, and Smell.

Can consume matching elemental magic, except Demon versions of the same elements, which causes damage.

Inherent 50% Damage Resistance against the Elements She can control. Stacks with other sources of Damage Resistance up to its usual maximum

Nessa also may activate her Hybrid Force ability at will. This doubles the Strength/Speed/Spell Damage boost, and increases either spell or melee damage by 50%. She can effortlessly cast spells, at the cost of 10% of her energy at even intervals. If she runs out of energy, the effect ends and exhausts her, or she can choose to end it herself prematurely.
Unique Abilities
Name:
Silent Night, Holy Night
Rank:
B (Unlocked at D-Rank)
Duration:
Passive
Description:
While Darkness has been a primal fear for nearly every animal or beast on Ishgar for as long as the species has existed, Darkness itself is not a negative thing. By connecting herself to the Fallen God's power, Nessa has come to experience this first hand. This has granted her a boost to her
Hit Points
and
Mana Pool
, as well as a newfound respect for the Tranquility of nighttime.
Name:
Deeper Shades of Night
Rank:
B (Unlocked at B Rank)
Duration:
Passive
Description:
Godly Darkness is an interesting sort. Markedly more vicious than normal darkness, it carries a sort of physical weight all it's own. Many who have experienced it first hand equate the feeling as similar to an intense, crushing force. In connecting herself to the Fallen God's power, Nessa has had to build herself up both magically and physically to use it to it's fullest. Because of this, Nessa's
Strength
has been enhanced.
Signature Magic
Name:
Hand of The Fallen God
Rank:
B Rank (Scales to S)
Duration:
6 Posts
Description:
Cloaking her hand in the inky blackness of midnight, Nessa thrusts her hand outwards as if she were trying to grab an opponent. This act causes a truly giant hand of shadows to be launched outwards, fingers clenching around the would-be target before the whole hand detonates. Afterwards, the target will find their
Movement Speed
reduced for the duration of the spell, as dredges of the Nessa's corrupted darkness cling to the target like leaden weights.
Advanced Magic
Name:
New Moon's Hammer
Rank:
D+
Duration:
3 Posts
Description:
Expelling a large amount of Corrupted Darkness from either hand, Nessa forms it into the shape of an almost cartoonishly large hammer. The handle of this hammer will extend as neccessary for her to hit her target, who will experience firsthand the enhanced crushing power of the Fallen God Slayer's darkness. This force rattles the target internally, disrupting their
MP Regeneration
temporarily.
Name:
Bump In The Night
Rank:
C+
Duration:
5 Posts
Description:
Cloaking a leg in Corrupted Darkness, Nessa slams a foot into the ground, causing an eruption of purplish-black spikes to erupt from the ground near up to five targets simultaneously, aiming to pepper them with deep stab wounds.
Name:
Sacramental Flame of The Fallen God
Rank:
B+
Duration:
6
Description:
One of very few spells in Nessa's arsenal that are direct copies of spells that The Fallen God himself used. Clasping her hands together, Nessa slowly swings both arms outwards, a trail of smoke-like purple shadow emanating from and connecting each of her fingertips to each other. As she stands with her arms fully extended to either side, this smoke rapidly coalesces into up to six balls of energy not dissimilar in appearance to Will O' Wisps. These 'wisps' then reposition themselves around Nessa. Once this is done, a purplish black magic circle appears below her feet as a single, massive orb of dancing Godly Darkness forms before detonating, dealing high damage to anyone unfortunate enough to be outside of the epicenter. According to Nessa--who learned this spell by experiencing the memory of someone who witnessed it--being struck by the explosion feels like being slammed with an unimaginable amount of compressive force. All targets who were struck by this spell find themselves lacking energy, almost as if they were being
Drained
of their
Mana Pool
D-Rank Magic
Name:
From The Shadows
Rank:
D
Duration:
3 Posts
Description:
A clever application of her extensive control over shadows, Nessa disincorporates her entire body into shadows which disperse and rapidly reform some distance away, allowing her to avoid attacks. This can be done once per post for the duration of this spell.
Name:
Heavy Hand of Night
Rank:
D
Duration:
3 Posts
Description:
Clenching one or both hands into fists, Nessa suffuses Godly Darkness into her body to increase the weight behind the next strike she throws. She can only throw one punch per post, but can change targets between posts. While this spell is active Darkness pours off of Nessa's hands like trails of sacramental smoke.
Name:
Cimmerian Shades
Rank:
D
Duration:
3 Posts
Description:
Taking up a Combat Stance, Darkness begins to pour like smoke off of Nessa's profile. Without warning, silhouettes of Nessa burst from her location to deliver an attack to up to three targets. This spell can only target up to three people at once, but these targets can be changed during the duration of this spell.
C-Rank Magic
Name:
Scythe of Aestraeus
Rank:
C
Duration:
5 Posts
Description:
Raising one arm, Godly Darkness coalesces around the entirety of Nessa's chosen limb before condensing around her forearm, expanding outwards into a crescent shaped scythe blade. The curve of this blade will always face towards her fingers. Unlike her other spells, the Darkness of this spell has taken on an unnatural sharpness. She may only attack a target with this 'scythe' once per post.
Name:
Stygian Blast
Rank:
C
Duration:
5 Posts
Description:
Gathering Godly Darkness into the very palm of her hand, Nessa condenses her power as much as she can possibly manage before thrusting her palm at a target, unleashing a vicious, whirling beam of Godly Shadows. Those struck by this beam find their defenses compromised, especially their
Durability
as it pertains to their
SpellsName:
Shackles of The Fallen
Rank:
C
Duration:
5 Posts
Description:
Flinging a hand upwards, Nessa clenches her fingers into a fist. This causes a pool of darkness to coalesce near her intended target before it erupts into a veritable whirlwind of stygian chains that intend to
Immobilize
her target. While these chains cannot hold someone for an extended period of time, they do leave behind an 'outline' when they fade. From these lingering shadows the spell can be launched again, binding the opponent again if it succeeds. However, the chains
must
fade before this spell can be used this way.
B-Rank Magic
Name:
Raiment of The Fallen God
Rank:
B
Duration:
5 Posts
Description:
Suffusing her entire being with the Fallen God's power, Nessa changes her appearance slightly. While this spell is active her eyes are golden in color while her hair is a stark, raven black. For the duration of this spell her
Spells
do more
Damage
and her
Physical Strength
is sharply increased.
Name:
Fist of The Fallen God
Rank:
B
Duration:
6 Posts
Description:
A truly devastating physical attack. This spell takes full advantage of the unnaturally dense nature of the Fallen God's darkness. Concentrating magic into her dominant hand, Nessa suffuses it with as much Darkness as her body can physically handle. This is noted to be something that actually causes her pain akin to 'crushing her hand in a vise'. However, the unnatural power that it gives to her strikes for the duration of this spell
cannot
be understated. While this extreme difference in density means she can only strike an opponent once per post, the sheer amount of darkness used means that this effect lingers for the duration of the spell.
Name:
Bulwark of The Night Sky
Rank:
B
Duration:
6 Posts
Description:
Throwing her hands outwards, Nessa floods the air in front of her with Godly Darkness that coalesces and builds upon itself into an opaque barrier that surrounds a set area. Thanks to the density of this darkness, the Bulwark that is created by this spell is incredibly durable, making it possible to protect a large number of people at once.
A-Rank Magic
N/A
S-Rank Magic
N/A
H-Rank Magic
N/A
Last edited by Nessa Lachina on 16th May 2023, 4:28 am; edited 1 time in total