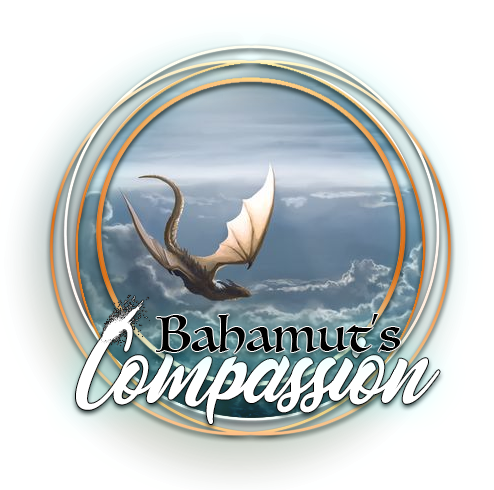 Magic
Magic Name:
Bahamut's Compassion
Magic Type:
Dragon Slayer
Item/Energy needed to activate Dragon Force (Elements Anya can consume):
Air, Bone, Water
Slayer Elements (Elements Anya can use in spells):
Wind, Reptilian Scales, Tears
Proof of Ownership: here
Description:


Lacrima:

At the dawn of the Age of Dragons, there was one who ruled above the others as their King known as Bahamut. Bahamut was a kindhearted dragon that believed it was the duty of him and his kin to use their undisputed power to protect the Earth and all the creatures that called it home. Unfortunately, his sister Tiamat did not feel the same way. Tiamat believed that the power of the dragons was more efficiently utilized in dominating the earth, and sought to make all living creatures bow to her as their supreme and terrifying ruler.

Bahamut loved his sister dearly, but could not stand idly by while she used her magic to subjugate the earth through blood and chaos. He took it upon himself to oppose her at every turn, healing those whom she and her followers injured, consoling them in their loneliness and fear, and doing what he could to assure those weaker than him that he would protect them at the cost of his own life and happiness. Even though the fight against his sister broke his heart further with each day, he never wavered from his conviction, nor lost hope that, perhaps, Tiamat could be taught to see compassion. He became a reluctant master in the art of battling his fellow dragons, finding ways to take their greatest defense, their thick scales, and turn them into weaknesses by learning how to manipulate and control them.

Unfortunately, Bahamut's desire to turn his malevolent sister toward the light ultimately failed, and he was forced to claim her life to protect the early humans that became the ancestors of those living today. Consumed with grief over the loss of his sister by his own hands, he disappeared and was never seen again. Humanity later found what they believed to be his lair, the nest empty except for a great number of clear, bubble-like orbs that they believed were residual tears from the sky dragon's immense sorrow. These orbs, unknown at the time to be lacrimas, were distributed to as many of the people whom Bahamut had saved as possible, and they were set up in shrines to honor his memory and his sacrifice.

Today, those orbs have been lost to time, with very few of them remaining over the centuries, and even fewer people understanding the orbs' origins. However, those who do know or suspect the history of the orbs recognize them as lacrimas and believe that, if used correctly, they can allow a person to harness a small but powerful fraction of the power Bahamut once possessed.

Dragons have been missing from the world for centuries. The King of Dragons has been gone for quite some time longer. And yet, his influence can still be found in the modern day. Anya's discovery of this Lacrima and its power can be described as almost an accident. Spurred on by her own complaining to herself about not having any healing magic, she was reminded of something her old master taught her. That magic was just as much about overcoming mental barriers as physical ones. So, with the intent of perhaps overcoming her own past, she returned to her old home.

The trip was..uneventful, to say the least. Until she found a room she'd never seen in the house before. A small room, hidden within the bedroom of her parents. Once sealed, the warping of the walls had revealed it. Sitting there on a pedestal was a glass orb. A rather large one, with a sheen to it not unlike that of a bubble. Struck by curiosity, she picked up the orb. On the moment of contact, it revealed itself to be a Lacrima as it began to assimilate into her body. It was ancient. This particular lacrima was one that had been dormant for centuries, if not millennia. When asked about the events that followed, Anya has only been able to describe it as 'like living a whole second life in the span of a few seconds'. This Lacrima has granted Anya not only the abilities of a Dragon Slayer, but abilities tied to the king of dragons.

Bahamut's Compassion is a Dragon Slayer magic that ultimately holds its roots in a similar location to that of the Sky Dragon Slayers of old, granting Anya the ability to generate powerful winds for many different uses. However, if that were its only power, this Lacrima would be considered no different from those that came from Sky Dragons. It is Bahamut's additional teachings and his grief that have changed this Lacrima, given it a deeper connection to the King of Dragons himself.

These additional teachings take the form of the ability to create and manipulate the very scales that covered the hides of dragons, taking their most potent defense and co-opting it for one's self, or even taking that defense and turning it against them. As for Bahamut's grief..it has granted the bearer of his Lacrima the ability to manifest a deeply magical substance: The very tears of the King himself. These tears can be used offensively, but they are more well known for their life giving properties, being very potent sources of healing. Perhaps over time other uses can be found for each of these abilities, but that will require Anya to spend time living her own life, learning how to use these powers in a way that reflects herself, rather than the memories of the magic that now flows within her.


Slayer Benefits:

+50% passive increase to Strength, Speed, and Spell Damage.

Greatly enhanced senses of Hearing, Sight, and Smell.

Ability to Consume Magic of the same element as the Slayer Magic to regain MP as well as the Dragon Force Ability

Inherent Damage Resistance to their slayer element based on the rank of spell/ability as follows:

2 Ranks above Character: 0%

1 Rank above Character: 10%

Same Rank as Character: 25%

1 Rank below Character: 35%

2 Ranks below character: 50%




Magic Consumption: Slayers can consume the element and elemental spells/abilities associated with their respective Slayer magic, allowing them to recover Magic Power. If a spell, for example, contains 20 MP and a Slayer consumes the spell, the Slayer regains 20 MP, etc. Slayers do not take damage from spells that are consumed. If a spell that is being consumed by a Slayer is higher in rank than the Slayer they, instead of gaining the full MP of the spell of they are consuming, regain a quarter of the MP of a spell of their own rank while also taking full damage from the spell that is being consumed. Resistances do not affect damage taken this way in any way or form.

Naturally-occurring Elements: Naturally-occurring sources of the element a Slayer controls can be consumed to regain MP. If a naturally occurring version of a Slayer's element is consumed it regenerates 5% of a mage's maximum MP. This form of elemental consumption can only occur once per post max, but functions independently from regular MP regeneration and can trigger separate from the regular cap imposed by MP regeneration.

Additional notes: Slayers cannot consume their own spells or abilities, whether this is from their magic, a weapon, a Summon, Take-Over's spell, or any other source of their own magic. Slayers can't eat their pet's abilities, or their pets themselves if they are made of an elemental magic.

Second Generation Dragon Force:  The most potent state of any Slayer. The moment in which their power spikes, and they all but become the embodiment of the source of their power. Just like any Slayer, Anya must consume at least 5 spells of her rank and respective element in MP to be able to activate Dragon Force (Max. H rank), but must have at least 50% of her total MP to be able to actually enter this powerful state.

Dragon Force increases Anya's Strength, Speed, and Spell Damage by 100% rather than just 50%.

While Dragon Force is active, Anya is surrounded by an aura of one of her Slayer Elements. This Aura is potent, allowing Anya to increase either her base spell damage or base melee damage by 50%.

During Dragon Force spells cost no MP to cast.

To maintain Dragon Force Anya must spend 10% of her total MP per post. MP cannot be regained or regenerated while Dragon Force is active. Once Anya hits 0 MP or once she chooses to cancel it Dragon Force ends. If she hits 0 MP she will suffer from the consequences of running out of MP as normal.
Unique Abilities:
Aspect of Tears: Thanks to this lacrima's gift of tears and thei deep association with healing magics, Anya enjoys a 100% buff to her Spell Healing.

Aspect of Protection: Thanks to her connection to the scales of Dragons and their deeply protective nature, Anya enjoys a 100% buff to her HP.

Plot Ability:


Touch The Heavens: Due to her now deep connection with Air as both an element and a source of power, Anya is capable of physically interfacing with the air, giving her the ability to fly without needing wings. However, this doesn't make her move any faster.
Spells
Signature Spells:


Name: Roar of the Dragon King
Rank: B (Scales with User)
MP Cost: 0
Category: Offensive
Type: AoE
Damage: 40 HP
Range: 100 Meters
Speed: 50 Meters per Second
Duration: 1 Post
Downside: N/A
Description: Inhaling deeply, Anya taps into the power of the King of Dragons, causing a white magical circle that shimmers like a bubble to appear in front of her mouth as she releases the technique. While called a Roar, this spell seems to be more akin to a wail of grief, as it releases a massive twister of wind and tears. This twister is quite potent, tearing into everything in it's path. Additionally, thanks to the restorative nature of both wind and the tears of dragons, unleashing this roar also decreases the potency of any Effect Debuffs currently afflicting Anya by 50%.
Advanced Spells:


Name: Scales of The Dragon King
Rank: C+
MP Cost: 45 MP
Category: Defensive
Type: Single Target
Durability: 270 HP
Range: Self
Speed: Self
Duration: 6 Posts
Description: Tapping into the teachings of Bahamut, Anya floods her entire body with magical energy, causing a white magical circle that shimmers like a bubble to appear under her feet before her entire body shifts. While this spell is active, Anya's body gains more draconic features, with her canine teeth and fingernails becoming longer and sharper, becoming more like fangs and talons in appearance. Her skin is the most prominent change, as it becomes covered in Bahamut's Platinum colored dragon scales. Like the magic circle, these platinum scales are known for catching light in such a way that a veritable rainbow of colors is created, with the only thing determining what one people see being the angle at which they look at her. These scales also carry the very healing power Bahamut became most well known for, allowing Anya to regenerate 5% HP per turn. Should this spell be shattered, this effect ends.


Name: Bahamut's Compassion
Rank: B+
MP Cost: 60 MP
Category: Supportive
Type: Single Target
Healing: 120 HP
Range: Self
Speed: Self
Duration: 1 Post
Description: The single act from which this Lacrima and it's associated magic earned its name. Closing her eyes, Anya cups her hands together. As she opens her eyes, her hands become filled with a strange, shimmering liquid. The tears of the King of Dragons. Applicable as both a potion and a poultice, Anya can either bring her hands to her mouth and consume these tears herself to heal her own wounds, or spill this liquid upon an ally to do the same. Either way, those who are affected by this are filled with a sense of overwhelming warmth and love for but the briefest of moments.

Name: Heaven-Rending Claws of The Dragon King
Rank: B+
MP Cost: 60 MP
Category: Offensive
Type: Single Target
Damage: 120 HP
Range: 300 Meters
Speed: 300 Meters Per Second
Duration: 1 Post
Downside: N/A
Description: The single most powerful spell in the arsenal of Bahamut. According to Anya--who claims to have experienced the memories of the final Dragon Slayer that Bahamut taught when the Lacrima was subsumed into her body--this is supposedly the very spell that Bahamut used to end the life of his sister, Tiamat. When used by a human, one could almost be forgiven for mistaking it as a type of take over magic, as both of the user's arms change drastically, becoming covered up to the shoulders in radiant, platinum scales as well as gaining wickedly sharp talons. However, this mistake is quickly remedied as the very air itself begins to distort around the user's arms. Curling their fingers into the shape of claws, the user slashes at their target in an 'X' shape with both hands. This releases a cross shaped burst of air that travels at such incredible speeds that a sort of vacuum effect is created. On contact with a target, this 'vacuum' bursts, creating a violent, brutal explosion of compressed air at the point of contact.

D Rank Spells:


Name: Dragon King's Breakaway Claws
Rank: D
MP Cost: 20 MP
Category:  Offensive
Type:  Multi Target
Damage:  30 HP
Range: 45 Meters
Speed: 30 Meters Per Second
Duration: 3 Posts
Description: Curling her fingers into a 'claw' shape, Anya wraps them in wind before swinging her 'clawed' hands up to three times--either once for each of her targets, or all three times at a single one. These slashing movements launch blades of wind that slice their targets with the force of a dragon. Thanks to the free flowing nature of Air, these 'claws' have homing properties, making it much harder to dodge them.

Name: Hard Fist of the Dragon King
Rank: D
MP Cost: 20 MP
Category: Offensive
Type: Single Target
Damage: 40 HP
Range: 60 Meters
Speed: 60 Meters per Second
Duration: 1 Post
Description: Anya smashes her fists together, causing a iridescent white magic circle to appear in front of her as the arm she plans to swing with becomes covered in platinum colored scales. The fist of this arm also becomes swathed in a violent vortex of wind. If used at close range, this results in a punch that detonates into a concussive explosion. However, if used at long range, the thrown punch sends a column of violently rotating air flying towards an opponent.


Name: Talons of the Dragon King
Rank: D
MP Cost: 20 MP
Category: Offensive
Type: Burst
Damage: 40 HP
Range: 15 Meters
Speed: 30 Meters per second
Duration: 1 post
Description: Anya reinforces her legs with platinum colored dragon scales before kicking at an opponent, sending a powerful, concussive gust of wind at her target.
C Rank Spells:


Name: Fortitude of The Dragon King
Rank: C
Category: Auxiliary
Type: Passive
Description: Due to her intrinsic connection to the King of Dragons, Anya's body has become even more durable, giving her 45% more HP.

Name: Bahamut's Gift of Grace
Rank: C
MP Cost:  30 MP
Category: Auxiliary
Type: Buff (Multi Target)
Damage: N/A
Range: 90 Meters
Speed: 65 Meters per Second
Duration: 5
Description: Clasping her hands together, Anya begins chanting in a language that has long since become lost to time. As she chants, up to five of her allies become surrounded in an aura of misted tears. This potent source of magical energy massively enhances the body's reaction time and boosting each target's Speed by 55%, as well as granting them 5% Regeneration of their MP per post for the duration of the aura.


Name: Wing Attack of the Dragon King
Rank: C
MP Cost: 30 MP
Category: Offensive
Type: Single Target
Damage: 60 HP
Range: 120 Meters
Speed: 120 Meters per second
Duration: 1 Post
Description: Throwing her arms out to either side of her body, Anya's arms shift to become draconic in nature, gaining Bahamut's Platinum Scales as a large amount of powerful wind begins to whip violently around them. Anya swings her her arms forward until her hands smack together, creating a shimmering white magic circle, from which a violent vortex is created. This vortex strips away the scales on Anya's arms. This causes the wind that is launched at the opponent to become even sharper, and more brutal than before!
B Rank Spells:


Name: Dragon King's Betrayal
Rank: B
MP Cost:  40 MP
Category: Offensive
Type:  Single Target - Piercing
Damage: 40 HP
Range: 200 Meters
Speed: 200 Meters Per Second
Duration: 1 Posts
Downside: N/A
Description: A spell that has it's roots in Bahamut's teachings on how to turn the very scales that protected Dragons against them, Anya raises an arm at the intended target, four of her five fingers extended with her thumb tucked downwards into her palm. This causes a magic circle to spring forth, white in color and shimmering in iridescent color like a rainbow. From within this Magic Circle, a volley of Platinum Scales are launched at the target, rotating at incredible speed. Due to the nature of both Bahamut's teachings and the incredibly durable nature of Dragon Scales, the volley created by this spell has a far easier time cleaving through defenses that get in their way.


Name: Dragon King's Windburst
Rank: B
MP Cost: 40 MP
Category: Auxiliary
Type: Burst - Mobility Spell, Buff
Damage: N/A
Range: 50 Meters
Speed: 100 Meters Per Second
Duration: 6 Posts
Downside: N/A
Description: Many Dragons were once known for incredible feats of speed. None more so than Bahamut and the Sky Dragons that came after him. Just like those Dragons, Anya is capable of these same feats of speed. Focusing magical power into her feet, Anya can kick off of either the air itself or any surface--be it solid or liquid. This kicking motion is what activates the spell, creating a sudden burst of wind from beneath her feet, propelling her forward at incredible speeds. However, it takes a moment for this power to gather again, making her able to only move at this speed once per post. For the duration of this spell Sky Magic flows rapidly throughout Anya's body, increasing her movement speed by 60% for the duration.


Name: Bahamut's Faith
Rank: B
MP Cost: 40 MP
Category: Supportive
Type: Multi Target - Healing
Healing:  60 HP
Range: 150 Meters
Speed: 110 Meters per Second
Duration: 1 Post
Downside: N/A
Description: A spell centered around compassion for one's allies as well as their faith in them, Anya clasps her hands together and utters words in a language that has long since been lost to the sands of time. As these words are spoken, a series of up to six iridescent white magic circles appear above the heads of her allies. From these magic circles, a scant few tears--each of which shimmer in every color imaginable--fall upon them, causing a number of their wounds to close all but instantly upon contact.
Last edited by Anya Elspeth on 5th November 2022, 11:34 pm; edited 8 times in total