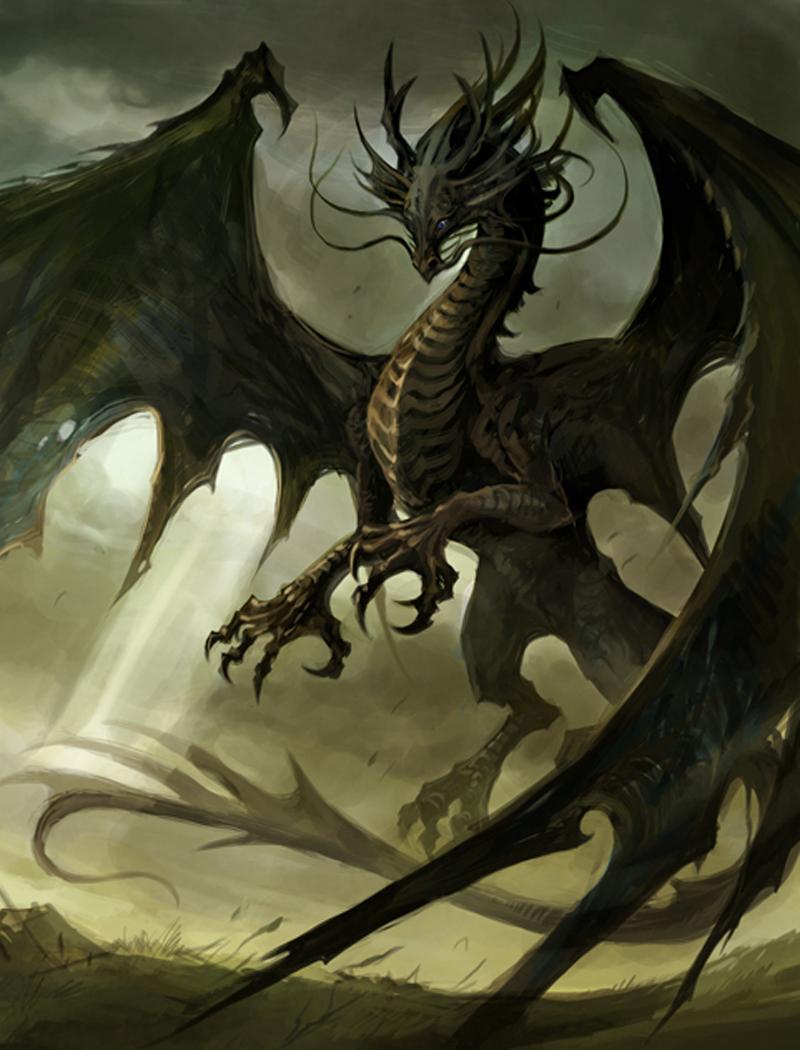 Magic:
Shadow Dragon Slayer Third Generation: Ancient Bonds
Caster or Holder:
Caster/Lost Magic
Description:
In the ancient times, before humans became the most prominent and powerful species on the surface of the world, the world was ruled by the dragons. Just like how gods are the kings of the heavens, and demons are unchallenged in their rule over the hells, dragons were at the apex of what lived on the earth. They were mighty, they were ancient, they were knowledgeable, and they were large. And just like humans have learned how to use magic to improve their lives and become strong, all dragons had a very close and natural connection to the forces that make up the world and keep it spinning, and their magic was based on using those forces. There were a very wide variety of dragons, divided by which element they had such a connection with. While almost every single force in nature had at least one dragon using it, there were a couple who were the most popular, with the most numerous dragons: fire, water, earth, wind, lightning, ice, light, and darkness.
For a long time dragons ruled unchallenged. They had become powerful over many millennia, so it was no surprise that no other creature could equal them. That is not to say that there was never any opposition, but no force ever came close to toppling the dragons as the mightiest beings of this world. The only real enemy that the dragons could be said to have were themselves, as dragons were not known for being social or cooperative. Each dragon knew that they were the strongest, and so each of them demanded respect and the ability to lay claim to whatever they wanted. Each dragon would set up a territory, in which everything was theirs to do with as they pleased. They would make large lairs and store in those lairs whatever they wanted to keep close. And as dragons set up those territories and created those lairs there would be other dragons who wanted that territory, and the things hidden away in those lairs. The biggest enemies of dragons were other dragons, as they would fight over everything, from territory to possessions to mates. They could never have done this if they were not the strongest, but throughout those many years they had even forgotten the idea of having to worry about anything but what the gods and demons might send at them. The celestial spirits might also have been a threat, except that those were happy to leave the dragons be, and the dragons had no desire to start a war with another dimension. The gods ruled the heavens, the demons rampaged through the hells, the spirits kept to their own realm, and the dragons were the sovereigns of this world.
However eventually the humans, and other creatures like the humanoids, began to become noteworthy throughout the ages. At first the dragons were merely curious about those small creatures skittering about, building such things as tents, followed by huts, and eventually actual buildings. However as time went on it became clear that these humanoids, these bipeds, were actually managing to evolve and improve at a surprisingly rapid pace. Of course this was still over the course of many years, but for dragons, who can become so old that for a human to count their age they might not reach it before dying of old age themselves, time has a tendency to be of less consequence, and thus what would feel like ages to humanoids can be considerably more bearable for them. They stuck to their territories and lairs, watching these humanoids carve out their own place in the world.
Of course not all dragons reacted the same. Most dragons thought of these new arrivals as nothing more than food, even if it was food which was marginally more interesting than the rest. They would still make sure that nothing invaded their territory which they did not want there, so the humanoids were completely at the mercy of the dragons if they happened to find themselves in the wrong location. Luckily while the dragons were numerous, there were places which had either not been claimed, or which had been abandoned for a variety of reasons. Other dragons actually welcomed the humanoids in their territory, even though they saw them as mere pets and cattle, slaves which could be eaten if necessary. While better than the other dragons, this was still a very precarious situation. There were also dragons who went out of their way to avoid the newest most active creatures of the world, these small critters which were apparently unhappy with what was given to them and wanted more. They would actually go so far as to relocate their territories to places too dangerous for the pests to live in.
And then there were the very few dragons who actually took an interest in these humanoids, either out of sheer boredom (while dragons can stand the test of time better than most, it is still possible for them to have difficulty thinking of what to do next) or because they saw something new and exciting and wanted to learn more about it. To much chagrin of most of the other dragons these friendlier dragons would actually talk to and interact with the humanoids, learning more about them and causing the humanoids to learn more about the dragons as well, which was the main reason why the other dragons weren't very happy about it. While they didn't consider the humanoids as anything significant, the idea of having other dragons reveal important information was not one which they approved of.
This only became more of a problem when the humanoids kept becoming stronger and more prominent, until the impossible happened and they actually became powerful enough to pose a threat to the dragons. At this point the war was inevitable, and so was the fact that some of the dragons would be siding with the humanoids instead of their fellow kin. The dragons, ruler of the world for many ages, would not accept that these upstarts would dethrone them, and the humanoids had enough of having to live in fear of these tyrants. They might not be as old and not possess the same raw power or connection with the world around them, but over the many years the humanoid races had become significantly stronger, and had also learned how to use their heads. While the dragons could win any fight which came down to raw power, the humanoids used trickery and cunning, which was more effective than the dragons had anticipated.
However the war was at first still going in favour of the dragons. That is, until the dragons who sided with the humanoids decided to give them the one advantage the dragons had that was keeping them in the more powerful position: they began to teach the humanoids the magic used by dragons. The reason why this was so important was that dragons, over the ages, had become very resilient to almost anything. The only creatures which could still inflict significant amounts of damage to dragons without wasting large amounts of energy were supernatural beings...and dragons themselves. Dragons, powerful as they may be, still followed the rules of evolution. Or maybe it was because of evolution that they became so powerful to begin with. Either way, the result was that any dragon whose magic wasn't effective against other dragons had died out long ago. Dragons uniformly had a special property to their magic that allowed them to largely bypass their own resilience towards magic, purely because those who didn't were long gone.
Teaching humans that same magic with that same penetrating property meant that suddenly the humanoids could actually hurt the dragons, which caused a major shift in the war. Suddenly the dragons could no longer shrug off any and all attacks thrown at them, only succumbing to the most persistent and thorough of assaults and the most dirty and deadly of tricks. While not all the humans could learn this dragon magic, those that could were valuable assets in the war, because they could unleash onslaughts that ripped through those tough scales which endured almost everything else. The dragons who had gone so far as to teach humanoids their own magic were branded as traitors, and were now hated by all other dragons. These new dragon mages were almost as bad as the half dragons had been.
Yes, half dragons. Not mentioned before, this was not the first time that some dragons had given the humanoids something. Before they began to spread the knowledge about dragon magic they had already given humanoids children who were half humanoid, half dragon. These creatures were quite dangerous, as they had the tendency to possess the advantages of both sides, which made them a threat no matter who they were facing. These half dragons usually learned dragon magic even without a tutor. The reason why half dragons weren't a problem during the war was that almost all the half dragons had been killed, by both humanoids and dragons. The dragons who had gone so far as to have a child with a humanoid also weren't spared, and the same went for those humanoids. Neither dragons nor the humanoid species approved of the birth of half dragons, and thus had actually worked together to remove them from this world. Those that survived had no inclination to show themselves.
Either way, now that the humans could use dragon magic the dragons were actually losing. Suddenly they were no longer nearly invincible, and there were even dragons helping the humanoids. What's worse, there was a secret to teaching a humanoid dragon magic, which could be considered terrible by many: a humanoid that possessed dragon magic would possess the magic power of a dragon upon killing them, becoming stronger and stronger. The reason for this was that dragon magic was not meant for humanoids. When a humanoid was taught how to use it their bodies and their magics would attempt to match each other. Since the humanoids were forcibly learning magic that belonged to dragons, that meant that their bodies would become those of dragons. Absorbing the power of slain dragons accelerated this process immensely.
Eventually the dragons decided that the war was becoming too costly. They had not yet lost, but they had lost almost all of their advantages, the humanoids were only becoming more powerful, and it looked like the humanoids would not stop until every single dragon was dead. Somewhere down the line the humanoids, those that had learned dragon magic, had actually begun to turn against their own tutors, because in the end the hatred against dragons was stronger than their gratitude and any feelings of friendship the lone individual might have. The dragons who had been friendly realized their mistake, and tried to flee together with the other dragons. However those dragons viewed them as traitors. In the end next to no dragons who had sided with the humanoids survived.
With the dragons having retreated to places in the world where the humanoids were not willing or unable to go the humanoids believed that the dragons had gone extinct, claimed the world as their own, and expanded even more rapidly than before now that the tyrants of the ancient world had been driven away. The only legacy that was left by the dragons was those humanoids who had learned dragon magic but who had yet to be turned into a dragon (those that had turned into a dragon tended to be killed quickly as the other humanoids thought them monster and abominations). Sometimes a new dragon mage would turn up (claiming to either be taught by a dragon, or having found some kind of mysterious source of power which had given them this magic. Or a book), but they became rare. Dragon mages were renamed to Dragon Slayers, as the humanoids believed that this was a kind of magic which had been specifically designed to slay dragons of old, not realizing that it was the magic of the dragons themselves. The dragon magic was now called Dragon Slaying magic.
Now it is many, many years down the stream of time. Some humans no longer believe that dragons ever existed, that they were mere fairy tales. Dragon Slayers are still rare, although at some point it was discovered that special lachrima exist which can give you Dragon 'Slaying' magic, which increased the numbers somewhat. And in one village in the Phoenix Mountains, lives a family of whom nearly everybody is a descendant of a half dragon. The only ones without dragon blood are those who married into the family. The dragon blood has become weak throughout those thousands of years, but it has yet to die out. All it needs is a single spark, the single push that would allow it to resurface.
That spark turned out to be Akeya Kuusai, the girl said to be born with the soul of a dragon. How this came to be nobody could say, but when she started to learn magic it quickly became clear that in her the dragon blood was ready and waiting. Her magic allowed her to temporarily change her body parts into those of a dragon, increasing her physical abilities and also giving her some stealth, as the specific dragon type she was using was one of shadows. Leaving the village to learn more about the world Akeya continued to cultivate her magic, until at some point she managed to find a shadow dragon who had survived throughout the years, mostly because he had never bothered with either other dragons or the humanoids: Whedalsin of the Night Sky. Sensing Akeya's dragon blood, and the strange nature of her soul (for a humanoid. For a dragon her soul was perfectly normal) he decided to teach her the magic of dragons, revealing to her that this Dragon Slaying magic she had heard of was something completely different from what most people believed it was. When her body, which already had the blood of dragons, and her soul, which was one of a dragon, received the magic of a shadow dragon Akeya reacted a lot more strongly than Whedalsin had expected: the transformation which all dragon mages go through, from human to dragon, was accelerated significantly. Akeya, born as a human with dragon blood and a dragon soul, was now a half dragon, and from the looks of it she would continue to lose her humanity and instead become a dragon.
In contrast to most humans Akeya didn't mind it, instead stubbornly continuing to learn more about her lineage and this newfound power, more and more draconic traits showing themselves over time. Realizing that there was still one thing left to do Akeya eventually set out to find one of these mysterious lachrima. Specifically, the lachrima of a shadow dragon. Fusing the lachrima with herself Akeya Kuusai was most likely the humanoid most like a dragon. Dragon's blood, dragon's soul, dragon's magic, and dragon's lachrima. The only thing left of her humanity is her body, which is already halfway to becoming a full dragon. Akeya is the first half dragon known to be born in the new era rather than the ancient one. Whether she is the last, a unique case after which everything returns to normal, is up to the future to reveal.
Akeya uses her magic to become as dangerous a predator as she can be. She is not somebody who focuses on fighting, or creating, or anything of the sort. In the wild, where mistakes are not tolerated, a predator would be suicidal to fight like the humanoids like to do. A predator who wants to survive in straining circumstances finds a target, stalks, waits for the perfect moment, and then tries to bring the target down with the least amount of effort. Every bit of energy saved increases the chance of survival. A predator doesn't have any use for honour, glory, or the thrill of combat. In the terms of humanoids Akeya is an assassin. She finds her target, observes them without being seen, and when the target has an opening she will strike, attempting to kill or incapacitate her target with one swift strike. She can do this because her draconic traits and magic grant her very impressive physical abilities. Besides of that, since she is a shadow dragon she gains abilities which allow her to both move fast and be stealthy, becoming invisible whenever it's dark and taking the darkness with her to make it harder to be detected and scare her prey. Clothing herself with shadows and darkness to enhance her attacks further Akeya is good at inflicting a lot of damage in a short period of time.
Strengths:


Dragon Slayer magic is a powerful type of magic which allows the user to turn themselves into the focus of their power, rather than a mage who possesses powerful spells but possesses a very fragile body.

As a Shadow Dragon Slayer Akeya is significantly stronger whenever she's in a place with many shadows, or any dark location. This includes night time, when the world is shrouded in darkness.

Unlike many other Dragon Slayers Akeya focuses on assassination, including high mobility and stealth. This means that she is in her element when not attracting attention, eliminating her targets one by one without a sound.

Akeya is extremely elusive due to her ability to merge and travel through the shadows. Even if she is discovered many would find it hard to catch her, as she slips through their hands like a shadow.

A half dragon, possessing many draconic traits, is quite intimidating. Akeya can actually use that intimidation to dispose of weak-willed opponents and force people to tell her things they'd rather stayed hidden.

A Shadow Dragon Slayer, especially one as thoroughly infused with the magic as Akeya, is a dangerous opponent for both dragonkin and opponents who use shadows and darkness.

Being the inheritor of both the lineage of dragons and the magic of dragons has some interesting results. One of these is that Akeya can actually communicate with all dragonkin, regardless of whether they speak the same language as her.

Can consume shadows and darkness to regain magic power and energy.

As a Third Gen Shadow Dragon Slayer, whose soul, body, blood, mind and magic are all in tune with each other, Akeya has possibly the deepest understanding any non-dragon can have of this magic. This allows her to infuse her shadows with her draconic will and essence, making them inedible to the Fallen God Slayer and the Hell Demon Slayer just as she can't eat their shadows/darkness.

Weaknesses:


While Akeya does have some abilities which work from a distance, and she is quite mobile, she still does not like it when her opponent is capable of assaulting her from quite a large distance.

Akeya might be significantly stronger when there is either shadow or darkness available, but when placed in a situation where there is neither of these her power notably drops.

Focusing on assassination means that Akeya is mobile, stealthy, and can inflict a lot of damage with a single strike. However it also means that she really doesn't like it when she's exposed before she can strike. She suffers against people who have a reliable way to detect her when she's trying to be sneaky.

Akeya is an escape artist, but most of her escape techniques actually have a pretty short range, mostly allowing her to get out of immediate trouble but if she's in the middle of trouble she most likely won't escape in one go.

Light magic. She just hates it. Light might create shadows, but unless the light mage is friendly they'll most likely kill more shadows than they create.

Being able to deal a lot of damage against dragonkin would be a lot more beneficial if there were a lot of dragonkin about. There aren't, so it's more of a nice thing to say to impress people than that it's actually useful most of the time…

This magic might have given Akeya significant abilities, but at the same time it's made her an outcast. She might be able to intimidate people, but at the same time she usually doesn't have another choice as most people try to avoid her or meet her with naked hostility.

Don't ask her about other Dragon Slayers.

Just because she can talk to dragonkin doesn't mean they'll talk back.

Because Akeya is focused on avoiding open conflict and attacks she is not as good at taking hits as more combat-oriented Dragon Slayers of her caliber.

Akeya can consume shadows and darkness. If they're pure. If there's other elements mixed in eating them would make her very sick. This also means she can't eat her Demon and God counterparts.

Riding any kind of vehicle is quite likely to incapacitate Akeya very, very quickly. She either needs to receive a status buff which cures her temporarily, or be on a vehicle specifically designed to prevent Dragon Slayers from suffering from motion sickness.

Lineage:
Draconic Heritage:

Draconic Heritage:Wielder:

Akeya Kuusai

Description:

In the far forgotten past, before Dragon Slayers were heard of, dragons shared their powers with humans through blood. Either through ritual or mutual procreation these hybrids would come into being, combining the traits of both human and dragon. From the point of view of the dragons, these hybrids were energetic and creative, like the humans flitting about their entire life, trying to reach higher and higher. From the point of view of the humans these half dragons possessed a physique that demanded respect, and a mental fortitude to match. Not quite as powerful as true dragons, not quite as innovative as full blooded humans, the half dragons nevertheless combined the best of both worlds to the extent that the vast majority managed to carve their legacy into this world before leaving it.

However this is a thing of long ago. As time went on the relationship between dragons and humans worsened, the amount of dragons and humans willing to bridge the gap between species dwindling and the amount of half dragons in the world lessening. At the time that a full on war broke out between the two groups half dragons had already begun to fade away into naught but memory and folklore. Instead came the Dragon Slayers, who instead of sharing the blood of dragons were taught only their magics, and then used that knowledge against the very same mentors who had granted it to them. And they never realized that they, just as those that they had succeeded, were becoming just like the very creatures that they were trying to drive from their lands.

Most Dragon Slayers never learn of this. While they may develop minor signs, those are merely written away as their body getting used to the strange magic that they use. Fangs, eyes, nails, small scales...all disregarded, even though those that know of the truth see the signs as clear as day. A Dragon Slayer isn't somebody who has magic developed to slay Dragons. A Dragon Slayer is a human who has the magic of a dragon, which is effective against dragons where most other types of magic aren't, but which also will turn the user into a dragon the more they come into contact with dragons, gain more magic power.

And then the question becomes, what happens if a human descendant of the dragons of old, who also possesses the spirit of a dragon, then also gains the magic of a dragon?

Akeya Kuusai is the living proof of what Dragon Slaying magic really is. Her bloodline can be traced all the way back to one of those half dragons, and the blood of dragons flows strong inside her. And besides of that she also developed a soul reminiscent to that of a real dragon, sharing behaviour and personality traits. And then, on her travels, she encountered the Shadow Dragon Whedalsin, who seeing her nature offered to teach her the magic of the Shadow Dragons. And when Akeya accepted this offer she became something which had not been publicly seen in ages: she became just like those half dragons that lived before dragons and humans got into conflict with each other. A creature almost as legendary as the dragons themselves, and combining the advantages of both humans and dragons.

Usage:

Draconic Heritage is a kind of strange Lineage in that it develops together with Akeya rather than just granting her a bunch of powerful boosts from the get go and then staying static. Every time that Akeya ranks up Draconic Heritage grants her new bonuses or abilities. This means that in the beginning the Lineage is rather weak, but most likely grows to be stronger than most other Lineages, including other Custom lineages, as Akeya herself also becomes stronger.

D-Rank:


Dark Sight: Akeya's eyes no longer need light to see the world around her as clearly as if it were noon. However overexposure to light now also blinds Akeya very easily.
Magic Sensory: Akeya's ability to sense magic has twice the normal range. Like with her eyes, if she suddenly senses a massive amount of magic without warning it will distract and possibly overwhelm her.
Hunter's Tools: Akeya's sight, hearing, and sense of smell are as sharp as a dragon's. In reaction to this her eyes have slit pupils like a reptile's, and her ears are replaced by spiny fins. Once again, sharpened senses also results in more easily affected by overwhelming amounts.


C-Rank:


Dragon's Wings: Akeya grows wings covered in midnight blue scales, wings like those of a dragon. These wings allow her fully functional flight, and will become stronger the same way as the rest of her body becomes stronger when she trains. They are also strong enough to generate gusts and to be used as weapons. However, the wing membrane is rather easily damaged, which severely hinders her ability to use her wings properly. Wing membrane can take up to C-Rank damage before being too damaged for Akeya to fly properly. Recovery time is 3 posts. Combat posts are half as effective.
Reptilian Tail: Out of Akeya's lower back a long, thin and tapered tail forms, likewise covered in midnight blue scales. This tail is prehensile, and can be used both to attack, grab/lift objects, and defend. It is also used to enhance her agility and manoeuvrability when flying, which the other way around means that she can't use the tail if she needs it to balance in the air. Also affects her balance when on the ground, albeit less so.


B-Rank:


Natural Armour: Midnight blue scales form on most of Akeya's body, specifically on her back, forearms, hands, lower legs, and feet. These scales are tough, allowing Akeya to use them to protect herself from attacks (scales on tail and wings now also have this effect). When using the scales to block Akeya takes 80% damage from Physical attacks of her own Rank. Each Rank lower reduces the damage by another 20%, meaning that any physical attack four Ranks below Akeya can't penetrate her scales at all. The scales have a durability on par with spell damage a Rank above Akeya's own. Durability regenerates with the rest of her body. Durability of the scales is lowered by any damage Akeya takes to body parts covered in scales. The scales only function if at 15% of their durability or higher.
Monstrous Fortitude: Akeya's entire body has toughened, to the point that she takes reduced damage as if she was wearing armour that scales with her Rank, up to the armour equivalent of S-Rank. The durability regenerates with the rest of her body. Her body is weakened and suffers the full brunt of attacks if the durability is below 15%.
Twilight Cloak: Akeya's body now merges with the darkness that surrounds her. When in a dark location, natural or magical, Akeya becomes extremely hard to see. Unless one has very sharp sight they will most likely not be able to see her without magical assistance. The downside is that Akeya has no control over this.


A-Rank:


Predator's Claws: Akeya's hands and feet turn into the claws of a dragon. This means that she can now use them as weapons which can slash and pierce as well as just punch. These claws function as Artefact weapons. The durability recovers together with the rest of her body. Only function if durability is at 15% or higher.
Carnivore Fangs: Akeya's canines have turned into fangs, allowing her to actually use her teeth as a viable weapon. At least, if she can get close enough to the enemy. Like her claws her fangs function as weapons that scale with her Rank, up to S-Rank. Only function if durability is at 15% or higher.
Sharp Horns: Dragons tend to have horns. Now Akeya also has horns, sprouting from the top of her head. These horns are both tough and sharp, once again functioning as weapons that scale with her up to S-Rank. Only function if durability is at 15% or higher.


S-Rank:


Mythical Physique: Akeya's body is significantly stronger than that of a normal human. Her strength, speed, toughness, and reflexes are enhanced by 30%.
Salamander's Tail: Akeya's health regeneration is boosted by 5%. She can now regrow lost body parts, if she survives long enough (unlikely to regenerate within the span of a thread. Mostly used to explain why losing a limb in one thread doesn't cause her to still be losing that limb in the next). All healing effects used on Akeya are enhanced by 50%. The boost to healing effectiveness does not work against damage caused by fire, acid, poison, or corruption. When one of these types of damage is affecting Akeya the boost is completely negated for the duration (no increased healing when she is on fire).
Wyrm's Cunning: Akeya's mentality is now much more like that of a dragon than that of a human. This means that she has trouble understanding humans or sympathizing with them. However it also means that she has become extremely shrewd and cunning, in particular allowing her to very quickly regain her bearings and react when surprised or ambushed.


H-Rank:


The Last Step: Akeya now interacts with all effects and abilities as a full-fledged dragon. This means that abilities aimed at humans are ineffective, but she suffers the full consequences of anti-dragon abilities.

Unique Abilities:
Slayer Perks (Shadow Dragon/Third Gen):



10% Buff to physical stats (strength, speed etc.)

10% Buff to senses (hearing, smell etc.)

The ability to enter Shadow Dragon Force after eating enough shadows/darkness.

The ability to consume shadows/darkness to regain MP. Must be a pure version of the element (no shadowflame).

A resistance to shadow/darkness according to the following chart:
2 ranks above: 0%
1 rank above: 10%
Same rank: 25%
1 rank below: 30%
2 ranks below: 50%

Shadow Dragon Force highly increases the power of the Akeya's magic, physical endurance, speed, and strength. (Dragon Skin: Akeya's scales multiply to cover her entire body. Her overall appearance also becomes slightly more draconic) It puts all stats into the next range on the character scaling.
The spell power of each rank is increased to 150%.
As a Third Gen Akeya can either activate Dragon Force at will (if she has at least 50% of her magic power left), or by consuming 70% of her magic power's worth in shadows/darkness, and then within five posts eating enough to reach 150% magic power. Using the second method allows Akeya to keep fighting once Dragon Force ends even as most of her magic power is drained, whereas the first method leaves her feeling significantly exhausted.
In Dragon Force, Akeya gains an aura of shadows that engulfs her body. When Akeya uses physical attacks in Dragon Force the darkness steals their senses. When she touches a part of their body they can no longer feel that part. When she hits a limb hard enough they lose their sense of touch for that entire limb. Their other senses are also dimmed with every hit, an effect that stacks. With each hit another sense is stolen away, from the weakest to the strongest. It sometimes differs, but the usual sequence for humans is: taste, smell, hearing, touch (entire body), sight. After sight has been stolen the next hit will also remove the target's ability to feel their own body, leaving their consciousness in utter darkness and their body completely helpless. Effects last for two posts, but getting another stack refreshes the entire effect. Conversely, if the target has not been hit for two posts they immediately regain all their senses.
During Dragon Force the Slayer does not lose any mp from casting spells, but after it wears off is left with 10% mp.
Lasts 7 posts.

Personal Traits:



When covered in shadows, in dark locations, or otherwise surrounded by shadows/darkness, Akeya moves and reacts 30% faster.

Akeya can turn into a shadow and disappear, becoming intangible and invisible. This lasts for as long as she doesn't move, although she can make very small movements like turning her head slowly. If she moves, casts a spell, or attacks this effect ends. Once the effect ends she can't use it again for two posts. While she is intangible and can't be hit by physical objects she is still affected by magic and spells.

Akeya can execute something best called a Shadow Dash. Said dash has a maximum distance of 30 meters, and a maximum speed of 120 meters/second. Shadow Dash can be divided into up to three separate dashes, although the maximum distance stays the same. During shadow dash Akeya is covered in shadows, making it hard for others to make out any details and becoming elusive in dark areas as the shadows blend in with the already present darkness. In PvP can only be used four times per thread, with a cooldown of two posts.

Akeya can freely shift in and out of shadow form, using 2.5% of her mana for each post in which she does this but having no limit to the amount of times she can shift in a post (no matter how often she shifts in a post the cost stays at 2.5% of her mana). While in shadow form Akeya automatically dodges physical attacks and can move at high speed (30% speed increase). Magic attacks can still hit her, although certain status effects won't work (mostly case by case, depending on whether it makes sense. Primary example is that as a shadow Akeya can't be influenced by gravity because she has no mass).

Being covered by shadows or darkness turns Akeya invisible as her body merges with the darkness. If she moves at high speed somebody with sharp eyes might be able to detect her, with difficulty.

As an assassin using the powers of shadow and darkness Akeya can completely erase her presence. This does not make her invisible, but her magic aura will be hidden and her soul untraceable. Even if she's standing right behind somebody they will not have the feeling that there is somebody else in the room or that somebody is watching as long as Akeya uses this technique. During PvP mages two Ranks higher than Akeya herself will still be able to notice her presence if within 100 feet of her, but they can't tell her exact location.

Akeya can sense shadows at the same range as she can sense magic. This means that she can for example notice somebody walking down a street adjacent to hers because she can feel their shadow and tell that it's moving.

D-Rank:

Shadow Dance:

Name:

Shadow Dance

Rank:

D-Rank

Type:

Shadow/Utility

Duration:

2 posts

Cooldown:

3 posts

Description:

Akeya clothes herself in shadows, granting her the invisibility she gains from being in shadows even when in broad daylight. This invisibility isn't interrupted by casting spells, using items, or any other action.

Strengths:



Allows Akeya to become invisible even in broad daylight when necessary.

Because this invisibility isn't interrupted when she strikes she can attack opponents without them being able to fight back.

Can be used for a wide variety of things, from sneaking past guards unnoticed to sowing chaos amongst the opponents.


Weaknesses:



Shadow Dance is disrupted if Akeya is exposed to a light-based spell.

The invisibility doesn't last very long.

While Akeya will be invisible to most people, if she moves too fast those with sharp eyes might still pick up on her presence.

Doesn't remove her magic presence, scent, footsteps or soul. Also doesn't make her intangible, so she can't just walk through walls.


Shadow Shell:

Name:

Shadow Shell

Rank:

D-Rank

Type:

Shadow/Defensive

Duration:

1 post

Cooldown:

2 posts

Description:

Akeya creates a temporary barrier out of shadows, allowing her to block a weak attack without being slowed down or hindered by it. The barrier can take any shape as long as it doesn't become bigger than her own profile. She can either put it in place or have it hover in front of herself. Must be created within one yard of herself.

Strengths:



Can block up to two spells of Akeya's own Rank (PvP).

Forms instantly.

Can both hover in place or be attached to Akeya herself.

Akeya isn't slowed down or knocked back if the barrier is hit, even if she has it attached to her body.


Weaknesses:



Can only block one light-based spell of Akeya's own Rank (PvP).

Lasts very short. Usually can only block a single burst before disappearing.

Isn't very big. Akeya can have it protect herself from one angle, but that's about the limit.

Akeya can only decide its position when she creates it, meaning it's rather easy for the opponent to change the direction of their attack.

Only works against attacks with a travel path (projectiles, melee strikes, waves etc).


Shadow Image:

Name:

Shadow Image

Rank:

D-Rank

Type:

Shadow/Utility

Duration:

2 posts

Cooldown:

3 posts

Description:

Akeya creates a shadow in her vicinity, controlling it and deciding its shape. She can do this up to 15 meters away, and the shape can be anything as long as it isn't bigger than 8 square meters.

Strengths:



Can take on any shape as long as Akeya can imagine it.

Shape isn't decided upon creation: Akeya can have it change and reform for its duration.

Can be used as a distraction, deception, a lot of things.

Reasonably large distance and surface.


Weaknesses:



It's a shadow on a surface. It doesn't have any offensive or defensive capabilities at all, and its uses are rather limited.

Only works if people actually look at it.

Shadow is destroyed if hit by a light-based spell.

Akeya has to control the shadow consciously: to trick people the shadow has to react to new sources of light and the movements of already existing light sources.

Since it only creates a shadow, and not the object which should cast it, it's only really useful if Akeya can make it look like the object casting the shadow is hiding behind something.


Shadow Existence:

Name:

Shadow Walk

Rank:

D-Rank

Type:

Shadow/Mobility

Duration:

1 posts

Cooldown:

2 posts

Description:

Akeya's existence becomes like that of a shadow. She no longer has any mass or leaves any trace of her existence (she's still visible, but as a dark figure). While in this state she can't attack or be attacked, but she can move through objects.

Strengths:



Allows for Akeya to get into places that would otherwise be difficult to access.

Combined with her other abilities which make her invisible and remove her presence she can become completely undetectable for a short period.

Akeya can't attack or cast spells that interact with others while this is active. She can only use abilities which affect herself.


Weaknesses:



Can't attack while active.

Lasts only for a short period of time.

Won't allow her to move through magic barriers above her own Rank.

Magic from above her own Rank will still hit her.


Shadow Strings:

Name:

Shadow Strings

Rank:

D-Rank

Type:

Shadow/Utility

Duration:

2 posts

Cooldown:

3 posts

Description:

Akeya causes tendrils of darkness to shoot out from a shadow within 10 meters of her, wrapping around a target object or creature and tying it down. These tendrils can reach up to 5 yards away from their point of origin and will attempt to pull in whatever they're tied around.

Strengths:



Allows Akeya to incapacitate most people and weak mages for up to two posts.

The tendrils will try to wrap themselves around any limbs and extremities to make sure the target is completely helpless.

Can be used to drag targets to Akeya herself so she has an easier time striking at them.

Mages of Akeya's Rank or lower can either choose to fight the pull, in which case they can't do anything else, or be pulled in (PvP).


Weaknesses:



Only lasts for 1 post on mages one Rank above Akeya. Doesn't do anything to mages two Ranks above Akeya and higher besides halt their movements for an instant (PvP).

A mage above Akeya's own Rank can forcibly break free of the bindings. This still gives Akeya an opening to exploit, but it's a rather small one (PvP).

There are five tendrils total, but each tendril can be destroyed with one attack of Akeya's Rank (if you can get a limb free to attack with or cast a spell without using your hands. PvP).

Only works on a single target, and allies can quickly free the trapped target.

Can't be used if there aren't any shadows nearby.

C-Rank:

Shadow of the Past:

Name:

Shadow of the Past

Rank:

C-Rank

Type:

Shadow/Mobility

Duration:

3 posts

Cooldown:

4 posts

Description:

Akeya leaves her shadow around, becoming an existence without a shadow. As every object needs a shadow, this also results in Akeya being able to move through other objects and restraints without issue. Her shadow stays at the location where she left it behind.

Strengths:



As long as this ability lasts Akeya is immune to bindings, restraints, barriers, walls, and other forms of crowd control that rely on the use of physical objects.

Unlike Shadow Existence Akeya herself can still attack while this is active.

Lasts for quite a while, allowing Akeya to become even more elusive than she already was even in the middle of combat.

The shadow left behind can be used like any shadow, except that she can't eat it to regain energy.


Weaknesses:



The effect ends if the shadow is destroyed by a light-based spell of any kind.

While Akeya can move through bindings, she is still affected by secondary effects. For example, while she can escape a net made out of fire it will still burn her.

Only makes her immune to forms of crowd control that rely on physical objects. Paralyzation, slowing spells, things like that aren't affected.

If the tangible form of crowd control is magically reinforced and above Akeya's Rank she can't move through it (PvP).

Akeya can still be hit by most forms of attack. It's primarily the crowd control that is nullified.


Shadow Memory:

Name:

Shadow Memory

Rank:

C-Rank

Type:

Shadow/Mobility

Duration:

Instant

Cooldown:

3 posts

Description:

Akeya immediately returns to the shadow she left behind when she used Shadow of the Past. This doesn't has her move through the space in between herself and the shadow: the moment she casts this spell she will be back with her shadow.

Strengths:



This spell has her actually teleport, meaning that as long as she isn't prevented from casting it she'll guaranteed return to her shadow.

Effect is instant, meaning it can be used to dodge even very fast attacks by reflex.

Will most likely always be available once she's cast Shadow of the Past, due to the cooldown system.


Weaknesses:



Can only be used while Shadow of the Past is active.

If the shadow from Shadow of the Past is destroyed, this ability can't be used either.

She keeps the momentum she had when she activated the spell. Which can either mean she can use it to retreat or attack quickly from an unexpected angle. Or if she was falling she'll smash into the ground rather harshly.

Her destination point is set, and if the enemy knows what's up they can anticipate the teleport.

Can't be used if the shadow is covered by for example a boulder.


Shadow Step:

Name:

Shadow Step

Rank:

C-Rank

Type:

Shadow/Mobility

Duration:

Instant

Cooldown:

3 posts

Description:

Akeya chooses a shadow large enough to cover her entire body within a distance of 20 meters. She then steps within another shadow large enough to cover her entire body and disappears, reappearing in the chosen shadow.

Strengths:



No travel between the two locations. She steps into one, reappears in the other.

Works on any shadow which is large enough, regardless of how the shadow is created.

She retains the momentum she had when she stepped into the first shadow, allowing her to assault opponents from unexpected angle. Like, say, their own shadow.

No travel time.


Weaknesses:



Requires two shadows which are large enough, and Akeya can't use her own shadow as the entrance.

Enemies can anticipate it if they've seen her use it before.

The momentum can also become a downside, making her move into unfavourable positions.

Doesn't work well in areas where there aren't enough objects which make large shadows.

Since Akeya can't use her own shadow as the entrance point she has to reach a shadow large enough before she can use it to travel to another. Enemies can try to keep her away from such shadows.


Shadow Copy:

Name:

Shadow Copy

Rank:

C-Rank

Type:

Shadow/Utility

Duration:

Instant

Cooldown:

4 posts

Description:

Akeya chooses a shadow within 20 meters of her. She can make her next offensive spell originate from that shadow instead of herself, allowing her to strike an enemy from a new angle without ever moving herself.

Strengths:



Can be used on any shadow. The shadow just acts as the focal point of the spell.

Can also be used on the target's own shadow, so if Akeya positions herself on the other side she can attack the target from behind.

Akeya doesn't have to make any movements if she uses this spell, so the enemy won't notice unless they're also paying attention to the chosen shadow.

There's no way to distinguish the chosen shadow from any other shadow, until of course the offensive spell is launched.


Weaknesses:



Must always be combined with an offensive spell. This spell doesn't do anything on its own.

Needs a shadow. Usually there is, but if the enemy is removing all shadows…

Shadow will have to be very close to the target if Akeya wants to use a melee offensive spell.

Akeya herself doesn't cast the offensive spell. The shadow is the origin of the single offensive spell. Which means that while casting this you could try to attack Akeya herself.

Doesn't actually enhance the attack in any way. Just changes the direction from which it comes at you.

B-Rank:

Shadow Dragon's Claw:

Name:

Shadow Dragon's Claw

Rank:

B-Rank

Type:

Shadow/Offensive

Duration:

Instant

Cooldown:

4 posts

Description:

Akeya covers one of her hands or feet in shadows, the shadows forming a deadly and wicked claw. The next strike Akeya delivers with that claw deals an additional 1.5 B-Rank damage and will carve through most materials. If attacking an actual being they'll lost their ability to feel anything around the wound for two posts. If she carves into a limb they can't feel their limb from the wound downwards.

Strengths:



Simple, instant damage.

Can be used to cut through most objects, including flesh and bone.

Increases the range of the attack by several inches.

Stealing the ability to feel the area around the wound (or the limb) will cause the target to not know just how much damage exactly was done.

If a limb was hit the target can't use that limb properly any more. They can still use it, but they'll feel very clumsy.


Weaknesses:



Melee range. Hand-to-hand range at that.

The inability to feel the afflicted area disappears after one post on mages one Rank above Akeya's, and fades within a post on higher ranked mages (PvP).

Just because the area feels numb doesn't mean it can't be used at all. And if the target is used to numbing effects…

Making the target unable to feel the wound can also be a drawback. If extensive damage is done pain can make somebody go into shock, something which can't happen if attacked with this.

She can carve into most materials. Not all of them. In particular, magic barriers won't let her through (if they're strong enough to block an attack of Akeya's Rank. PvP).

Can only hit one target at a time.


Shadow Dragon's Scales:

Name:

Shadow Dragon's Scales

Rank:

B-Rank

Type:

Shadow/Multiple Hit

Duration:

Instant

Cooldown:

5 posts

Description:

Akeya creates two dozen small dark spheres out of condensed shadows, which hover around her. She controls these spheres, and can make them shoot towards a single or several targets at high speed. These spheres are small and hard enough that at the speed that they fly they can penetrate most defences. Half a dozen spheres targeting the same spot deal C-Rank damage, a dozen spheres on the same spot deal B-Rank damage, and if she uses all her spheres to drill a hole into the same location she can deal up to 1.5 B-Rank damage. The spheres can fly up to 40 meters away and move as fast as crossbow bolts (120 mps).

Strengths:



High penetrating effect. A dozen spheres are enough to destroy a magic barrier of the same Rank (PvP).

Can be used to attack as many targets as there are spheres (24).

Move fast enough that only the fastest mages can dodge by reflex.

Can be made to travel flight paths that include curves to move around simply barriers.


Weaknesses:



As powerful as this attack is, it's still a precision based attack. It won't do much if she has to destroy an entire wall.

After the spheres have begun their flight Akeya can only make very slight adjustments to their flight path.

The more targets Akeya chooses, the less damage each of them will take.

The spheres take a second or two to form before Akeya can launch them.

A light-based spell of the same rank will destroy any dark spheres it encounters.


Shadow Dragon's Roar:

Name:

Shadow Dragon's Roar

Rank:

B-Rank

Type:

Shadow/Area of Effect + Channelled

Duration:

Instant/1 post

Cooldown:

6 posts

Description:

Akeya releases the roar of the Shadow Dragon, a large cone of dark flames erupting from her mouth and spreading out to barrage anything unfortunate to be caught in the torrent. The roar travels up to 40 meters, and at the end has a radius of 10 meters. Those hit by the centre of the roar (5 meter radius at the end) receive 1 B-Rank damage. Those caught at the edge only receive C-Rank damage. However regardless of if they were it by the full blast or only the edge the dark flames will linger on their bodies, dealing another C-Rank damage over two posts. Akeya can choose to spend another B-Rank's worth of mana to extend the roar from a single burst to a stream, adding another B-Rank worth of damage to anything trapped inside the enhanced roar (C-Rank if at the edge).

Strengths:



Deals a lot of damage across a large area.

Can hit as many targets as fit inside the area without the damage to any single target decreasing.

Can deal up to 2.5 B-Rank damage if Akeya used the enhanced roar, caught the target with the centre of the raging torrent for the full duration, and they don't manage to get rid of the dark flames that smoulder afterwards.

This allows Akeya to actually destroy large objects, in sharp contrast to the rest of her kit which is all about single target, utility and mobility.

Wins clashes with spells of the same Rank, the only exceptions being the roar of another Slayer or a light-based attack.

If the enhanced version is used barriers of the same rank will only block the initial B-Rank damage.

While in Dragon Force Akeya can use the empowered roar without having to worry about the added mana cost.


Weaknesses:



It's a very large attack, but it's also very visible. Not very useful when you're trying to be subtle.

Goes even with clashes against light-based spells instead of overpowering them.

It takes a lot of energy, and Akeya has to gather all that energy for several seconds before unleashing it. This gives anybody in the vicinity warning that something big is going to happen.

In the middle of the roar the torrent is focused and deadly. The dark flames that spread out beyond that could be considered unwanted spread, which is why this ability doesn't deal as much ability if the target is caught in the spread area rather than the core of the roar.

The dark flames that linger afterwards can be dispelled.

Akeya can't move while she roars, making herself more vulnerable while she uses it.

Empowering the roar can have devastating effects. However that requires the target of the roar to be trapped inside the empowered version for the entire duration.

The empowered version can deal up to 2.5 B-Rank damage while the normal version can do up to 1.5 B-Rank damage. This means that even if Akeya uses double the amount of mana, the damage potential only goes up by 66%.


Shadow Dragon's Expulsion:

Name:

Shadow Dragon's Expulsion

Rank:

B-Rank

Type:

Shadow/Area of Effect + Utility

Duration:

Instant

Cooldown:

5 posts

Description:

Akeya releases a burst of shadows around herself, dealing B-Rank damage to any enemy within 2 meters of her. At the same time the darkness in the centre of the pulse purifies Akeya, removing any negative status effects and allowing her freedom of movement.

Strengths:



Offers Akeya some much-needed Area of Effect damage.

Removes all negative status effects Akeya is suffering from.

The pulse is nearly instant, making it difficult for anybody to dodge it.

It is only for an instant, but while the pulse lasts anybody caught in it can't see anything unless they've got darkvision.


Weaknesses:



Only damages enemies who are already very close.

The expulsion only removes negative status effects which aren't constantly being refreshed. If Akeya is caught inside an area which continually applies a status effect the status effect will just be reapplied.

Negative status effects from above Akeya's own Rank will be reduced by 1 post rather than completely purged. Does nothing if a status effect only lasts for 1 post longer (PvP).

A burst of shadow magic is a rather obvious technique, meaning Akeya will only use it if she doesn't have to worry about the consequences of being detected.

Allies may not be hurt by the pulse, but they will also be blinded for an instant if inside the radius.

Signature Spells:

Shadow Arsenal:

Name:

Shadow Arsenal

Rank:

D-Rank

Type:

Shadow/Utility

Duration:

1 post

Cooldown:

Once per post

Description:

Akeya creates a shadow object, which can be anything that she can think of and understands well enough to make a copy of. This object can have a volume of up to one cubic meter. The object fades away pretty quickly, although Akeya can use this ability to keep the current object from fading.

Strengths:



A lot of useful things have a volume of less than a cubic meter.

If used to refresh the current existing item has no limit to its range.

Akeya doesn't need to drag around a bag of weapons or tools.

Items are pretty much immediately created.


Weaknesses:



All the things created by this act as Weak-Ranked items. More specifically, they act as Weak-Ranked items which under no circumstances can have an actual ability, active or passive.

Can't create anything alive, or otherwise independent. Only inanimate objects.

Can't create anything which requires magic to function. Well, technically Akeya can, but it won't work.

Can't create machinery.

If creating a new object it must be created within one meter of Akeya.

Objects fade away quickly, so they're mostly for single uses.

If sustaining an already existing creation Akeya can't create something new without the old creation immediately fading away.


Shadow Dragon's Fang:

Name:

Shadow Dragon's Fang

Rank:

B-Rank

Type:

Shadow/Offensive

Duration:

Instant

Cooldown:

Once per post

Description:

Akeya infuses her next attack with either her own body or a weapon with her Shadow Dragon Slayer magic, allowing it to deal an extra B-Rank damage and act as a piercing or slashing attack if it would normally be a blunt attack.

Strengths:



Good instant damage.

Can be used both on Akeya's own body parts (hands, feet, tail, etc.) and on any weapon she is holding (like a sword).

Turns an otherwise blunt attack into an attack that can either slash or pierce, depending on if Akeya thrusts or swipes.


Weaknesses:



Range stays the same as the body part or weapon it is used on.

Can only be used just before or during an attack to enhance the attack. Can't just enhance the attack in preparation.

If the enhanced attack misses this does absolutely nothing.

It can pierce and slash, but there's a limit. It can't go right through a thick wall of diamond or something like that. Magical barriers of Akeya's Rank and above tend to also be resistant (PvP).

Last edited by Akeya on 23rd January 2016, 9:27 pm; edited 2 times in total