Job Details:

Job Title: Hired Muscle
Rank: D
Category: Normal
Job Location: Motor City
Solo Word Count: 500
Group Word Count: 1,000
Additional Requirements: N/A
Job Description: An infamous thug that pressures small time businesses for protection money has a serious problem. His two guards that often do his dirty work for him are laying in bed sick, having some sort of flu. Now it is up to you to help the thug with the already overdue payments. Go with him and bust up two shops so that he gets his money. Naturally one of the shopkeepers will try to fight you, but that is okay, because some physical damage will surely put him back in place.
Enemies:

 
Shopkeeper x1
Doesn't have any real fighting skills, but since you are a new face around here, he seems to think he can take you. Be sure to teach him a good lesson.
Enemy Rank: Weak

Reward: 5,000 jewel.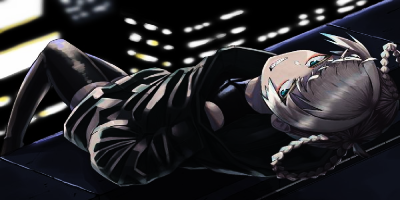 What were the odds of stowing away on a boat, only to have it be forced to turn around after a few hours? Pretty fucking slim, if you asked Anya. And yet, here she was. Wandering the streets of Motor City, yet again. Suddenly she was very glad that she'd had the foresight to pack a bag with a full change of clothes. Was it necessarily better then what she'd been wearing?
Not really..well, ok. Maybe it was a little better then her usual scanty outfit that hid under that oversized jacket. But that was only because a regular shirt with some kind of graphic on it thrown on over a pair of pants and under a thin bomber style jacket was definitely a lot less conspicuous than her boob window top and basically booty shorts combo from the previous night. Combine that with her hair actually being down, and you'd be hard pressed to ID her as the mage from the previous night.
And yet, the disguise that she'd all but immediately changed into before getting off of the ship hadn't been enough to keep her from getting wrapped up in further shenanigans in Motor City. She'd bumped into a man who'd been watching the fight earlier in the night. He'd recognized her and somehow managed to talk her into yet another small time job. One that she was already halfway done with. She hadn't even really gotten to have any fun with the first shopkeeper. The minute she'd dropped mention of who she'd been sent by, the poor bastard folded. Not unexpected, really. The man was very clearly a coward.
As she walked into the second shop, she found herself wondering if this was going to be a two for two on the 'coward' scale. Would be a shame, really. She was still a bit irritated about being swung back around into Motor City and being dragged into this whole scenario in the first place. She could use an outlet for that.
The conversation started well. Too well. They were both pretty calm. So, she dropped the name of the man who had sent her. And things immediately went into a tailspin. Most people might have had a problem with that. But between the insults he slung her way, and her already high levels of frustration? Anya couldn't help but let a wicked grin spread across her face as she gripped the edge of the counter with one hand, only to wind back with her free hand and crack him in the jaw with the other. The old man staggered back, but that didn't stop him from swinging back. She was a short girl, and she knew it. But that was why she was so well suited for this kind of thing. Nobody ever expected someone so small to be able to hold her own so well.
Vaulting over the counter, she followed up with a punch to the stomach. For the next ten minutes, that poor bastard was left to bear the brunt of her frustration. She made sure not to get him too roughed up. He still needed to cough up what he owed. And when she did eventually walk out of that shop--flipping the sign to closed on the way out--she did have the cash. She swung by the man who had employed her before leaving town, tossing what was owed onto the counter before getting her own payment. For once, she would be going back to her guild's base without frustration. She actually felt rather relaxed for once. Perhaps things were going to start moving on an upswing soon.
Word Count: 600
Total Word Count: 600
Tags:  N/A