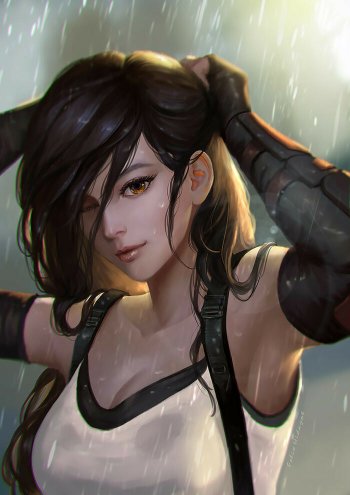 Name:
Kismet Clover
Gender:
Female
Age:
23
Birthday:
March 17th
Sexuality:
Bisexual
Personality:
"The strong survive, and the weak perish," Kismet believes. She aspires to be the best wizard in the world, despite not being the strongest. She has a laid-back demeanor and prefers to go at her own pace. She has a strong preference for alcoholic beverages and attractive women. She has also demonstrated that she is unconcerned about wearing revealing clothing to attract both women and men, and that she is most at ease lying around the guildhall in her underwear where everyone of her members can see her, demonstrating that she lacks modesty.
Despite being in a dark guild, other rogues admire her because she is more roguish than evil. She does not encourage killing unnecessarily or taking from the poor, but she will kill, and will take from the wealthy when necessary and will target them on purpose. She is a firm believer in honor and will not betray those she cares about.
When it comes to being brilliant or intelligent, Kismet falls somewhat short of the mark. Despite this, she has survived adulthood by following her instincts and gut sentiments. She is very self-assured in her abilities. She sometimes does not realize when the opponent is significantly stronger than her, or even when she is aware that the opponent is far stronger than her; still, she will fight on.
Kismet is unconcerned about social conventions, rules, regulations, or laws. This has turned her enmity toward those in positions of power who believe they have the authority to tell her how to live her life and what she can and cannot do. She is aware, however, that certain laws are necessary; she simply believes that there are currently too many.
She has one significant paradox in her personality, she believes that the strong will survive and the weak will perish, yet she has a special place in her heart for those who are poor or oppressed. Another aspect of her nature that complicates things is that she despises authoritative persons, especially those who are morally corrupt. If a contract arises to assassinate a noble who is abusing his subjects and taxing them to death, she will be the first to carry it out.
Likes:
~ Alcohol The guild's resident alcoholic, capable of drinking entire barrel-fulls of booze at a time.
~ Water Loves the beach and water. If there's time, she's swimming.
~ Fighting Kismet likes Fighting and polishing her skills.
Dislikes:
~ Aristocracy- She cares little for the upper elite in society and all their rules.
~ Failure- Kismet hates to fail and is determined to become the strongest.
~ Hot drinks- Yuck....just yuck.
Motivations:
~ Strongest- To become the strongest is her greatest motivation.
~ Friendship- Wants to find even just one person she can say she 100% trusts and vise versa, a f true friend.
~ Imortality- She actually doesn't know why, but one of her greatest motivations is to be young and strong forever.
Fears:
~ Failure Kismet hates to fail and is determined to become the strongest.
~ Black Cats Considers the black cat a symbol of bad luck, particularly if one walks across the path in front of a person, which is believed to be an omen of misfortune and death.
~ Dying  It's less she's afraid of dying but more afraid of dying before accomplishing one of her goals in life.
General Appearance
Height:
5'6 (167cm)
Weight:
Classified
Hair:
Brown
Eyes:
Changes; usually red
Skin Tone:
Fair, healthy
Appearance:
Guild:
Errings Rising
Tattoo:
Between shoulder blades
Tattoo Color:
Black
Last edited by Kismet Clover on 14th October 2021, 7:16 pm; edited 1 time in total