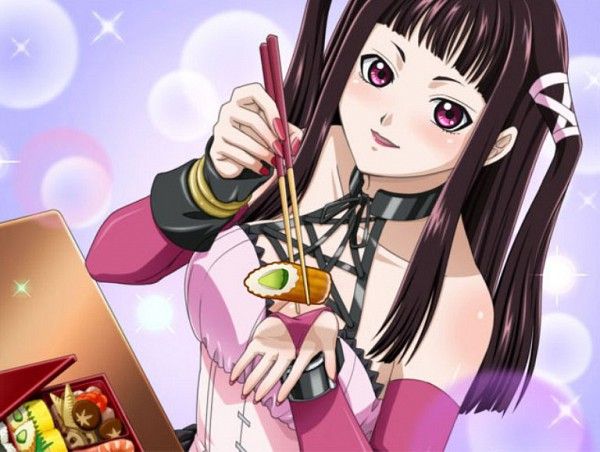 Name:
Zincarla Kekkanshi
Gender:
Female (She / Her)
Age:
22
Birthday:
October 1
Sexuality:
Bisexual
Lineage:
Kohl's Plague
Lineage Description:

Description: Kohl Kensai was the name of a widely known and successful sorcerer that would perform rituals on people which would give them a random power, according to how pure their soul was.  At some point, it was rumored that an individual gained immortality, gaining the attention of an evil duke from a faraway land.  The duke traveled to Kohl and demanded that Kohl to perform the immortality ritual on him.  Kohl tried to explain how the ritual works but the duke did not listen.  Kohl gave in when the duke summoned his knights on him and cast the ritual, however, because of the duke's heart being tainted with evil, he received a curse instead of a power.  The terrible curse gave the evil duke permanent hallucinations, such as monsters and fake pain, and anyone who would look into his eyes would be forever tortured by the inescapable curse. Henceforth whenever one would show to possess a similar curse, he would be referred to as a carrier of Kohl's Plague

Ability: When Kohl's Plague is activated the user will gain a very light purple aura around his/her eyes. During this time the user summons an illusory monster to attack those around them. The monster does not cause actual body harm but will damage the people it attacks mentally. It can attack through barriers and move through things like a ghost and has 50% of the user's HP for its own. The only problem is that the user cannot fully control their powers, so the monsters may rebel during certain periods. 1 user-ranked illusion appears dealing user-ranked(max S-rank) melee damage with their attacks. If there is no enemy for the monster to attack or they cannot reach the enemy,  they turn to attack the user instead.
Usage:  The eye ability itself lasts for 4 posts or until the illusory monster is defeated with an 8 post cooldown after use. The illusory monster will attack the user if there are no enemies conscious or alive within 20 meters of them at any time and the user cannot call off the monster once summoned.
Special Characteristics:
Zincarla has a tattoo of the number 11 in Roman Numerals XI on the front of her left shoulder to signify the number of years she survived prison (Entered Prison at Age 10 - Left at Age 21). She plans to continue getting tattoos for important events or people in her life.
Personality:
Zincarla makes friends and stays very loyal to them for as long as they are loyal to her. She is generous, humorous, supportive and is willing to put herself in harm's way for their goals. Before allies can be trusted, or even become friends, Zincarla must see them tested. Words count for something, but actions count even more so she will be wary of comrades until she is certain she can face her back to them without finding a blade in it later. To earn respect or promotion within her group of allies, city, or guild, Zincarla is not above being tested herself. Zincarla is as brave as she is egotistic. She won't tolerate disrespect without altercation but she also prefers not to do anything too major, lest she be arrested once more. She frequently likes to show case her magical power in order to prove her worth, as much to herself as to them. However, Zincarla is ruthless in battle and is willing to kill any foe to further her goals. With people she doesn't trust, she can harbor suspicion towards them. She ensures that they do not learn of her fears or true desires so that she cannot be manipulated if at all possible. When Zincarla is alone and feeling secure, her demeanor changes. She drinks her tea, enjoys reading, practices yoga and even explores local artists and museums. She is calm and open minded, passionate about enjoying the freedom that she finally has. She enjoys trying new things and will try almost anything once, as long as she feels secure enough. Zincarla has never had a partner, a lover, or anyone thus far in her life. She doesn't much care if they are male or female as the main characteristics she looks for in others is magical ability, strength, and trustworthiness. Beauty is certainly an added bonus and Zincarla isn't afraid to admit that.
Likes:
Magic Users: Her worth and identity are tied to her use of magic, thus anyone with magic becomes worthy as well in her eyes

Tea: She is especially partial to tea of all types, considering their variety and taste

Tattoos: An expression of permanent art in prison, she has a fondness of all types of art and particularly tattoos

Dislikes:
Metal: The sound and smell of metal, especially steel, reminds her of prison

Medics: The people in the medical ward of the prison were rough, cold, seemed generally disgusted to take care of her, so she doesn't trust them

Bellum: The home city where she was born, mistreated and imprisoned is a place one couldn't pay her to visit

Motivations:
Mastery: Motivated to improve and grow her magical strength

Monster Hunting: Enjoys killing and tracking monsters of all kinds (human, beast, demon)

Revenge: She longs to seek out the culprits of the crime for which she was blamed

Fears:
Dogs: Dogs, especially large ones, remind her of prison even though some seem to be amiable as pets

Cages: Being restrained or having freedom taken away is something that can trigger her childhood and prison trauma

Loss of Power: The loss of the magic she gained as a teenager terrifies her because it is what she defines her self value with

Height:
5' 3'' / 1.6 m
Weight:
110 lb / 50 kg
Hair Color:
Brown
Eye Color:
Magenta
Skin Tone:
Pale
Appearance:
Zincarla dresses for comfort as much as for fashion, splurging to try to fit in with society after the many years she was left out of it. She has a part time job as a maid and occasionally picks up shifts at maid cafes, using the same outfit, to make extra money when missions become few. She is very practical in choosing her clothing. She dresses for the weather, employing accessories like hats and jewelry to blend in on her comfortable daily routines. She keeps her hair long as it was never cut in prison, but she never fails to dress it up with hair pieces, ribbons or hats.
Guild:
Luminous Rose
Tattoo:
Left Shoulder Blade
Tattoo Color:
Navy Blue
Font Color:
#ff33cc
Last edited by Zincarla on 15th August 2022, 4:45 pm; edited 7 times in total