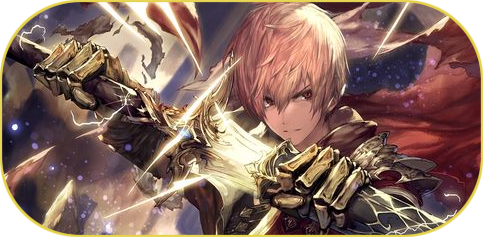 Name:
The Nameless Knight (Ivan Levin Dragunov)
Gender:
Male
Age:
27
Birthday:
09/18
Sexuality:
Straight
Special Characteristics:
N/A
Personality:
Ivan is in all aspects a gentle giant. Aside from his large stature he possess an even larger heart, a heart filled with compassion and concern for others. Even against enemies and rivals he will do his best to understand them.  Others may even call Ivan an cry baby, this is due to being easily moved to tears at the pain of others. Ivan is a kind soul who always strives to be better person. One of Ivan's most notable traits is his loyalty and faithfulness, he is a good friend is will always be ready to help a friend in need. Ivan is a very good listener and is always ready to lend his shoulder to cry on whomever may need it. Ivan is a caring individual, many people often look up to him as an older brother figure. He is quick help those in need, whether it be stepping  in to save a persons life or something mundane like helping the elderly walk the street. Ivan is quite a handy man, and is knowledgeable in fixing all sorts of thing. Ivan has a habit of carrying broken toys or gadgets in his coat pockets, when ever he he has time alone or when he feels anxious he tends to tinker with said broken gizmos. Ivan has a bright personality, he is very soft spoken despite his large stature. He almost always wears a bright smile no matter who he is talking too. However the greatest quality that Ivan possesses is his diligence and work ethic, he is the type of person to work his heart out. He is not afraid of shedding blood sweat and tears in order to achieve his goals, some call it stubbornness other call it determination. Due to Ivan's past he his wise and is a fountain good advice and wisdom, but  Ivan does not actively go out to lecture or berate anyone, he often keeps his thoughts to himself.
Despite Ivan's warm and welcoming personality, he tends to be loner. Though he is quick to warm up to the hearts of others, seldom does he let people get very close to him. Although he is loyal, and kind, he carries many secrets of his past. Deep down inside Ivan carries a deep self hatred, and self disgust. Ivan is ashamed of his past and will do his best to avoid speaking about it. Deep down underneath Ivan's warm personality, he is a soldier in every fiber of his being. Ivan has taken many lives, soldiers and civilians alike, he grew up only knowing war, death and poverty. His emphatic nature overshadows his battle hardened heart. Ivan knows a battlefield is not the time to shed tears but it is a time where one sheds blood... Ivan is afraid of others finding out about his true origins as a soldier of the Pergrande army. His fear is so great that he often has nightmares of all the terrible things he's done as a soldier. There are moments when his post traumatic stress disorder kicks in, when that happens he is forced to relive a traumatic event from his past. As a result Ivan is often to forced to medicine to calm himself down. Due to Ivan's past he is afraid of hurting others, that is why he tries to be so kind and helpful not for the sake of being good, but it is for his own way of seeking redemption for his past sins. This is why Ivan is so willing to let people hurt him, step over him, and even treat him like trash, this is because he feels he deserves it.
Ivan is pacifist, he will always try to use diplomacy before turning to violence. One should not mistake Ivan for a coward. In reality Ivan was forged in the fires of war and violence, kill or be killed was the world he grew up in. Ivan was forced to take peoples lives in order to preserve the life of his companions and loved ones. As a result Ivan is adept in the battlefield and will not hesitate to use violence if his enemy refuses to listen to reason and peace. Despite Ivan's low self esteem and insecurities, there is one thing he is confident about.... that is his ability to kill... Ivan knows the blood he's spilled as a result he will often be the one to spill blood in order to keep other peoples hands clean... Ivan is resourceful and ultimately a survivor, he is quick on his feet and observant. This makes Ivan a difficult opponent to deal with if one is locked in combat with him. In a team environment he is easy to work with, and he is quick to cooperate. He will do his best for the team, and will be quick to put himself in danger to keep his allies safe.
Overall Ivan is a kind individual who his haunted by his past, unable to see that he is actually a good and kind person....
Likes:
➸ Ivan loves cooking, he was the one who cooked for his siblings and for the other kids in the orphanage.
➸ Sun flowers, Ivan loves sunflowers because they're so bright and colorful unlike the cold desolate lands where Ivan grew up in.
➸ Fixing things, Ivan enjoys fixing broken things, he always carries a small tool kit with him where ever he goes.
➸ Ivan loves his family very much, his two sisters the most, he always wears a scarf that was made by his older sister.
➸ Music, Ivan loves to play music, he can play quite a few instruments well, this is because music and singing was an integral part to the mining community he was part of in his motherland.
➸ Pergande, Ivan loves his motherland, he wishes and prays that one day his people will learn to stop living in fear and paranoia.
Dislikes:
➸ War, what is it good for? Ivan hates war, he knows how much hurt and pain war can cause.
➸ Himself, Ivan hates himself and all the terrible things he's done in his past.
➸ Ivan dislikes slavery, the idea of people their free will and freedom angers him.
Motivations:
➸ Ivan desires to learn as much as he can about mages and magic, he hopes to return home to Pergande one day to educate and teach his people.
➸ Ivan wishes to become stronger to be able to protect those around him, he no longer wishes to lose anymore people he loves and cares for.
➸ Ivan wishes to to be reunited with his siblings and provide them a bright future.
➸ Even though Ivan is unsure how to achieve this, but he wishes for redemption for all the lives he took as a soldier.
Fears:
➸ Ivan is afraid of death, he is afraid of dying because he fears on hell awaits him due to all the lives he's taken in his life.
➸ Losing people he loves, Ivan's lost too many people he's deeply cared about, he's tired and doesn't to lose anymore.
➸ Ivan is afraid of breaking and hurting fragile things, which is why he has intense anxiety around small children, fragile objects, and smaller people around him.
➸ Ivan is afraid that his past sins will catch up to him.
➸ Ivan is afraid to be seen without his armor, this would be a great dishonor as a warrior.
General Appearance
Height:
6'5" / 1.95 meters
Weight:
229 lbs / 103.87 kgs
Hair Color:
Very Light Blonde / White
Eye Color:
Red
Skin Tone:
Light Skinned
Appearance:
Guild:
Saber Tooth
Tattoo:
On his shoulder / Etched on His armor
Tattoo Color:
Black
Last edited by Ivan Dragunov on 16th October 2021, 8:51 pm; edited 11 times in total