Name:
Sabu Catena
Gender:
Male
Age:
16
Birthday:
May 5th
Sexuality:
Bisexual
Special Characteristics:
Has a long body-length tattoo of a snake
Personality:
A very shy and reserved individual, most think it takes a lot in order to get acquainted to Sabu. In reality, if he is shown the smallest bit of affection, he will be attached to you like a sad puppy. Growing up in the distant desert regions as a labor slave, Sabu was never one used to receiving praise or affection. His parents were killed early after his birth leaving him all alone in order to deal with the trauma of slavery on his lonesome. Due to his general lack of apathy to working in general he was quickly made the brunt of all the guards and other laborers scorn and hate. Because of this he closed himself off to growing relationships very early on but still silently sought out a small morsel of love or any semblance of a relationship. His only friend was a young girl around his age named Lux who gave him the affection that he needed. When making his escape, he unfortunately had to leave Lux behind, so although he was free, he kept himself closed off emotionally due to this. Sabu misses social cues very often and does not know how to interact with other people to the point where his blunders are almost comical. Despite his shy nature when he is faced with a situation where his loved ones are in danger, he is not hesitant to jump into action and his determination perseveres through the hardest of challenges. Sabu does not and probably will never see himself as much of a leader until he feels he is worthy of that responsibility but prides himself on being an excellent follower, being able to carry out orders to a tee and never losing hope one hundred percent. In the face of adversity if no one else is able to, Sabu will always be the one to put on a brave face.
Likes:


Spending Time Alone - Sabu enjoys spending most of his time alone in order to meditate and think

Reading - Never being able to learn in the labor camps, after his escape Sabu becomes an avid reader always striving for more knowledge

Exercise - The only positive of Sabu's history was the early development of muscles. He now exercises at least once a week (primarily running)

Dislikes:


Large Crowds - Large crowds of people invite too much unpredictability putting Sabu on edge

Arrogance - Although he is a very calm person, those who show too much bravado with no merit get on Sabu's nerves

Overspending - Growing up with nothing, Sabu is stresses the importance of saving money and not spending on unnecessary wants.

Motivations:


Finding Lux - Although he knows she is long gone, Sabu will always be searching for any mention of Lux around Fiore

Liberation - Freedom does not stop at Sabu. There are others who are unfairly enslaved that deserve the same freedom Sabu gave himself.

Growing as a Mage - Magic is what freed Sabu from his bonds, and in order to create a free world, Sabu needs to reach the peak of magic in the world

Fears:


Restraints - Seemingly self-explanatory, being in any form of restraints fills Sabu with unnatural dread that he will be taken away again.

Darkness - The labor camp Sabu escaped from, there was a shocking lack of light, and he strives to avoid anything to remind himself of that place

Small Spaces - Like restraints, small spaces are another way of making Sabu feel as if he is constricted

General Appearance
Height:
5'10"
Weight:
143lbs
Hair Color:
Black
Eye Color:
Black
Skin Tone:
Dark Brown
Appearance:
Black-framed glasses with a sleeveless beige-colored hoodie and shorts to show off the snake tattoo.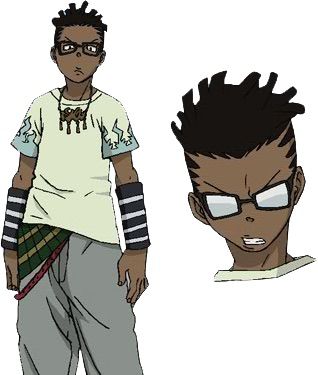 Guild:
Meliora Vitae
Tattoo:
A pair of koi fish on Sabu's left shoulder, intertwined with his golden snake tattoo
Tattoo Color:
White with a golden outline