It had been some time since Faustein's last adventure, which was a real thrill ride from beginning to end. He had been asked to create a creature through the use of his mad science techniques with the objective of not only shocking the world, but also making the whole of Elysium proud of his talent. He had been given carte blanche on resources and after a grueling expedition into the literal bowel of a legendary beast known as the "
Leviathan
", he had procured a pair of treasures from a lost, legendary island which, interestingly enough, was located in said beast's bowels. The first of the two treasures he had found happened to be a mysterious crystal orb known as the "
Soul of Alkīmiyā
" which was emanating a strange but undoubtedly potent energy and the second was a secret, ancient tome called the "
Emerald Tablet
" or the "
Tabula Smaragdina
" which held the innermost secrets of the greatest of all the alchemists who had lived on that island.
Faustein had brought both back with him to his lab and after a long period of painstaking work, at the end of that assignment, he had managed to create two chimeric specimens. The first was an interesting fusion of a female archangel and a succubus queen who then turned into an artificial dark angel once he had surgically implanted a piece of the "
Soul of Alkīmiyā
" inside her body. The second was more mundane, but still somewhat intriguing in nature as it involved him turning a normal human female patient into an artificial dhampir, still female, by transplanting the organs of a certain "
Ancient Vampire
" which he had captured and killed, but then reanimated and kept alive for the purposes of his research. This specimen had also required surgical implantation of a piece of the "
Soul of Alkīmiyā
" inside her body before achieving stability.
He had then presented this achievement to the Elysium guild's leader, a woman named "
Janet Cinderfeild
", at which point, she had promoted him from his former mage class of A to his new, current one of S as a reward. Needless to say, this had been a surprise to him, but of course, he had not shown it outwardly. Since then, he had gone back to the usual routine of his profession as a practicing physician-scientist mage and of course, to his ongoing mad science research which had been propelled to new, never before seen heights thanks to his acquisition of those two aforementioned treasures. In this manner, time had marched on till the present moment. A few days prior, one of his female guildmates, namely one named Selina or Temperance as she liked to be called while out in the field had invited him to go with her to a certain wild, rave party which had been gaining momentum over the past several days and weeks. Of course, initially, he had not wanted to go since these types of events were not quite his cup of tea, and also because there was much work to be done in the development of his two new magic systems. However, sadly, he had hit somewhat of a slump in his mad science research and thus, he was forced to step away and take a break from it.
Hmm, maybe this situation does call for a break in activity, at least for the time being.
He mused silently as he readied himself in his casual outfit which he used when he was simply out and about to for some R&R. After that, he headed out to the Rose Garden which was the prearranged rendezvous point for him and Selina before they went to the event. It did not take him very long and soon enough, he arrived and then decided to wait there for her. While waiting, he wondered why she had asked him to go to such an event with her, but he surmised the reason would be revealed soon enough and thus yawned briefly while stretching with a groan, letting his tired, sleep deprived body relax a little.
---
OOC:
WC:
678
Appearance: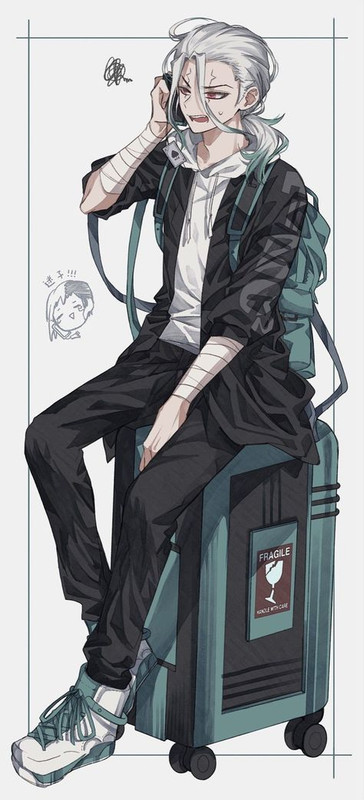 Last edited by KuroFaustΩ on 16th August 2020, 10:41 am; edited 1 time in total