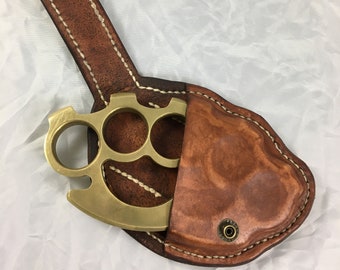 Name:
 Brasswork Knuckles
Rank:
Strong
Type:
Weapon (Knuckles)
Proof of purchase:
Link
Description:
A pair of knuckles made of special brass that allows its user to attack his opponents with swift and deadly punches, one that is complemented with the help of the Brasswork Knuckles. It was designed so it is not overbearingly big, that it was compact which would allow him to travel anywhere without suspicion of him carrying a weapon. This is a result of the combined efforts between Ozwald and the engineers of the scholars of Grimwold.
---
Name:
 Brasswork Assault
Rank:
 C
Category:
 Offensive
Type:
 Single Target
Damage:
 60 HP
Range:
 Melee Range
Speed:
 Melee Speed
Description:
 Its user attacks with the knuckles infused with magic. If it hits, it deals spell damage.
Name:
 Brasswork Studs
Rank:
 C
Category:
 Auxiliary
Type:
 Passive
Description:
 Due to the weapon's unique composition and shape, the Brasswork Knuckles make it easier to hit an enemy with such force and trauma. Alongside its capability of absorbing ethernanos to increase its effects, this increases his spell damage by 45%.
Last edited by Ozwald Morgan on 8th July 2020, 12:04 am; edited 1 time in total