@Luceam
0672/0672WORDS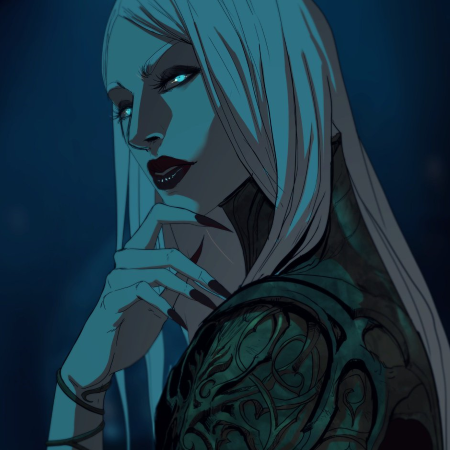 Atarah
I don't live in darkness, darkness lives in me

Health: 400/400
Mana: 400/400
Blood: 0/400
Melee: 40
MagicDef buff:
MeleeDef buff:
Health buff:
Mana buff:
Magic buff:
Melee buff:
 
The silver haired vampire woke up from bed in her chamber within the castle of Errings Rising, which stood firm atop of a peak of the mountain Hokabe. She had recently joined the guild after he centuries long slumber within her dungeon, in which she had been imprisoned on the ground of witchcraft, profanity, regicide, mass murder and what not; all were very much true. Atarah had been a princess of a royal family that ruled over a kingdom, nowadays swollen into the mighty kingdom of Pergrande. She was discontent with her disposition and had always been a wicked child, she did not believe in the gods and found solace in imagination; a place where she ruled and punished those that did her wrong in the real world. It was this fantasy she had that piqued her curiosity into the Devil, and it so happened the Devil had his eyes upon her. The Devil entered her fantasies and made them true, slowly corrupting her until she fell completely from grace; it was Him who drove her into a madness in which she performed a ritual to become an Estrië, a sort of vampire or succubus and pledged her loyalty to the Fallen One. It was after that, with her new form and powers, that she sneaked into her father's castle and slaughtered her family, the castle's servants and the guards. She took her fathers crown and ruled her ancestral lands in a bloody grip until her people rose up and the armies of other kingdoms crossed her bothers. The vampire had no chance and fled to the South, and it was there that she was captured and placed within a tomb; sealed by not only stone but hexes and spells, to ensure she would never be free but their magic has faded with time and Atarah broke her bindings. She wandered for some time, weakened by her imprisonment and malnourishment, and learned about the guild of Errings Rising; she had to find a place to grow back the strength she lost and grow stronger than she was before, Errings Rising seemed a place she could do so.

Errings Rising was a peculiar guild and at times it's members annoying, at such times she either went down the mountain to one of the minor settlements to unleash her agitation with blood, fire and darkness or she would disguise herself and partake into the world of the muggles to be gone from the guild for a while. It was one of days, that she would go out and traverse the muggle world. Atarah had taken on her alter ego, named Veronica. Veronica has long white hair, just like her normal appearance but it is wavy rather than straight; her eyes that normally glow blue are amber coloured. She wore a sweater made of white wool, a black leather skirt and very tall black boots that over her knee's. A long red trench coat framed her whole and her hands were covered with supple black leather gloves.

Veronica had travelled to Clover Town a place to the East of Hakabe, in the middle of the largest lake of Fiore. It was there that she learned of the mysterious death of six youth, two others had survived those deaths and talked about a masked man; whom rumours claim to be Kayson Warheez, someone who more frequently kills people. The tales she heard piqued her curiosity as it seemed this Kayson wasn't truly a man of sorts but more like a spirit or demon as some even claimed. There was job request to find out what happened and bring down Kayson and Veronica decided to partake in the job, not so much to make the murders stop but to find out if she could bend Kayson or her will if he indeed be a demon. She travelled to the place where the murders have happened, and waited upon one other person; the officials of the town had told her someone else was on the job as well.


'An evil life is kind of death.' ~Ovid
IVYLEAF33
Veronica's appearance: