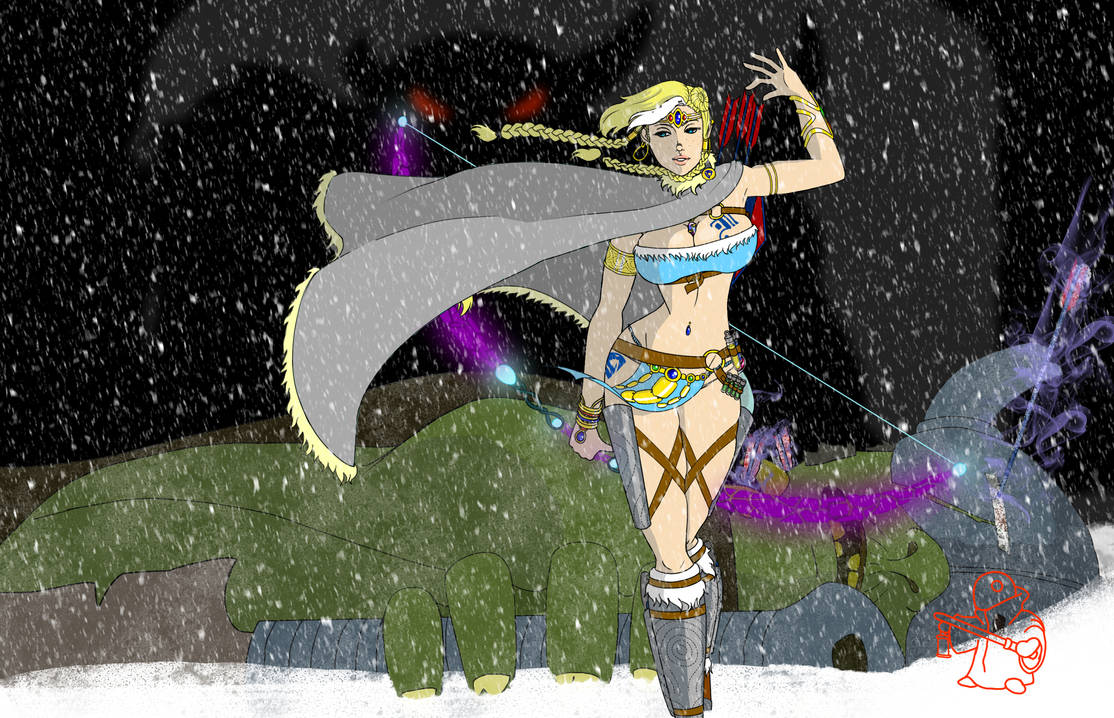 Name:
Beira III of Utgardr, Goddess of Winter
Gender:
Female
Age:
21 (chronologically way much older)
Birthday:
Unknown; sometime in Winter
Sexuality:
Straight
Special Characteristics:
Beira is a descendant of the Aesir
She has a dark-blue rune of an unknown alphabet over her heart. It glows gently when she uses her magic.
She is an extraordinary acrobat, climber and swimmer, as well as an accomplished naturalist, with expertise in folk medicine.
She speaks Utgardian (a dialect of the Aesir tongue), and the common language. Curiously, her accent is Pergrandian.
Personality:
Details:


From first observations, Beira isn't your everyday, garden-variety individual. Her posture is pointedly regal, and even when in an idle position with her weight shifted to one leg, her chin is always up, and her shoulders pulled back. Her gait is elegant and natural, with a slight, effortless sashay when she walks, which characterizes her elegance with a streak of sensuousness. Beira bears herself with the stylish confidence normally expected to be seen by well-groomed royalty, which serves to create a rather interesting contrast to her dress sense, at least if modern Fiorean royalty clothing style was used as a comparison to hers. Beira, introspective by nature, isn't given to garrulousness, her speech is often soft, gentle and calm, but often formal with firm undertones, as are her mannerisms, and she will never raise her voice unless she deems it necessary. Her controlled bearing creates an air of aloof dignity about her, and many will be quick to brand her a snob. In all, she carries an undeniable personal presence, although her natural majesty is notably counterpointed, although not diluted, by a naïve charm she exudes, intensified by her glowing skin, silvery voice and facial features, which make her seem younger than she is. This gives her the ambience of a young, strong-willed but callow princess.

Around people she is more comfortable with, Beira becomes less icy, talks and smiles more, and is much less formal and more witty, although she still seems to avoid shouting as much as she can, and still will hardly ever do anything sudden and spontaneous (unless it is in a fit of violence), although when overwhelmed, she tends to have rather strong emotional responses, as she is a rather sensitive person. Beira has almost genius-level intelligence (if not so), with a very tactical mind and strong will, though her ignorance of many things of the world are a mask for her able mind. Once a conservative young woman, the amount of betrayals she has endured in her life have made her morally flexible, as, in her opinion, adaptability is the best means of survival. Nevertheless, she still holds true to snippets of her moral code, which she will not break, if she can help it. Essentially, her moral code is concentrated into the following tenets:
-Power is paramount. Knowledge is power. Gain both. The only way to not be abused is to be stronger than your abusers.
-Do not go out of your way to cause suffering, but do not hesitate to cause it, if it furthers your goals.
-Humans are untrustworthy. Be careful whom you trust.
-If you must do "evil", it is acceptable if it serves the ultimate good.
-The world is full of enemies, even those who seem to be on your side. Be on guard.
The only problem with her moral code is the "as long as the right results are generated" mindset she has. This makes her do rather regrettable things, which she will still justify by the results of her work.

Beira was terribly spoiled as a child, is naturally headstrong, and somewhat vain, so she doesn't take too kindly to being offended. When angry, she tends to be imperious, sulky and petulant, and is known to lash out physically and/or verbally at the cause of her anger, if it persists within her personal space. Oftentimes, though, she often later feels regret for her outbursts, and isn't too big to attempt to make amends. Having been sheltered for much of her life, Beira is very curious, though she often unsuccessfully tries not to show it, as, according to Utgardian royalty etiquette, expressed curiosity isn't becoming of her majesty. Her desire to know things has led to her love of books. She is also considerably naughtier than she lets on, but is not above feigning outrage at exposure to something risqué, although deep down, she may be intrigued by it. Despite her amorous tendencies, Beira is still a lot more innocent than she looks, and against popular belief, favors her minimalistic style of dress simply because she's used to, and more comfortable in, it. Being raised as the 'Aspect of Winter', Beira is accustomed to wearing very few clothes, even in cold weather, because of her magic and culture, which may make her seem somewhat indecent. All the same, she is not without shame; the least she will allow herself to be seen in would be her underwear, or clothes as scanty as that (of course, Beira's opinions of underwear are quite more scandalous than those held by the general public, but at least they cover the naughty bits). Having been spoiled for a good deal of her life, she doesn't like criticism, though she's level-headed enough to sift through comments made about her, as objectively as she can, though she will initially express displeasure at being criticized. Beira understands that she is gorgeous, and while she seldom engages in flirtation, she will use her charms to get her way when and where she can. It must be noted that people with openly crass or vulgar behaviour will be met with Beira's utter and unrestrained disdain, as well as her scathing condescension. One more thing: calling her old, or insinuating such is a sure-fire way to get her angry.

Despite Beira's obvious failings of vanity and pig-headedness, she is rather gentle, thoughtful and considerate (when she isn't angry), and while she believed in improving the world through kindness, now she sees it as a hollow dream. Power, not kindness, changes the world. She admires compassionate people though, only when they are strong, as she realizes that she is perhaps not as morally strong as they. As someone who seldom had to do anything for herself, Beira often gets excited when there is an opportunity to do mundane, hands-on work, bringing a gung-ho spirit to the task. This includes missions, although if she is not dressed 'for work', she will refuse to get her hands dirty, and if she must, you can be sure everyone around will hear her complaints. Self-disciplined to the point of almost being brutal to herself, she will never accept her own failure, and must find a way to atone for any failure she perceives on her part. Fiercely loyal, rather obliging and almost over-protective towards those she views as family and friends, one could not wish for a truer friend, although you can be sure to get a good deal of snark from time to time.  She often suffers from vivid nightmares, as a side-effect of her secondary magic, and will often be quite snappy and cranky the morning after. However, she doesn't like to discuss her problems with others, unwilling to unburden others, which her friends can find frustrating, seeing as she likes to lose comfort over those she holds dear. She tries to be honest as much as she can, and though she lies from time to time, she was never good at it, and often blushes when she does. She, however, is a mistress at controlling her emotions, as long as she doesn't have to speak and thus give herself away. Being honest, Beira dislikes habitual liars and traitors, and cannot respect shady or underhand people, though she has learnt to cope with them, as her 'uprightness' has been at great cost to herself, in her own opinion, and yet she is too stubborn to abandon it. Insults and breaches of trust, she cannot stand, and will punish them where she can, with a heavy hand, and finds difficulty forgiving traitors. However, she will overlook much for those she knows she can trust, and will go to great lengths to ensure their comfort, safety and well-being. Such people are very few.

Having been raised from a young age as royalty, and having had leadership thrust on her before, Beira prefers to lead, only because she is not accustomed to taking orders. Still, as a leader, she is rather charismatic, preferring to lead by inspiration and example, as she will hardly ever order her followers to do things that she will not do in their shoes, and being fiercely protective of those below her. She easily listens to, and takes advice, as long as it seems reasonable to her. She will get offended, as a leader, if someone disregards her orders, although she will see reason if the disobedience has a useful excuse. Of course, 'useful' is subjective. If Beira must follow, she will take orders without issue, as long as they are presented courteously enough, they are presented by one whom she holds in high regard, or she feels her morals leave her with no choice but to obey. Should an order be given without proper manners, and she feels she has a choice to refuse, she will do so without a second thought and damn the consequences, whatever they are. Eventually though, she will most likely swallow her pride and carry out said orders, if she realizes they are pivotal to the success of the team, or necessary to save lives. If not, nothing short of absolute mind control will make her execute the orders.

Beira is comfortable with combat, though she dislikes ending up dirty at the end, and will often complain until she can get herself cleaned up. Mindless or unnecessary bouts of fighting are distasteful to her, but sparring is enjoyable, and personal training even more so. She is too brave, or perhaps too proud, to turn down a challenge, unless she is certain her opponent far outclasses her, at which point she will not even bother to fight, but gracefully yield. If not wearing her battle-gear or any outfit she has specifically set aside for matters of combat or combat training, she will show unwillingness to fight, considering it poor taste to fight in clothes other than those designated for fighting. Beira believes, for the most part, in honorable combat, and though she cherishes winning, she will not break perceived rules, or engage in tactics she deems underhand, like sand throwing or attacking the groin, especially in a duel. This doesn't mean Beira is totally above such strategies, especially when it is a life-and-death situation, or a chaotic brawl… or she is quite pissed off, and her vindictiveness allows her to often enact more punishment than is due when a despised opponent is at her mercy. The longer she fights, the meaner she becomes. Beira responds to an opponent with the level of force directed against her. If her foe fights unarmed, a fist-fight it is, no more. If they use sticks or stones, expect bones to be broken, though she will not kill. Face her with a sword, and she will defend herself with the intent to kill. Normally, Beira retains her politeness in battle, even to enemies, initially, unless they annoy her, at which point it is realized that while she will hardly curse or swear, the young woman has a keen tongue, and can be very snarky when riled, which may not be very safe for her, seeing as she doesn't often know when to stop, once she starts being mordant. She highly respects those who have defeated her in combat, or those who can, according to her estimation.

As far as combat itself goes, Beira is well-trained in a number of weapon styles, but favors fighting with two weapons, usually a sword-shield combo, two swords, or a spear and a sword used in tandem, although she utilizes pole weapons with commendable skill, should she have to use a single two-handed weapon, and favors a whip, if she must fight with a single weapon, though she is no stranger to wielding a sword or dagger alone. She is also very proficient with a bow, as well as throwing knives and chakrams. All her weapon styles utilize her incredible acrobatic skill, except the whip, with which she usually stands immobile to attack, but will switch to acrobatics to dodge, rather than parry, if attacked. Should she have to fight unarmed, Beira's style is one that focuses much on grappling, having learnt this in a snowy clime, where footing might be treacherous, and one may not have the advantage of firm footing from which to execute strikes. Practitioners of her ancient and all-but-forgotten style are usually taught throws and grapples that can easily kill, or place an opponent in humiliating or excruciating positions. She is adept at striking, with her strikes fluid and acrobatic, majorly designed to cover distance between herself and an opponent, at which point she will focus on debilitating locks and throws, if she hasn't defeated her opponent by then. Punches are hardly thrown, with focus being more on elbows, chops and slaps, and all sorts of kicks. A master of combat will notice that while Beira's striking techniques were obviously not taught from the same school as her grappling, she has ingeniously fused both aspects into a graceful and effective style of her own. She is very good at using the environment to her advantage when fighting. As far as combat gear is concerned, due to her upbringing as the Aspect of Winter, Beira believes one can bring as many weapons to a fight, but as little armor as possible. She wears little to fight, as she believes that the less one wears to engage in energetic activity, the less clothes will be fouled by sweat and dirt. This is the reason behind her minimalistic dressing style when training or on missions. Since Beira totally eschews armor, she has a bias, considering those who use it as not very good fighters.

Though having a high level of self-discipline, Beira is appreciative of the finer things of life, and loves luxury and a milder shade of hedonism, though full-blown decadence disgusts her. As expected, she always prefers to wear stuff of considerably high quality. This makes her favourably disposed to jewelry. She loves to look good, and to be admired, and thus, even with her minimalist sense of clothing, she prefers to appear 'head-turning', which, given her physique, isn't at all difficult. Still, she goes great lengths to keep herself looking good. Her sense of taste is almost otherworldly, and she can determine, to a high level of accuracy, most or all of a food's ingredients, and probably how much effort was put into cooking it. She is an excellent cook, but often considers herself too lazy to cook for herself and will prefer to eat out, or purchase food. Nevertheless, if she is to host people as guests, she will cook, mostly just to show off her culinary skills. General opinion is that her meals are strange, and their components bizarre, but those who get past the initial scare, and manage to put down a bite or two, are always pleasantly surprised, unless they have serious issues with their taste buds. Note that if she cooks, and her food is rejected for any reason, she will take offence. Beira loves being pampered, and appreciates it greatly when people treat her so, or go out of their way to do her favors. Interestingly, despite her vanity, she will accept even inexpensive offerings with grace, understanding that not everyone has access to wealth. Beira suffers greatly from culture shock, being from a culture and time rather remote from Fiore's. Yet, she sees little need to adjust to the life and times, although she is quick to adopt one or two bits of Fiorean culture, if she favors them, an example being her usual 'work boots', which are of Utgardian style, but with more modern-looking heels. Due to her desire for luxury, her dwelling place is often small, but usually lavishly furnished. Oh, and there will always be a lot of books in there. Always.

Likes:
Power: The powerful can do whatever they want... or prevent other powerful ones from taking advantage of them. Beira wants to be in the second category.
Luxury: Beira loves being spoilt, and engaging in relatively controlled self-indulgence. This does not change the fact that she is still quite disciplined.
Hygiene and Cleanliness: Because if you are dirty and have no issues with it, you are a pig. Quite linear line of thinking there.
Victory: Who doesn't love winning? Beira has learnt to lose graciously, but the thrills of winning are still very intoxicating to her.
Attention: As a child, she was always being passed over. Now, whether with smiles or in fear, she wants her name to be known.
Cold Weather: She grew up in a realm of eternal winter, while being raised to wear as few clothes as possible, and her magic is cold-related. You can't blame her for liking snow.
Jewelry: Because they're nice and shiny. Oh, and expensive, too.
Books: Beira has always prided herself on being a scholar, and will read, or study, almost anything. Just for kicks. She is trying to build a personal library.
Rich food: The more flavors, the better. This has given her the weird habit of trying out weird food combos, or cooking strange dishes.
Ice cream: It's cold. It's sweet. She's practically addicted to the stuff.
Dislikes:
Demons: Beira sees all demons as evil, and if, in the rare occasion, there isn't, she will watch them with paranoia dialled to 11.
Losing: She can't stand surrendering, acknowledging defeat, giving up. No. Even though she has learned to accept some losses as being inevitable, doesn't mean she'll like them.
Vulgar people: The crass, the rude, the *expletive-inserted* heads, she cannot stand. She often responds with her sharp tongue or fists.
Dirt: Because ewww.
Vermin: Cockroaches, snakes and spiders most especially. They throw her into a fit of rage mixed with horror. Do you want to see the literal definition of "killing a cockroach with a cannon"? Beira vs. Cockroach is the way.
Hot weather: The sweat, the heat waves, the discomfort. How do people survive in tropical areas?!
Bullies: Beira believes that abusers of power should be shown their place: the bottom rung of the ladder.
Technology: She has tried wrapping her head round the thingamabobs, to little avail. Therefore, Beira views most technological matters with aloof dismissiveness.
Dishonesty: Whether in tactics, words or actions, she can't stand them. Maybe because Beira is a very poor liar.
Any Comments About Her Age: Just don't. Chronologically, she's really quite ancient, but she doesn't like being reminded about that, as it recalls the things she lost so long ago. At the same time, she looks young enough to appear on the verge of being a legal adult, and hates being told so. She was once prevented from entering a bar, because security thought she was maybe 16 or a bit older. Hilarity ensued.
Motivations:
Controlling Her Own Fate: Having had too many external influences ordering the course of her life, Beira wants to be in full control of her own destiny.
Being Recognized: If there's anything Beira wants, it's for the general populace to know her name. While initially hoping for positive acclaim, the path she treads on may lead to fears being evoked in her name.
"Standing Guard": Beira's place of birth was destroyed, and she had a hand in it, though she wasn't particularly to blame. As far as possible, she will strive to keep watch over her new home, Fiore, to prevent catastrophe from coming to it. The only problem is, if burning half of her 'home' is her perceived way of protecting it, you can trust to have a merry fire going, though she won't whip out marshmallows to roast.
Building A Personal Library: Because books. Yes, she's practically addicted to them.
Fears:
Being Betrayed: Having gone through the pain of being betrayed one time too many, Beira never wants to live through the experience again.
Losing Control: Beira is aware that the 'higher powers' interested in charting her life are still very much alive and around. She fears she will become puppet to one or more of them.
Dying Without Recognition: Beira isn't scared of death; what she fears is that she will die unsung, and no one will remember who she was, and what she did.
Demons: Beira is actually quite scared of demons, and seeing as her magic tends towards the infernal, it makes her no less frightened.
Over-sized Vermin: Her response to a normal rat will range from throwing something at it, to climbing a chair. But her response to a six-foot rat becomes nothing short of hysterically homicidal (or 'ratticidal', as the case may be), due to the maddening fear she feels when she encounters such horrors.
General Appearance
Height:
5 feet 2 inches
Weight:
116 pounds
Hair:
Golden-blonde, with a silver-white streak
Eyes:
Sky-blue
Skin Tone:
Fair, with a gentle tan. Mildly freckled
Details:

physical features:


As far as physical description goes, the first characteristic that is usually taken note of, when an observer spots the young woman known as Beira of Utgard, or any (apparently) human specimen, for that matter, is her height. Not because human individuals do not come at the impressive height of five feet and two inches on the dot, but because such a height is on the smaller side for people of her age bracket, who often manage to attain statures of greater physical considerations, female or otherwise. Well, blame it on the genes.

Most times, unless there's something more conspicuous to catch the eye, after noting the size of an individual, the next thing one moves to is the face. And as far as Beira is concerned, most observers have found visual gratification in "sizing up" her face, unless jealousy prevented them from appreciating the aesthetics of her features. Beira's hair is full, long and velvety, golden in color and straight, with a slightly wavy attribute. Her hair normally is long enough to reach her waist, and she wears it in a large braid that falls behind her. Her bangs are left free and fall almost to chin level, but are swept to the right side of her face, where they may, on occasion, obscure her right eye. A thick streak of snow white runs through her bangs. Beira's eyebrows form two neatly-groomed arcs on her face, although the right one is often hidden by her bangs, which are drawn to the right side of her face. Two locks of hair, long enough to reach chest-level, descend on either side of her head, and are braided, with the braid on the left descending from a peculiar coil of hair that sits above her left ear. Beira's eyes, framed by thick eyelashes, are large and clear, her irises a radiant shade of azure, reflecting lively innocence, though they are known to show passionate emotions, time and again. Her nose is small and upturned slightly at the tip, and her lips are full and sensuous, veiling pearly-white, flawless dentition. A smattering of freckles dot her cheeks.

Despite this young woman's height, her shape instantly divests an observer of the belief that such a height belongs to someone a little older than a child. Beira sports a slender yet considerably curvaceous and well-proportioned body. She has slim, supple limbs ending in gracefully-formed extremities, a callipygian frame with well-rounded hips, a lissome waist and slender shoulders, and an ample bosom. While Beira's musculature is developed enough to give her a fit appearance, a thin layer of fat over her muscles gives her figure a soft outline, and while not being enough to make her look at all pudgy, it makes most people consider her to be much more delicate than she actually is, an opinion she does very little to change. Her gait and movements are sensually elegant and controlled with an unexaggerated but sinuous grace, and her voice is silvery, gentle and slightly breathy, hinting at something naughty underneath the easy poise with which she carries herself. But it is not by deliberate design that her voice is that soft; even when she yells, Beira's voice is quieter than that of the average woman her age. Yet for all its smoothness, her speech is rendered with the carriage of royalty, as is her bearing. Of note is a dark-blue rune in a strange forgotten language, inscribed over her heart. It glows faintly when she uses magic.


clothing style:


For what it's worth, Beira's style of clothing seems to be rather wanting in terms of coverage; despite her demeanour of innocence, she seems to take great pride in her appearance, and apparently has no scruples with revealing clothes which leave few things to the imagination. Yet she is not without shame, as she will never be found in the buff, if she can help it. She favors jewelry, and often wears quite a lot, sporting a number of piercings as well. It should be noted that her dress sense is less of a desire to be seductive, and more of a cultural thing, with Beira being quite a fan of her culture, especially as she is the last of her kind.
For missions, Beira dresses in traditional Utgardian battle attire, which involves a lot of jewelry and few clothing articles, but made of quite sturdy material, and well secured to prevent 'wardrobe malfunctions'. Her battle gear comes with an optional thick, weatherproof cloak, which is a staple for a traveling Utgardian. She wears weapon sheaths on her thighs, as well as on her boots, and a belt to which is attached various vials and flasks, as well as a waterproof bag for holding dry materials. She also prefers Utgardian fashion for formal outings, no matter what others are wont to believe as a result of the amount of skin exposed. To go along with both action and formal dresses, Beira often wears a circlet, though the one she wears with her battle gear is simpler and less fancy than the one worn with formal clothes.
At home, or on casual outings, she is fine with wearing more contemporary Fiorean clothes, although they still meet the Utgardian standards of 'decency'. Usually consisting of a skimpy tank top and rather scandalous cut-offs, the difference between house clothes and outing wear is usually a shirt which is never buttoned though the bottom may be knotted, and heeled boots. Beira favors heels as far as footwear is concerned, because of her height, and she will always wear heeled shoes, if she must wear footwear. Even the boots of her battle gear have been so modified. For training, as well as sleepwear, underwear will do. It must be noted that Beira always wears an egg-shaped, opalescent pendant, no matter the event. She even wears it to sleep, so it obviously has some sentimental value to her.

Guild:
Errings Rising
Tattoo:
Right hip. It is dark blue in color.
Last edited by Fraag on 7th August 2019, 8:26 am; edited 2 times in total