@Grim Reaper
Sign up (p.634)
1046/1046 WORDS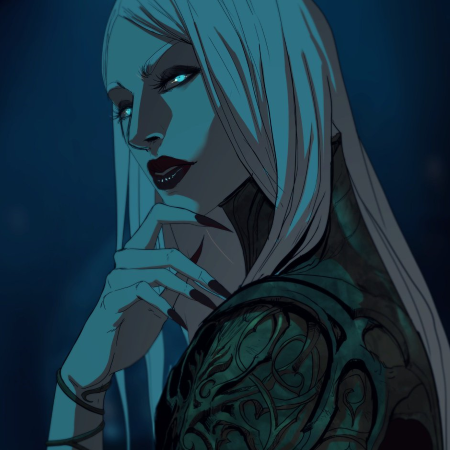 Atarah
I don't live in darkness, darkness lives in me

Health: 400/400
Mana: 400/400
Blood: 0/400
Melee: 40
MagicDef buff:
MeleeDef buff:
Health buff:
Mana buff:
Magic buff:
Melee buff:
 
A slender woman with a milky skin and silver hairs, that came near to her waste, strode with dignified steps through one of the stony halls of the fortress inhabited by the guild of Errings rising. She wore a tight-fitting dress that was sanguine of colour near the base and became gradually darker to black towards the top. Around her throat and shoulders was an elegant gilded gorget. She wore twisting golden snakes as bracelets around her pale arms, her nails were long and painted in a colour like blood. Her lips were of the same colour; her eyes shone like icy stars upon her smooth diamond-shaped face. Behind her seductive lips were sharp canines; The woman was an Estrie, a kind of vampire. The vampire's name was Atarah, or rather; the name by which the vampire was known was Atarah. She had joined the guild of Erring Rising not too long ago, after she managed to escape her entombment.

Atarah had been born centuries ago as a princess of a kingdom, which was now known as a province of Pergrande. Her brother had been the crown prince of the kingdom and Atarah had been jealous of his right. She craved for the crown and loathed her brother for his position of power. The gods had not been kind upon her and did not deserve her worship, she prayed to demons instead, but they too didn't seem to listen to her. Until that one night; she had been promised to a nobleman of her father and she was disgusted by that thought. It was when he a dream guided her how to kill his fiancé, after that she knew to whom to pray. To Fallen Angel, Lucifer, himself. The devil showed her dreams every night, slowly corrupting her to the core with sinful thoughts and hate. Her dreams guided her to a powerful artefact of evil origin, Caudex ex Morten or the Ledger of the Dead in the common tongue. It thought her magic rites and magic itself, she used it to commit murders. Some had been necessary to improve her own positions or because her victim had offended her, but most had been for no other reason than to see the lifeforce faded from her victims. She took the last step to leave her, already depraved, humanity behind and performed a rite to turn into an Estrie. She murdered all within the castle and bathed in their blood and sit upon her father's throne. Her victory was not long lived, a coalition swiftly sought opportunity to divide the kingdom among them and banish her. She fled south and it was there that she was entombed in a grave, sealed with stone and hexes. She slept for centuries within her trough of granite. The strength of the hexes that kept her entombed faded as time passed by and at one night she busted out of her prison.

The first creature she slew to quench her thirst had been an unfortunate doe, she had forgotten what the taste of blood after all those years. She joined Errings Rising a couple weeks or months later, she had not given time much heed; only her thirst for blood had been on her mind. At that time, she had regained but a small portion of her strength and her primal instinct for survival started to make way for her secondary needs for roof and luxury. She despised herself for living like an animal and made her way to civilised life. Much had changed and was difficult to adjust, and she left when she heard about the rumours of Errings Rising. She hoped to find sanctuary there, the time and resources to gain all of her power and to adjust to the modern era that she now lived in. The guild however did not have her preferred livestock available to feed her. She craved for the sweet metallic taste of human blood but there were none her that would be willing or could be forced to donate theirs. She could not touch the guildmembers or risk to be thrown out. She had to make do with butcher waste, the blood of chickens or pigs. The blood of animals was fine when she still had her unsatisfiable thirst and was weak, but now it did not do for her. The blood of every animal was different and those of humans was exquisite.

Atarah was no done with ignoring her craving for human blood, she would taste it soon, she would get it this very night. She would acquire some 'cattle' and bring them back to the castle of Errings Rising. She ran her tongue around her fangs, and around her bloodred lips. She could almost taste the delight of what was inevitable to come. She knew that there was a village rather close by, she had passed it on the day she joined the guild. Since she was going there to get food, then she might as well unleash her hate upon them and burn down the town for her own pleasure. The silver-haired vampire took a turn around the corner, into a hall that went towards the gatehouse. It was light by candle-and torchlight, the arrow slits and windows were covered with shutters to keep the wind and snow outside. The cold would not bother her as she couldn't feel the sensation of cold, or heat for that matter, but the humans that inhabited the castle did. For the same reason she did not wore anything warmer and neither would she when she would enter the frozen would that was the Hokabe mountains. She entered the room above the gatehouse that contained the mechanism to pull the portcullis up or lower it in case of danger. The guards looked up and admired what they saw, Atarah wasn't interested in those lowly grunts and ignored them. She walked down the stairs to the main level, a room warmed by two large iron braziers. Here stood the large heavy wooden door that kept out the snow and the icy winds, a smaller door within one of side gave access to the outside for individuals or small groups of people. She had just taken one step upon the cobbled floor when another door opened.


'An evil life is kind of death.' ~Ovid
IVYLEAF33