Magic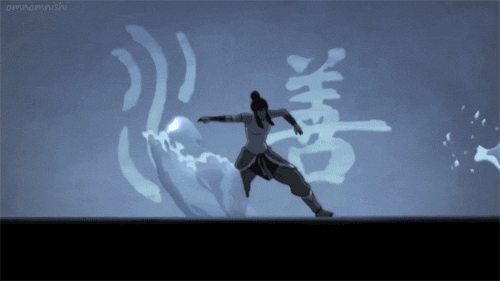 Magic Name:
Martial Arts of the Tides
Magic Type:
Caster
Description:
Martial casting, one of the four elemental martial arts, is the hydrokinetic ability to control water in all of its various forms. This type of martial arts is used by the people of ancient tribes, who used to be divided into the Southern, Northern, and lesser known Foggy Swamp tribes. Water is known to be the element of change. The original casters learned to bend the water using their magic by observing how the moon pushed and pulled the tides.
This magic uses Tai Chi, an internal style that focuses on the control of energy. It is a very soft, gentle and flowing, but devastating when mastered. Tai Chi students learn to use little strength to defend themselves. With Tai Chi, the practitioner creates circles to pass by attacking energy and issues their own energy outward. While being used for combat, Tai Chi also serves as therapy for the purpose of health and longevity. "Tai Chi" literally translates into "Incredible Energy," and it earns its title.


Flow of the Tides: The caster of this magic is able to deflect a water or ice based spell that is not of a slayer origin equal to their own rank. This ability costs 50% of the spells cost to do so. There is a 2 post cooldown between uses.

When it Rains, it Pours: During rainy weather, the water based abilities of all types used by the caster are increased by 30%.

Ability:

Sig spell:

Name: Force Palm
Rank: User rank (max S)
Type: Single Target/Offensive/Water
Damage:
Range: Physical Contact
Speed: 
Duration:
Downside:
Description:

Last edited by Aoi on 17th February 2019, 5:35 pm; edited 5 times in total