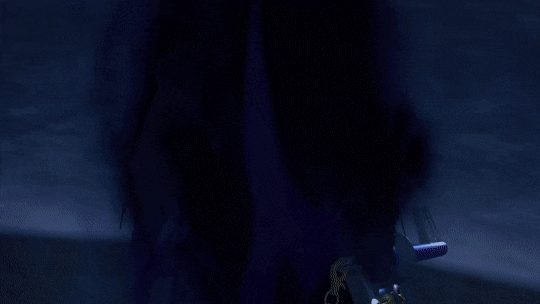 Lineage Name:
Heir to Darkness
Wielder:
Mythal Ragnos
Purchase Proof:
Ancient Scroll
Description
All worlds begin in Darkness. And all so end. There is no light save for what comes from the darkness, born from its absolution and superiority. There is no chaos, as everlasting darkness is the avatar of order and peace. There is no void, for all are part of the same Darkness that encompasses each and every world. It is above, it is beyond, it is below -- it is everything. And life will only find its true meaning once it returns to the Darkness from whence it came.
Darkness; true, absolute darkness, holds no comparison to other forces that many reference as its equal. Of course there was a lack of light when reality was born and there are some that make compare between darkness, Chaos, Void, Nothing, Emptiness and other similarities. And there was a darkness that joins with these forces and can be used but it is not Darkness. This is a force that was born at the spark of existence, a tangible power that was taken and stored apart from ours. It was a strength meant only for the gods and from its core arose a new realm; Kingdom Darkness. Here is where Darkness gathered and grew, expanding the deific reality with its absolution.
Faera, the Absolute Divine of Death, rules over this realm and has since the birth of time. It is believed that her beauty was once as great as her compassion, selflessly taking up the Throne of Darkness so that she can keep careful watch over the souls that found their way here in death. For only this realm became a special prison for beings that could not shake off their chains of living and move on; ones that teeter on the edge of holy everafter or endless pain. Many have called this place Limbo, In-Between, Oblivion, Sanctuary or Purgatory and all names are both right and wrong. But the Darkness within this world is a disease and the more time spent immersed in it, the more it corrupts the soul. Even Faera, in her absolution, began to grow angry and destructive after eons as its ruler -- earning her the extra tag of 'Destruction' on her title.
Any that have touched this world have the taint but the Heir to Darkness is upon a stage that none can reach. The merging of the light of existence and the Darkness from the Kingdom combines into one person and creates a being that can become greater than even the Fallen Goddess herself. Within them is a constant battle of primordial elements, that constantly fight to a standstill but are never quieted for long. They teeter on the edge of Falling, the drop that could make them as spiteful and hateful as Faera herself. They have a modest amount of Darkness within their core but only when they have tasted of Kingdom Darkness in its most carnal form does their true strength come to the surface. Yet the Heir to Darkness is not predestined to Fall nor to become Faera's weapon against all worlds. In fact, the Heir is the one being that can surpass the toxicity of Kingdom Darkness and utilize its benefits without ever falling victim to the infection. But that is all dependent on how the Heir carries themselves and if they're willing to Fall in the first place...
Aesthetic/Story Abilities:



Throned in Spite - The Heir to Darkness is as much a part of Kingdom Darkness as Faera and her choir of angels. And while they can circumvent the toxic nature of the realm, there are still imbued with some of the traits that comes from living within the realm. The Heir to Darkness naturally has a hatred for humankind and a fear of affectionate emotions such as love. Close allies or people of great impact to the Heir's life can circumvent these traits but in general, they apply to all.


Only in Darkness and Light Are We Born - The Heir to Darkness is the result of breeding between a denizen of Kingdom Darkness and our reality. As such, they have two great forces always dueling within them -- light and dark. But with the discovery of Lux, the Seal of Light, attached to Mythal's soul, he is also connected to a different realm; the one of the soul. These factors result in the Heir being able to use magic that invokes light, darkness, shadows and spiritual.


Dark Arms - Kingdom Darkness is an oppressive, powerful magic that has such a strong gravitational pull that the user can bend it to his will. He can mold the pull with his magic, allowing him to create pockets that can hold items. This allows him the opportunity to hold three additional weapons, in addition to dual wielding, that float behind his back. One of these weapons must be related to Kingdom Darkness in some fashion or else he can only have two extra weapons. He can also use this force exclusively to attack with weapons rather than his arms. This doesn't add any benefit to damage and is merely RP flair.


Door to Darkness - The user can feel the darkness everywhere and connects to it more thoroughly as he gets closer to it. He can make these connections permanent by manipulating areas of shadow to create junction points. Once these have been created, the user can open a portal to them from wherever he is in the world. This ability cannot be used in battle and merely is used for RP purposes.


Dark World - As an Heir, the user gains significant benefits in the darkness. The user can see up to his rank's spell range in darkness perfectly, he can feel the vibrations in the darkness and shadows around him, alerting him to presences. The user can sense living beings up to his rank's spell range in darkness, be it nighttime or within a structure. (Need OOC permission to sense PC characters). The user can also use the shadows and darkness around him to create pathways through barriers. He moves the darkness to a wall and the darkness eats away at the wall. This doesn't affect magical barriers or PC spell generated barriers.

Primary Abilities:


Dark Dominance - Darkness is an all consuming force, that seeks to swallow up and return everything to its most base form. It does not hold back or play around with its food; it attacks with the full force of its ability. The Heir, being the avatar of Kingdom Darkness' will, is meant to be a tool of absolute destruction. This grants the Heir 5 additional lineage advanced spells for a single magic. These follow the independent spell maximum from the regular one up to S and must be distributed according to regular advanced spell maximums; 2 B+, 2 A+, 1 S+) as well as 2 user rank advanced spells that increase in rank as the user ranks up. One ranks up to S+ and the other to H+ and may be used on a single magic. These spells slots have to be created and approved like any other spell and follow the same rules and guidelines. But the downside is that his base health is reduced by 200.


Library of Darkness - Kingdom Darkness has been around since the birth of time itself and, as such, has acquired and compiled copious amounts of information. With each soul that passes through its gates and takes up residency, their time, memories and experiences are all stored within the great halls of Sanctuary Castle. The Heir has access to this knowledge and, as such, is capable of expanding upon their own abilities. The Heir gains 5 additional spells for a single magic type (must be a darkness-based magic) and one additional signature spell that caps at A rank for each magic. All of these spells are subject to spell slot maximums and are required to be graded as per normal spell rules.


Durable Destruction - The Heir to Darkness is meant to be the embodiment of devastation, the tool meant to wipe the slate of reality clean for Faera's cause. But such storms must be prepared to endure hearty aggression from outside forces. This increases the Heir's base spell durability by 50%. The downsides is the Heir's base melee damage is decreased by 50% as well.


Everlasting Darkness- The Primordial Darkness that lies dominate in Kingdom Darkness has leaked over to the other realities at different junctions. While its presence isn't as potent as it would be in the Kingdom, it still is apart of everything after having been exposed for so long. This essences is part of the Heir, granting an increase to base magic damage and base spell speed by 50%. These buffs are applied before any other buffs to spell damage and spell speed apply. The drawback is a 50% decrease in base spell range and the Heir can't benefit from decreases to spell cost reductions.


Cursed Riches - The Heir is meant to rule and that means they are blessed with wealth abundant. Though the currency of Kingdom Darkness is different from the material world, that blessing is still viable. This grants the Heir a 100% increase to the jewels earned from jobs.


Kingdom Brand - A marking etched underneath the flesh of the forehead, this black inked "M" signifies the Heir for what they are. This grants the Heir access to the Kingdom's Black Forge, granting them an active Requip Slot beyond the limit for one magic.

Last edited by Mythal Ragnos on 2nd November 2019, 1:49 pm; edited 7 times in total