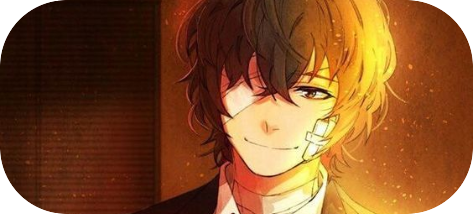 It was late at night and a calming blue-black sky covered Fiore, speckled with stars and dusty clouds. Underneath this starry blanket were the silhouettes of many things: people, animals, and buildings again dimming electric lights. When towns turned dark they acquired their true beauty. Especially for a popular yet remote club in Capital Crocus—Boomslang. It was small, but its cool-colored lights were spectacular against the night sky, but the normally thunderous noises that came from this club were all but gone. In fact, only the squeaking polish against wine glasses, a rag, and the faint chatter of only a handful of people could be heard from within.
The club was empty, but at the fantastic, well-lit bar sat two women, a man, and the brown-haired, pretty-faced Ahote. He was supremely well dressed, as he normally was, in a traditionally colored vest-suit with golden buttons at its center and a black trench coat not directly being worn by him but instead hugging his shoulders and resting on his back. Across from them a bartender, who looked particularly indifferent and solemn. The four chatted among each other, some more than others while indulging liquors and other alcoholic beverages with names that were near unpronounceable to the average person. They had the entire club to themselves—as it was nearing closing time—and none of them wasted a moment.
The brown-haired, amber-eyed Ahote watched the three pleasantly. He was not as solemn as he normally was and instead wore a delightful expression. His eyes were sparkly and his smile was wide and weak as if his entire countenance was dripping with melancholy awe as if it were saying "What a crowd!" His glass did not look like everyone else's. It was a glass of water at room temperature that he only occasionally sipped.
But as the night drew on and the conversations became more questionable and voices more boisterous, he heaved an unrelenting sigh and audibly tapped his glass on the quartz countertop, "Ahh. . . aren't you all tired? Why don't we quit this?" he suggested. Of course, they might've thought that he was talking about their little group date. But what he really meant something different—disbanding Basilisk Fang and its pseudo-mafia, the Tesoro Family.