❈Magic❈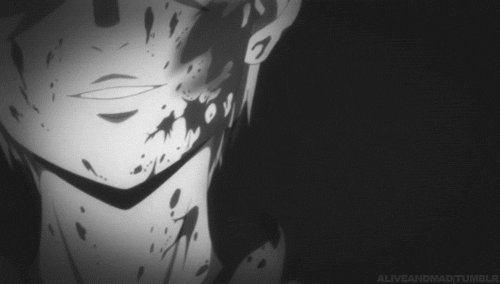 ❈Magic Name❈
Demon Soul
❈Magic Type❈
Take Over
(Solitary Benefit: +30% to HP and MP)
❈Description❈
This particular form of Magic allows the user to Take Over the powers and forms of different Demons. These forms give the user a variety of different abilities such as flight, enhanced speed, strength, reflexes etc. This form of Take Over allows the user to control the Demon Factor, enabling this magic to be superior over demons.
❈Lineage: Glory of the Slayer❈✧Description✧
Countless eras ago there was a maniacal warrior who bathed in the blood of his victims. As he did this his powers grew, until eventually he grew to be able to control blood in order to decimate his foes. He could use either his blood or the blood of his foes to empower his already devastating techniques, and even heal himself. Many years passed before 12 of the strongest mages in the land would be able to seal this insane berserker away for eternity in another realm. All he could do was laugh because he knew that his descendants would possess the same abilities he had. It was in their blood.
✧Ability✧
Allows the user to enter a berserk state, allowing for their abilities to be empowered by and meant to draw blood. The more blood drawn in a battle, the more devastating the abilities become.
✧Usage✧
Lasts for 6 posts and may be used once per battle. Damage increased by 50%. Any time an enemy is hit, damage is further increased by 10%. Passively regardless of berserker state drawing blood will increase damage by 10%,  reducing by 5% per post
(0% increase minimum)
.
❈Unique Abilities❈
✧Drain✧
Dex gains 1 HP whenever another player loses 1 HP.
✧Abyss's Gift✧
Every post Dex recovers 5% of his max HP and MP. He also receives an additional 50% Strength.
❈Signature Spells❈✧Name✧
Demonic Rage
✧Rank✧
B
✧Type✧
Burst
✧Damage✧
80 HP
✧Range✧
50 Meters
✧Speed✧
50 Meters Per Second
✧Duration✧
1 Post
✧Description✧
Dex fills his heart with the intention to hurt, his next physical attack will deal an additional damage of this spell.
Code:

Code:

[center][color=#bb0a1e][font=Times New Roman][size=18][u][b]❈Magic❈[/b][/u][/size]

[img]https://vignette.wikia.nocookie.net/vsbattles/images/b/bc/Anime-blood-gif-7.gif/revision/latest?cb=20180902145202[/img]

[b]❈Magic Name❈[/b]
Demon Soul

[b]❈Magic Type❈[/b]
Take Over [i]([u]Solitary Benefit:[/u] +30% to HP and MP)[/i]

[b]❈Description❈[/b]
This particular form of Magic allows the user to Take Over the powers and forms of different Demons. These forms give the user a variety of different abilities such as flight, enhanced speed, strength, reflexes etc. This form of Take Over allows the user to control the Demon Factor, enabling this magic to be superior over demons.

[b][u]❈Lineage: Glory of the Slayer❈[/u][/b]
[b]✧Description✧[/b]
Countless eras ago there was a maniacal warrior who bathed in the blood of his victims. As he did this his powers grew, until eventually he grew to be able to control blood in order to decimate his foes. He could use either his blood or the blood of his foes to empower his already devastating techniques, and even heal himself. Many years passed before 12 of the strongest mages in the land would be able to seal this insane berserker away for eternity in another realm. All he could do was laugh because he knew that his descendants would possess the same abilities he had. It was in their blood.
[b]✧Ability✧[/b]
Allows the user to enter a berserk state, allowing for their abilities to be empowered by and meant to draw blood. The more blood drawn in a battle, the more devastating the abilities become.
[b]✧Usage✧[/b]
Lasts for 6 posts and may be used once per battle. Damage increased by 50%. Any time an enemy is hit, damage is further increased by 10%. Passively regardless of berserker state drawing blood will increase damage by 10%,  reducing by 5% per post [i](0% increase minimum)[/i].

[u][b]❈Unique Abilities❈[/b][/u]

[b]✧Drain✧[/b]
Dex gains 1 HP whenever another player loses 1 HP.

[b]✧Abyss's Gift✧[/b]
Every post Dex recovers 5% of his max HP and MP. He also receives additional 50% Strength.

[b][u]❈Signature Spells❈[/u][/b]
[b]✧Name✧[/b]
Demonic Rage
[b]✧Rank✧[/b]
B
[b]✧Type✧[/b]
Burst
[b]✧Damage✧[/b]
80 HP
[b]✧Range✧[/b]
50 Meters
[b]✧Speed✧[/b]
50 Meters Per Second
[b]✧Duration✧[/b]
1 Post
[b]✧Description✧[/b]
Dex fills his heart with the intention to hurt, his next physical attack will deal an additional damage of this spell.[/font][/color][/center]