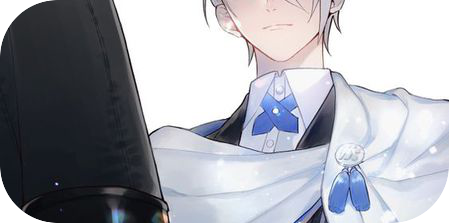 The mansion air was crisper and cleaner than winter winds and filled the chests of all who'd inhale with the wholesome, homely aroma of perfume and scented waxes that exhumed from every chamber that'd let it. It was a feeling so foreign to the pretty-faced, relatively skinny man who sat in his chambers with a twist of chiffon locks coiled around his gloved fingers, but few could ever guess that he wasn't accustomed to the life of a wealthy man. Just months or so ago did he and his closest colleagues find themselves and whatever tangible marks of themselves they've created completely erased from the eyes of Fiore, but quite frankly he had stopped keeping track of the time that has passed them. From rags to riches and from water to wine, the former Basilisks had used their wits to establish something far greater than themselves. As far as this man was concerned, Ahote Laspor was now Giovanni Tesoro, Don of the Tesoro Family, and his rather showy abode now homed in Lavanitir Port City.
And so, Giovanni, who was well dressed in a vest-suit of traditional black and white palettes besides the elegantly put cobalt tie at its center, reclined in his leather chair with his pair of crossed legs perching themselves on a mahogany desk that glimmered in the sunlight that poured through the stainless windows as if to boast its cleanliness. He stared at the equally excellent ceiling with great chipperness pulsating in his clear, azure eyes, his fingers tapping against one another excessively and his throat emitting hearty hums from its depths. Clearly, his excitement couldn't remain unknown. His eyes twinkled with a light that one could never have guessed came from a man so bitter in memory and in life.
In the very corner of this room stood an equally skinny, petite young man with red, messy curled hair and unimpressive hazelnut eyes. He was well dressed in a vest-suit of the same traditional colors and fiddled with his thumbs impatiently. "Boss, you don't s'pose they won't arri--"
"Quiet now, Angelo!" Giovanni interrupted with tepid enthusiasm, yet spitting an acute frustration. "There is no deadline for deals such as these. We shall wait all week if we must. That is the nature of this meeting, young man." Giovanni continued with his lecture, while he himself was equally as young, if not younger. They waited at the very top floor of the manor, in the one of the most extravagant rooms. It was fitting for a Don, who could see Lavanitir Port City from the very windows that exposed him from afar. The two, and perhaps the many others who marched about the manor, waited patiently for the guildmaster of Nightmare to appear before them, escorted by the gatekeepers who'd await her arrival.