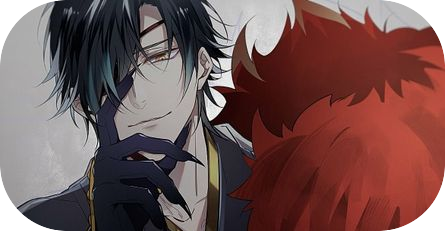 The air had condensed int something thicker and warmer as the group of guildmates scaled down Mt. Hakobe and towards the single train station that took the Basilisks to and from the foot of the mountain. But on this particular day, the two men and their petite female companion would wait patiently for the aged train to take them to Hargeon Town for what Ahote considered to be "important business."
The raven-haired man slunk into the wooden bench with his fingers intertwined, laying on his lap idly. His topaz orbs had been hidden underneath his pale eyelids, dozing quietly in wait of the grind of metal wheels against the train tracks to appear. Or, so it seemed. His lips would part just moments after he sat down, "Aeluri, was it?" he softly began, "Was your hike up the mountain a fun one?" Ahote's lips twisted into a smile, the thought of the smaller woman scaling the mountain had tickled his sides like wet feathers. Of course, he was well aware that scaling Mt. Hakobe was no easy task and that wall who joined Basilisk Fang must overcome these natural obstacles in order to even be considered for recruitment. Regardless, the thought of a more convenient way to and from the fortress was something even the enlisted members had craved.
With eyes still closed, Ahote began to play with his fingers, "I didn't know you and that cat were so chummy together either, Theo." peals of laughter escaped his lips at the thought of his dark companion stroking the cat just earlier. He really enjoyed animals, it seemed.