Crimson Destruction Alchemy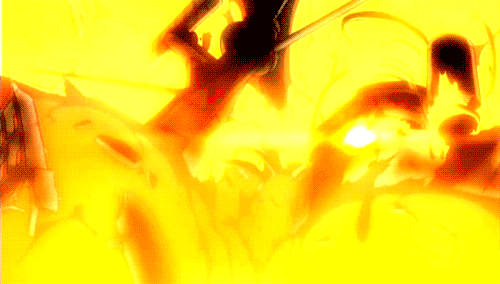 ---
Alchemy, an ancient art that combines both science and magic that focuses on understanding the structure of matter. Transmutation is used to deconstruct matter, reconstructing it, and thereby creating a new substances or reform the material into a new shape. The practice of alchemy is widely believed to be capable of anything, even though alchemy is a magic it is also a science. One of the major limitations is that matter and energy cannot be created from nothing nor can it be destroyed to a state of nothing. At first alchemy was used to help others and to understand the natural world, but various people transformed this art into a weapon of mass destruction. This destructive branch of alchemy was created by a group of alchemists looking to protect their village during a time of war. Originally this technique required physical contact with another substance to create explosions and thus it was commonly used in melee combat. Later, the war ended and those who created this destructive art only passed down their knowledge to one other person. They believed that there should only be two people who should have knowledge of this alchemy, one master, and one apprentice. For generations this knowledge was passed down from master to apprentice, until finally Valamir Aldmeris was chosen to learn this destructive art.
It was under his apprenticeship that Valamir managed to tweak this type of alchemy, making it more suitable for range combat. He tweaked the alchemy so that the user could infuse those unstable energies into clay constructs, that could be animated through the use of magic, or some other art. Using this new advancement Valamir managed to overpower and surpass his master, and become one of the most skilled alchemist within his lineage. The alchemy transmute ordinary matter into explosives by combining the contradictory symbols inscribed in the transmutation circle. Combining the contradictory symbols creates an unstable imbalance of energy in whatever matter he touches, causing it to explode. Users of this alchemy are also capable to be capable of causing that instability to flow from one place to another, and can perform mundane transmutation. Valamir improved on this technique by using mundane transmutations to create clay constructs, infuses those constructs with the unstable energy, and then animating those constructs with magic. Allowing him to create controllable missiles and landmines that can be placed or directed strategically for maximum devastation.
Strengths


Terrain Alteration: Most of this alchemy functions on the alteration of matter or the destruction of matter. Which can potentially alter the terrain to the caster's advantage, and well debris can be rather dangerous.  


Blunt and Heat: Most of his explosions are created from heat and well blunt force. Meaning that his opponents will not only receive burns from the explosions, but can potentially receive shattered bones or knock them back.

Weaknesses


Destruction: Obviously this form of alchemy can cause serious destruction and damage to the caster's surroundings, and while it can be good it can also be bad. Sometimes the destruction can unintentionally work against the caster instead of for him. Furthermore, the caster isn't resistant to the debris. 


Friendly Fire: Explosions don't really care who you are, or who you work for: nor does Valamir for that matter. Friendly fire is a major issue with this magic, allies can get caught within the blast radius, or they can get caught within debris. In other words allies beware for Valamir can be a little trigger happy, and cares less for your safety.
 

Attack, Attack, Attack: This type of magic offers little protection against others, and it mainly focuses on one's offense. Furthermore, some spells within this magic might only be used for tactical use, and require prior planning. Also some of theses spells are rather straight forward. 

---
Weapon Transmutation:

Weapon Transmutation: One of the basic techniques of alchemy is using the fundamental laws of transmutation to preform the alteration of matter. It was an technique that Valamir was forced to learn before he could discover the explosive side of things and one of the most common used techniques by almost all alchemist. This technique breaks down the physical structure of a certain material by using energy, then continuing the flow of energy to reform the material into new shape, and transmute the substance. Using this technique Valamir can transmute any matter into weak grade metal weapons that last until destructed or until the thread is over.
Clay Transmutation :

Clay Transmutation: The technique uses the fundamental laws of transmutation and it functions like the previous unique ability above. The differences is the fact that this technique breaks down the physical structure of matter, reshapes the structure of the material, and then transmute it into clay. Furthermore, using this technique Valamir can shape the clay into constructs that can be used for detonations. Valamir commonly uses this technique to refill the clay bags he carries with him, or to gather some clay when he runs out. 
Painful Debris:

Painful Debris: Sometimes when an explosion occurs it sends debris falling upon someone or flying everywhere.  While some debris can be harmless and just be a minor nuisance, and then sometimes debris can cause significant harm or damage. It deals one rank of physical Rank Damage. If used in player verse player, the other player can choose where they get hit and how badly they can get hit. If agreed a block dice can be determined if the player gets critically hit, or a single dice can be rolled to determine how many times a player gets hit. Either option can be chosen and in both situations the other player has complete control on what hits him, what type of damage (cut or bruise), and where it hits him.
---
Landmine Punch:

Name:

Land Mine Punch

Rank:

D-rank

Type:

Offensive|Burst

Duration|Cool-down:

1 post| 2 posts

Description: [Image] [Image]

A technique that focuses those unstable energies raised and then focuses those energies into his fist. Upon contact it will render touched matter imbalanced, which will then explode violently. The explosion is about 2 meter in diameter, and it can be used to create holes into walls or grounds and generate weak debris mostly dust. The attack deals 50% D-rank damage causes burns and bruises, while also knocking them back half a meter. 

Strengths|Weaknesses



S: Technique can be used to create debris/alter terrain

S: The technique range makes it harder for people to evade

W: A rather small almost ineffective AoE

W: Only really does damage to one person

W: Requires physical contact/up close and personal

C1:

Name:

C1: Spider-mines

Rank:

D-rank 

Type:

Offensive|AoE|Multi-Target

Duration|Cool-down:

 3 post| 4 post

Description: [Image] [Image]

A technique in which the caster creates 4 clay constructs of spiders, and then animates them. Theses constructs can then hide or rush towards a target and explode on contact or command within 30 meters. They can be detonated for 25% D-rank damage per post, and can collect on one target for full rank damage. The explosion has a 5 meter diameter for each it causes burns and bruises, while also knocking them back 2 meter. They can also generate debris and if the caster programs the construct the explosion can break down walls or floors. 

Strength|Weaknesses



S: Can generate debris and bring down walls 

S: Constructs move at 33.75 meter per second

S: Theses constructs can crawl over walls/dig underground

W: The explosion can cause harm to both allies and caster

W: The destruction can hinder the caster instead of help him

W: The construct can be destroyed and thus explode prematurely 

W: An extra +3 points of mana must be payed to destroy  walls/floors

W: Mages of two ranks higher than the caster can sense the constructs

C1:

Name:

 C1: Peregrine-missiles

Rank:

D-rank

Type:

Offensive|DoT|AoE

Duration|Cool-down: 3 post| 4 postDescription: [Image] [Image]

A technique in which the caster creates a clay construct of a peregrine, and then animates them. Theses constructs can then hide or rush towards the target and explode either on command or on contact. The caster can make one and detonate one each post until the duration is over. Meaning that the maximum he can create is three, one per post. The peregrine has a range of 30 meters and the explosion is about 25 in diameter meters, it has enough strength to bring down walls and generates debris. The attack deals 50% D-rank damage per post, which causes burns and bruises, while also knocking them back 10 meters.

Strength|Weaknesses 



S| Can generate debris and bring down walls

S| Can fly towards a target at 45 meters per second

S| Can be used to barrage a target by making one per post

S| Theses constructs can fly over walls or around walls

W| Sadly only one explosion/construct can be created per post

W| The explosion can damage allies and potentially the caster himself

W| The debris and destruction can hinder the caster instead of help

W| The Construct can be destroyed and thus explode prematurely

W| An extra +3 points of mana must be payed to destroy walls/floors

C1:

Name:

C1: Exploding Palms

Rank:

D-rank

Type:

Offensive|AoE

Duration|Cool-down:

1 post| 2 post 

Description: [Image]

One of the more destructive techniques that is without a doubt one of Valamir's favorite. This technique allows the user to create localize explosions through a surface by rendering the matter unstable and causing it to explode violently. The caster claps his hands together in order to create the unstable alchemical energy and then direct that unstable energy across a maximum range of 25 meters, while the explosion caused is about 20 meters in diameter. If placed with enough energy the explosion has enough power to topple moderate buildings, but if not it can easily destroy walls or floors. The explosion deals D-rank damage that causes burns and bruises, while knocking the target back 10 meters, and creating a lot of debris.  

Strengths|Weaknesses 



S| Can create massive amounts of debris, and dust 

S| Can completely destroy moderate objects within its way

S| Moves around 45 meters per second 

W| An extra +5 points of mana is required to let it destroy buildings

W| Can of course harm allies and the caster himself 

W| Short range compared to the other spells not a lot of room to escape

W| The damage caused can hinder or harm the caster instead of help

Last edited by Valamir on 13th March 2018, 12:38 am; edited 7 times in total