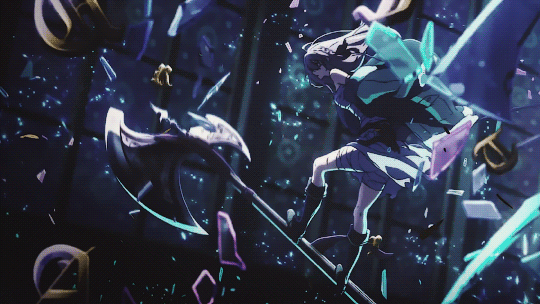 Username:
Lilium
Secondary Magic:
Mana Burst
Evidence of Accomplishment:
⚜
Description:
⚜ Every mage knows how vital mana is to magic itself. Mana is what moves the magic, causes it to flow, and for all living things, sparks life as a whole. This essence that doesn't manifest to the eye is the bringer of life itself. And just like all things, it can easily be used to cause demise of those who utilize it. Mages learned how to harness this substance and use it to channel their magic into reality. While there are tens of millions of different magics in Earthland, all of them rely in some way, shape or form on mana. The Santiais always had a high affinity for mana, and as such, usually became strong mages because of this. Renowned for their unique fighting style and techniques involving mana, each generation ended up growing stronger due to modern mages getting a higher affinity for magic. Lilium was the apex of this. Her affinity with natural mana is so high, that she is able to wield it in the purest form that is viewable to the human eye. It glows similar to a crimson flame, dancing in the space that it is channeled in but it is far beyond any element. The techniques of Mana Burst vary from generation to generation, however due to being the dark sheep of the family, Lilium applies her gifts in purely offensive manners. She is showing how the Santiais family became renowned for their uses and applications in the fields of mana, in healing but mostly, in combat.
Lilium's version of Mana Burst is hyper offensive. It emphasizes quick movement, to close distance as most spells are meant to be used at close range and as such, will focus on hitting as hard as possible as quickly as possible. However, all of these spells are close ranged which means, if she cannot close the distance between her foe and herself, this magic becomes nearly unusable. It is also a rather selfish magic inherently as it usually will only benefit her in the long run, any buffs applied will be to herself and most of the spells only benefit herself. When used in conjunction with her primary magic, it becomes focused on pinpoint the weaknesses that she finds on her enemy and exploiting them in order to do as much damage as she possibly can.
Strengths:
⚜ Hits extremely hard when used correctly.
⚜ Also focuses on closing distances in order to hit.
⚜ Cannot be eaten by any slayers if used as a projectile due to being every element and none at the same time.
Weaknesses:
⚜ Due to being everything, it balances out as being nothing. As such, there is no element tied to the mana so it has no bonuses against those who may be weak against an element.
⚜ If fighting a long ranged opponent, this magic is useless if the distance between Lilium and her opponent cannot be closed.
⚜ A signature of this magic is its crimson 'flame' appearance of the mana when seen by others so it let's whoever Lilium is fighting know who she is.
Lineage:
Creed of Nobility:

Creed of Nobility

Wielder: Lilium Santiais

Description: Upon reaching a new peak of her power with Athena, the goddess of war decided that the noble who had fallen from grace required an upgrade, within her latent abilities and within her magic. She gave access to a more free form version of her previous magic, and the goddess also improved on the natural latent abilities from the noble woman's bloodline and history. She has the duties and honour as one of noble descent and her mission to carry out is to vanquish evils from the world in the name of Arcadia. A soul came along with these blessings. A soul of a former vessel who had the duty of informing her what her new abilities were and what were to happen should she not upkeep her mission. Upon failure, she will be thrown into the Underworld, becoming known as a Fallen Vessel. However, there is no limitations on how she can act as long as she reaches her goal in the end. Carrying the weight of her bloodline upon her shoulders, she vows to achieve her missions and save herself from an endless suffering after her death.

Plot Abilities:

Spoiler:

⚜ Lilium is able to take the form of any female human she can possibly think of in her imagination. She can also use this to change outfits whenever she wishes.

⚜ Her mission is more important than what potentially struck her down and the Gods of Arcadia can decide whether she dies or not. When her HP reaches zero, the noble is transported to Arcadia so that her body can be restored (in the next thread).

⚜ Granted with intelligence at birth, Lilium can naturally learn anything that she is willing to. She can learn languages and can comprehend all situations if it's required of her.

⚜ The word's that nobles speak are usually false but due to the confidence that they present themselves with, people won't hesitate to take what they say as fact. However, there is a lot of people who are growing a little more intelligent and questioning what they say. Athena decided to give Lilium a boost into what she says. When she chooses, Lilium's eyes will glow and her words will either completely guide an individual or have extremely heavy influence on their actions. It can be used on NPCs and with OOC permissions, it can be used on other players.

Combat Abilities:

Spoiler:

⚜ Superiority: With the amount of weapons training she has received throughout her travels in addition to what she has learned within Arcadia, her base melee damage is increased by twenty with the amount of skill and force she puts into her strikes. However, this training was always high intensity and strain on her body caused her to have 25% less than her rank's maximum HP.

⚜ Ascended: Upon being blessed by a Goddess multiple times, Lilium is able to summon a pair of white angel wings. All spells are empowered when she has her wings out, providing a 60% buff to the noble's strength.

⚜ Natural Selection: Most of the time, the nobility has the upper hand over the general populace. As such, when the opposition has a higher resistance over another, Lilium can switch all magic strength buffs to strength buffs or vice versa. She cannot switch if the resistances are equal and if she switches once against an enemy and they buff a different resistance to be higher.

⚜ Tempest: Life as a noble is hectic and there is always storms on the path for Lilium as she cannot afford to fail her mission. As her spells end, a flurry of feathers surrounds her in an area of burst rank spells appropriate for her rank. Upon touching enemies, the feathers deal melee damage.

⚜ Neutrality: Lilium is meant to always be playing to her strengths and can be found at a disadvantage when fighting specific mages. She can take away the element from her spells and just make them hit with neutral magic power. It takes away any effectiveness of the element but it also takes away the weaknesses.
| ⚜ | Ignite: Mana is ever present in all things. The air, the earth and even within our own bodies. Whenever Lilium deals melee rank damage to something, she can choose to burst mana surrounding her target. It will appear in it's crimson flame appearance and it will deal another instance of melee damage to the target. The range of the burst is limited to burst range of her rank around where she made impact with her opponent.
| ⚜ | Scatter: Her natural affinity with mana is so high that Lilium is able to manifest her will into mana. There will be a red copy of Lilium that will appear in the place of what Lilium is doing. She can either use this to make herself in to mana and become immune to physical attacks but still able to be hit by magical attacks, or use the lingering will to complete a spell. The mana in the clone is enough to sustain the rest of the casting of spell if Lilium needs to do something else. These wills are as strong and as durable as her rank.
| ⚜ | Mana Driven Core: Lilium's Mana control is overflowing beyond her capabilities since she didn't focus on developing this magic in favour of Arcadia's abilities. She can still make use of this mana however by channeling it as a medium for her spells. This causes her to have a 60% increase to her mana pool. This residual mana allows her melee strikes to pierce elemental bodies as well.
D-Rank:

Name: Lux
Rank: D
Type: Offense
Duration: Instant
Cooldown: 2 posts
Description: Lilium points their hand towards an individual and palm thrusts in their direction and then, ball of crimson mana is fired at them. The ball travels at a speed of 11.25 metres per second and only travels in a straight line of 15m before dissipating into the air. It deals full D-Rank damage to whoever it hits and 0.5 D-Rank damage to those who were at least 5m from the initial target.
Strengths: ⚜ A simple spell that can be activated whenever she needs.
Weaknesses: ⚜ Quite slow and fires in a predictable straight line.
C-Rank:

Name: Orga Lux
Rank: C
Type: Offense
Duration: 1 post
Cooldown: 3 posts
Description: Lilium raises her hand and countless orbs of mana begin to manifest around her. Pointing in any direction, the orbs of mana will begin to rain down, dealing 75% of C-Rank damage to all that they hit. All orbs travel at a speed of 67.5 metres per second in an area in front of Lilium of 90 metres.
Strengths: ⚜ Can deal massive damage over a small area.
Weaknesses: ⚜ It is rather easy to step out of this area as it is relatively small.
B-Rank:

Name: Prana
Rank: B
Type: Offense
Duration: 6 posts
Cooldown: 8 posts
Description: Lilium enhances her abilities by absorbing more mana in the air through her body. She receives a 60% bonus to speed and strength and gains the ability to create platforms wherever she likes in the air to propel her in whatever directions she needs. This spell is indicated when there is a pair of red wings on both of her feet.
Strengths: ⚜ Lets her find creative ways to close the distance between her and her enemy while buffing her in the process.
Weaknesses: ⚜ If someone has fought her before and is aware of what the red wings do, they can find ways to keep the distance between them.
A-Rank:

Name: Eclipse
Rank: A
Type: Offense
Duration: 1 post
Cooldown: 5 posts
Description: Lilium empowers whatever she has on hand, whether it be a weapon or her bare hand, and slashes wherever she decides to attack. Each slash causes a slash of mana to materialize and follow her slashing patterns. Each slash travels at a speed of 168.75 metres per second and only travels 300m away from her before fading into air. Each slash of mana deals 0.75 A-Ranked damage.
Strengths: ⚜ A good damage dealing spell.
Weaknesses: ⚜ Must stay focused on slashing the entire time.
S-Rank:

Name: Stella Carta
Rank: S
Type: Offense
Duration: 10 posts
Cooldown: 13 posts
Description: The ultimate application of Lilium's style of Mana Burst. Placing her hand on the ground, a large magic circle that is the size of an S-Rank burst spell will appear and begin emitting a white mist. Soon, the entire area of the circle is shrouded with mist, with the magic circle resonating in red for most of the spell. This spell makes use of a fair bit of mana in the air and within Lilium herself, so it costs 90% of Lilium's MP pool to cast.

When the mist completely shrouds the area, Invertia will always be active within this domain with all attacks that Lilium does when attacking someone. Stella Carta being active also lets Lilium be omniscient and omnipresent, able to appear anywhere within this mist. Due to all the amount of mana around her, her spells do not cost a thing because of how much she had expunge to set up this domain. When in her mist, Lilium receives a buff to her speed, strength and magic of 75%.
Strengths: ⚜ An extremely powerful ability that significantly increases all Lilium's aspects in battle.
Weaknesses: ⚜ After this spell is finished, Lilium will have next to no MP left.
S-Rank Signature:

Name: Invertia
Rank: S
Type: Offensive
Duration: Instant
Cooldown:   -
Description: Lilium empowers her next armed attack (i.e: any attack with a weapon), to deal 50% of S-Rank damage as opposed to melee damage.
Strengths: ⚜ Adds a fair bit of unexpected damage to her attacks
Weaknesses: ⚜ Becomes fairly obvious when she uses it as her weapon will be covered in the crimson flame appearance of the mana she utilizes.
Advanced Spell:

Name:

Comet

Rank:

S+

Type:

Multiple Target, Offensive

Damage:

135HP

Range:

450m

Speed:

340m/s

Duration:

12

Cooldown:

15

Description:

Lilium points her Mana coated weapon to the sky and a burst of crimson Mana shoots up to the sky. The sky becomes painted with a crimson hue before a shower of Mana crystals begin to fall in a 450m radius from where the spell was initially casted. They fall at a speed of 340m/s and each meteor can hit multiple people before fading into the ground upon impact.

Strengths:


⚜ A strong spell due to how much damage it can deal in a large area.

Weaknesses:


⚜ If people can escape the area fast enough, they won't be affected by the spell much.
Last edited by Lilium on 16th July 2018, 11:57 am; edited 10 times in total