M  A  G  I  C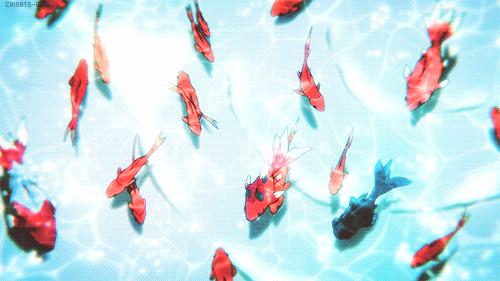 Primary Magic:
Oceanic Summoning
Secondary Magic:
N/A
Caster or Holder:
Holder, Summoning
Description:
The underwater world is truly a masterpiece that not many get to actively admire. Hundreds upon thousand different species can be found underneath the waves, and Quinn knows about nearly every single one of them.
Summoning magic isn't something known to be extremely common. It can be found all around the realm in various different shapes and forms. Each summoner has their own way of interacting and bringing forth their creatures, Quinn personally utilizing a special ring that is essentially the embodiment of his everlasting interest in marine life.
Quinn's special ring works a bit like celestial summoning, but instead of using keys to release the creatures, Quinn only needs his ring to do so. Said ring is both an entrance and an exit of an artificial/magical alternate dimension that is said to be filled by an ideal world for every creature he 'stores' in it. This dimension has been filled up by his ancestors for a very long time, allowing it to have essentially become self-sufficient. It's a safe place for these creatures to safely raise children, making it the perfect way to preserve nature's beauties.
Oceanic summoning is based around the flora and fauna found underwater, the emphasis being on the actual sea creatures. By opening temporary gateways, Quinn can temporarily release anything within the dimension into the real world to fulfill various tasks. There's immense variety between the types of creatures stored in the ring, some being extremely aggressive and dangerous while others are merely small cuddle-buddies. There is a decent balance kept between offense, defense and support/utility, though Quinn secretly likes the defensive and supportive creatures better as they tend to be less terrifying.
As mentioned before, Quinn can release anything from the dimension he has, including the various plants and interesting pieces of landscape. This, however, is merely a small addition that is often used to either support his creatures or to defend himself when he somehow can't call forth his creatures.
Water is obviously very important, considering the majority of the creatures and plants Quinn possesses can't actually live very long without the light embrace of the liquid. This is why most summons are permanently surrounded by a thin layer of water that moves around with them. This essentially gives various fish and other underwater creatures the ability to seemingly 'swim' in the air, while they're actually just swimming in a moving body of water.
While Quinn can't really control the fluid, he does have the ability to conjure it from his controlled dimension via spells, letting out large or small amounts of water at the same time to aid him in certain situations. This does not have much of a use in battle, but it's definitely not impossible.
Quinn himself isn't really good at combat due to him barely having participated in it. Luckily, he has his summons to do the work for him. After a quick observation of the battle, Quinn can choose any creature he has befriended to take care of the situation in his stead. The young boy utilizes his minor control over plants and water to back them up if necessary, usually staying at a safe distance. His ability to summon does make him a very versatile asset to a team, being able to fulfill both the role of offense, defense and support.
Strengths:


High variety between summons, thus more capable of taking care of various different situations.

Great for protecting endangered species as they can be kept within the dimension.

Access to Immobilizing and stunning effects through both summons and plants.

Some summons and plants utilize toxins that can be offensively used.

Minor water manipulation which could create an advantage when fighting against fire-based threats.

Weaknesses:


Relies a lot on summons, so taking them out makes Quinn vulnerable.

Some more dangerous summons can accidentally harm Quinn or his allies.

Water mages can often manipulate the water around Quinn's creatures, which can result in quite drastic results.

His creatures can only respond through body movements, so communication can sometimes be a little difficult.

Some fish cannot be used at extremely low or high temperatures. It's quite hard to have a jellyfish happily float around a volcano, for example.

Requires the ring to summon or use any magic.

Lineage:
Eagle Vision:


   Eagle Vision:
   Description: In an ancient civilization, there were three enormous eagles that carried wisdom and knowledge. They shared it with those who were worthy and intelligent enough not to abuse it. When they felt their life was almost coming to an end, they bestowed their gifts onto three young mages who they deemed worthy. The mages and their descendants gained the ability to see incredibly far, but also to gain incredible sudden insight. They can read body language like no other and find hidden messages in conversations.
   Ability: User can see through lies, has extended vision range (telescopic vision) and capabilities, and can further understand a person through the minute movements and twitches of the living body.
   Usage: Passive.

Unique Abilities:


Simple Communication:
Due to Quinn's 'little friends' all not being capable of speech, they can only react through body movement. It would also not be possible for them to understand their caretaker, but thankfully the ring does give the ability for everything that Quinn says to be understood by any underwater creature, including those that aren't in his dimension. He can also speak to them telepathically, but only within a certain range (user ranked// Burst range). However, his creatures can not even telepathically respond to him, they merely hear what he has to say. Currently, Simple Communication is limited to a 15 meter radius.


Non-Combative summoning:
The ring's dimension most definitely doesn't just carry highly dangerous and magical fish, it's also home to hundreds of little fish that were put inside for the sake of safety in one way or another. Quinn can passively call forth a various amount of sea creatures that aren't any taller than 15 cm at max. He can summon as many as he wants, though he does sacrifice 1% of his mana for every 10 fish. This cannot be used in combat, and Quinn's fish will instantly flee the moment a fight breaks out.


Under the sea:
Quinn's summons passively gain a 25% boost in speed and power upon being underwater. It's their natural habitat after all.

D-rank spells
Summon Bubbles:


Name: Bubbles
Rank: D
Type: Summon
Duration: 3
Cooldown: 4
Description: A childhood friend of Quinn, Bubbles is by far one of his favourite summons. The creature is a blue, translucent jellyfish that's 2 feet long and 4 feet wide. Bubbles' texture seemingly is almost like a bundle of water tightly held together. His name was given to him because the creature releases small, harmless bubbles as it glides around above water.
Passive: Has no sense of pain, so can just happily move around whilst being bombarded with all sorts of things.
Active: Charge!: Bubbles is commanded to charge forward, causing the sluggish creature to turn itself sideways and start rapidly wiggling his tentacles to propel himself forward at speeds reaching up to 11.25 m/s. On hit, Bubbles's collision with a single enemy will deal D rank damage, and knock the target back 5 meters maximally (knock back only affects those of equal or lower rank). The charge lasts for 15 meters unless someone or something is hit.
Active Duration and Cooldown: Instant, 2 post cooldown.
Strengths:
-Having no sense of pain allows Bubbles to endure attacks that would scare others off.
-Charge allows him to easily reposition or push someone away from Quinn
Weaknesses:
-Quinn's active does not allow for movement when active, forcing Bubbles to into one exact direction for the full 15 meters, making it somewhat easier to dodge.
-Not feeling pain is a double edged sword as it makes Bubbles often not notice that he's actually being attacked.
-It's not possible for him to deal physical damage directly, though he can push someone over by bumping directly into them.

Summon Elly:


Name: Elly
Rank: D
Type: Summon
Duration: 3
Cooldown: 4
Description: Elly is a beautiful seahorse-ish creature that stands at 6 feet. Quinn personally refers to Elly as an underwater unicorn due to its obvious horn, but he actually doesn't really know what she is.
Passive: Hardened shell: Elly has a natural armor-like structure over the entirety of her body that grants her 50% damage reduction for melee attacks.
Active: Blinding light: An ability that, upon activation, causes the white horn on Elly's head to start glowing a bright white light, quite quickly releasing a blinding flash of light into every direction (AOE that reaches 30 meters around Elley and moves at 22.5 m/s). Any affected targets will be temporarily annoyed by a blinding effect that gradually disappears over the span of 1 post.  This blind only affects those of equal or lower rank.
Active Duration and Cooldown: 1 post duration, 2 post cooldown.
Strengths:
-Grants an advantage in a fight due to enemies not being able to see.
Weaknesses:
-Does not directly deal any damage.
-Can accidentally blind allies.

(Bubbles) Spin!:


Name: Spin!
Rank: D
Type: Offensive, Water
Duration: Instant
Cooldown: 2
Description: Bubbles is commanded to spin, causing the creature to rapidly perform a 360% spin, releasing a blade of water into every direction, dealing 0.5 D rank damage to any targets hit and knocking them (targets of equal or lower rank only) back roughly 5 meters at max. The blade reaches a maximum of 30 meters and moves at 20 m/s.  
Strengths:
-Good for damaging multiple enemies at a time
-Consists out of water, making it sometimes have an advantage against fire.
Weaknesses:
-Cannot be used underwater
-Can also hit Quinn and other allies.
-The knock back effect doesn't always affect everyone, as some might resist or somehow not be pushed away.

Entangle:


Name: Entangle
Rank: D
Type: Plant, burst
Duration: 1
Cooldown: 2
Description: Quinn aims one of his hands towards a target and calls the ability's name, releasing a strong collection of seaweed that reaches a max range of 15 meters. On hit, the seaweed rapidly entangles itself around a single target, immobilizing them for 1 turn. Entangle takes 1 D rank attack to destroy, but can also be cut with any sharp object/weapon. The seaweed travels at 11.25 m/s
Strengths:
-Easy way of temporarily holding back an enemy from participating in a fight.
Weaknesses:
-Doesn't deal any damage.
-Can be destroyed without the use of magic.

Misc.
personal templates:


basic spell:
Name:
Rank:
Type:
Duration:
Cooldown:
Description:
Strengths:
Weaknesses:

summon:
Name:
Rank:
Type:
Duration:
Cooldown:
Description:
Passive:
Active:
Active Duration and Cooldown:
Strengths:
Weaknesses:

Last edited by Quinn Atwood on Wed 17 Jan - 6:16; edited 1 time in total