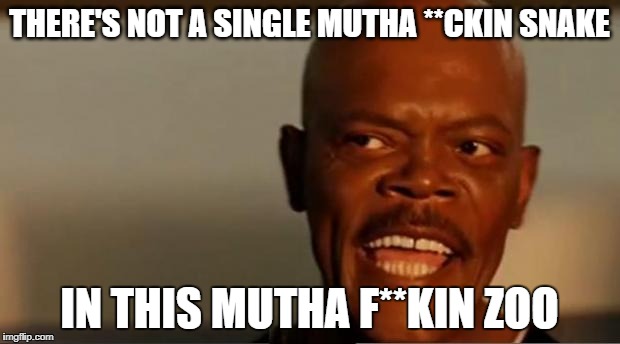 ...No animals were harmed in the procedure of this job...
Hebisha had no idea why she decided to go for this "zoo" thing that has recently opened up in Clover Town. From what she heard, it was a place to cage animals and let humans see them. Hebisha understood none of this. Would humans like to be caged up too in the forest or jungle and get "viewed" by animals too, or was it the idea that animals have a lesser intellect than humans which makes them superior. The lamia grumbled with her arms crossed, though her tone sounded disgruntled, her face lacked any sort of twitching, she resembled more like someone squinting at the sign of the Clover Zoo rather than being angry at it.

Hebisha looked towards her left where the entrance gate was, and then to a person in the crowd that she recognized, cause it was her fault that Hebisha was even here, Samira. With a sigh she slithered after her through the gate, feeling many stares gaze at her like always. It was thanks to Lamia Scale that her "crimes" had been cleared, so she was able to at least travel past Hargeon Town, but she could not shake off the fact that she was still part snake, a lamia through and through. There is no denying her serpentine body, which slithered over cemented gravel and cobblestone to provide some walkways for the humans to visit the animals.

However something caught her eye, well tongue, the zoo was not too large to begin with and had several of the same animal. The lamia noted a large pack of wolves, a decent troop of gorillas and some solitary tigers scattered throughout it's enclosure. However in the center was a lion, amazingly large for it's kind standing atop a rock in the center of it's natural cage and people just took it as the time to snap pictures with an item she heard is called the Ilac or something along those lines. Hebisha paid no heed, but scratched her chin. There was something off. There was a diverse group of animals indeed, however they seem to lack any sort of non-mammalian creature. There were no snakes. So Hebisha slithered up to her partner, her vision narrowly missing a suspicious man in a lab coat.

"Miss Samira, I had just noticed something quite odd," The lamia rose up before settling down gently before the mage. "There seems to be a lack of-" Her voice was cut off by incoherent screaming from the North where blood curdling cries and beastly roars erupted somewhere in the zoo. Hebisha's tail rose up and turned away from Samira, the rattle stopping a large wolf, disfigured or changed, Hebisha knew not which adjective to choose, in its prowl. They clearly noticed that they were obstacles standing between them and the largest meal they could ever have, human civilization. Roars and beating of chests could be heard somewhere in the zoo, but for now, the wolves howled before they confidently started surrounding the two mages. Hebisha however did not bring any of her weapons for the fight, she expected a smooth relaxing day.

"I'll ask you later" Hebisha hissed without making eye contact with Samira before whipping her tail at the wolves and spitting her, though non-lethal, corrosive irritant of a saliva fluid, hoping to get them in the eyes.
Word Count: 556