Disa Jyouri:
(Name your character)
Female:
(Male or Female)
17:
(How old is your character)
September 13:
(When was he/she born, mm/dd (Month and day only. No year))
Bisexual:
(Gay, bi, or straight)
Special Characteristics:
• Her eyes can seem red at times due to strong emotion
• She has an alternate animal form and animal-like senses, including keen eyesight and sense of smell.
(Anything special such as scars,tattoos, etc)
Personality:
There is only one truth.
Some would claim that a truly pure heart automatically knows good from evil and wouldn't dare even entertain briefly any thoughts related to corruption or ill will.  Others would claim that a pure hearted person is innocent and naive in their ways, wanting the best for all and not understanding that not everyone does as well.  Working hard and without cruelty.
Disa would say without hesitation that neither is right, and trying to turn pure-heartedness into a negative trait is
ridiculous.
 There is only one truth, one light.  Two sides exist in her mind;
her side, and the wrong side.  She is honestly polarizing to most people because of her basic and perhaps overly straightforward attitude towards anything and everything.
She doesn't necessarily mean well all the time.  If she was walking past a person struggling to cross the road, she would help that person across.  However, her eerie outlook is what can sometimes cause others to view her as slightly insane and almost apathetic.  Despite valuing life,
she doesn't really care about it and is more focused on strength and the here and now.  Disa is very contradictary to her own nature and hypocritical in a sense, making subjective decisions and being very, almost too quick to readily forget what happened in the past.  Then again, that's not exactly true; while she doesn't hold what happened in the past against people, she does have enough wits to try to learn from her other mistakes.  Becoming stronger requires... at least a small modicum of intelligence, paired with her determination to plunge on ahead.
That's not to say she doesn't seem to be an airhead or a space cadet much of the time or possessing a maturity much lower than most people her age.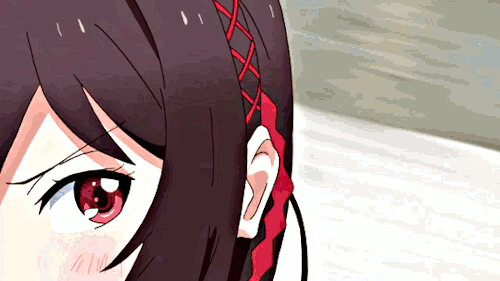 In combat, Disa is reckless and confident of her own strength.  She is more than willing to fight and will rarely acknowledge the possibility of defeat until it stares her in the face.  When under command of another person, she will obey as long as necessary and trust in her superior's knowledge and experience.  Maybe surprisingly, she wouldn't question or rebel agains their commands or try to cause trouble, anyway.  If anything, she might just casually not do what she's supposed to do because she got distracted by something else; unintentionally, though.  When put in a position of leadership herself, she wouldn't exactly be worried for her comrades and subordinates but would indeed be caring.  Disa would trust in their abilities with the same amount of confidence that she trusts in her own.  If she had to stay back in a tent or something and plan out the battlegrounds though, she would be rather hopeless at just directly trying to plot things out.  However, when placed in real-time events, she is surprisingly good at coming up with random and almost eccentric strategies that often only work because of flukes.  If forced to stay behind or near the backline to support her allies, Disa would be confused because she strongly believes it is not as efficient as having her fight directly.  But she would follow orders.
Lowkey, she can come off as a bit of a sadist at times because of a natural curiosity to just see more of what would happen if she did this.  Combined with a slight lack of empathy or belief that humans are special.  (Herself is included, she thinks that they're just creatures just like other basic animals).  She's not really a scary person though, and typically seems fairly cheerful and bright in her outlook.
Likes:
• Food: She eats a ton and although she is very active, without genes coming through and giving her an insanely high metabolism, she would probably be eons over a healthy weight space.  Disa rarely is willing to share her food with other people, especially strangers unless it is forced or there is a very rare situation.  With her closest friends, she might share food but that's... debatable.  This also happens to be a quick way to the shallower parts of her heart or camaraderie circle, that is, feeding her.
• Dogs: Without a doubt, Disa is a dog person rather than a cat person, if the world were divided into those two categories.  She even has a matching keen sense of smell (almost inhumanly so, but nothing magical).
• Roses: They are undoubtedly her favorite flower.  There's something strangely elegant and classy about a beautiful red rose or scattering of petals, and that feeling is both foreign and unreachable to Disa most of the time.
(What does your character like and why? ) 3 minimum, bullet point them individually, with at least one sentence to describe them.
Dislikes:
• Math: Somehow it's just rather impossible.  The numbers blur around in front of her eyes and make her feel like she's hallucinating, like what is this jumble of code supposed to mean, huh??
• Being Pitied: Disa just feels bitter and a bit irritated whenever people pity her, not necessarily towards them (maybe a bit resent but not much) because this is what happened, this is life, there's no need to be all gloomy about it.
• Lies: She is prideful enough to believe that she is honest as much as she possibly can be.  Disa thinks that liars are the worst kind of people, both disrespecting others and just having no pride themselves.
(What does your character dislike and why?) 3 minimum, bullet point them individually, with at least one sentence to describe them.
Motivations:
• Training: Disa is obsessed with getting stronger, and she understands that despite any existing talent and its impact, practice yields results.  And she likes results.
• Success: This encompasses her immeasurable desires to win, be the best, and prove anyone wrong who says she can't.
• Thrill-Seeking: She rushes into situations and doesn't mind it because it's fun to her.  It makes life more interesting, and no matter what new thing she's trying it doesn't matter because if it's dangerous it's probably intriguing.  To Disa, at least.
(What motivates your character in life?) 3 minimum, bullet point them individually, with at least one sentence to describe them.
Fears:
• Money: This is a bit of an awkward one.  She just doesn't really understand money and what it is, or why some people just want it above anything else.  This isn't the kind of fear where she'll faint if she sees jewels, but Disa hates and is skittish about the power that it seems to have.
• Failure: She doesn't keep it at as a fear constantly hanging over her head, like "Oh no what if I fail this is horrible" but instead she feels unnerved and angered by the concept of what she's doing, not working.  It goes further because she is deeply moved and upset, jarred when people just violate her pride and confidence, unveiling her as a failure or loser.
• Breaking Promises: She makes promises just as often as she believes she can fulfill them, and isn't super stingy about it.  That doesn't mean she takes them frivolously however, and because she has her genuine desire to follow through on her word, she focuses in and worries about what might happen if she doesn't.  Honestly, she hates herself when she thinks she's not doing what she said she would or accomplishing her goals to the extent she wished.
(What does your character fear in life? Can be phobia or anything else. ) 3 minimum, bullet point them individually, with at least one sentence to describe them.
General Appearance5'1":
(How tall is your character)
104 lbs:
(How much does your character weigh)
Brown:
(What color is the hair and how is it designed)
Brown:
(What color are the eyes)
Fair:
(How is the skin tone, light, dark, etc)
Appearance:
Disa is fairly skinny, but not in a wiry or muscular way.  Her eyes are an almost taupe that borders on a hint of mauve at times, while her hair is a brown that seems to vary in shade depending on a bunch of factors, the most usual of which include the environment and her currently choice of clothing.  Speaking of attire, she normally wears one outfit (pictured in the image) but can throw a long black coat over the top when necessary, as well as putting on a simple hat.  The format of this hat is something of a floppy bowler shape, with varying neutral shades in khaki, brown, green, and so on.
Spoiler:
Guild/CouncilGolden Phoenix:
(Name of the guild your character is in. Make sure to check out all the possible Guilds before you join one. If you're joining the Rune Knights, make sure you specify the branch too. See this for more info:
https://www.fairytail-rp.com/t14795-guild-info-availability-read-before-applying
)
Tattoo:
On the back of her neck she has her guild symbol in black.
(The guild or council tattoo. Where is it located and what color is it)
D:
(What rank is your character.)