Name:
Arawn Lyon
Gender:
Male
Age:
19
Birthday:
December 26th
Sexuality:
Straight
Special Characteristics:
None
Personality:
Arawn is a laid back guy. But he is dangerously curious. If something piques his interests he will follow that trail until the end. So much so that when he was young boy. He got chased by a bear out of its cave. After he went too far in the cave searching for something fun to do. He loves talking about interesting topics with interesting people. One of his favorite topics is women. But if you aren't interesting or the topic isn't don't expect him to pay attention to what you're saying. In fact what you're saying might just go through one ear and out the other. Watching the sunset is one of his favorite pass times. He got this past time from living in a quiet town near a mountain. Every day he would go to the top and watch the sunset. Exploring is something Arawn loves doing. He is an adventurer at heart. But he does things at his own pace and not at others. Unless it is a beautiful woman that is one of his biggest weaknesses. Women can manipulate him very easily especially women who are red headed. A red headed woman once drugged him and took 10,000 jewels from him. Another weakness of his is gambling whether it be money or any bet. He will always take them seeing it as a fun experience win or lose. In fact he doesn't think you can lose a bet if you had fun. Arawn will always introduce himself first if given the opportunity. Arawn loves meeting new people and seeing if they will interest him. He is always looking to share experiences. He tends not to argue with people. He is always trying to see things from both sides of the spectrum. Even if he knows he's right he will let the other person win the argument. Because for him being right in his own eyes is good enough. He loves loyal people but absolutely hates un-loyal people with a passion. In his eyes un-loyalty should be punished by death.
Arawn despite being laid back loves a good fight. The way he fights by himself is a lot different than with comrades. When he is fighting by himself he will not pay attention to his surroundings and will charge at the enemy head on. He thinks it is more fun that way after all battling is just gambling your lives. He is definitely not afraid to die in battle for his comrades. As a leader he will lay back and assess the situation. Seeing the best moves and tactics to help win the battle. He will lead people to victory probably. Under a leader he might listen to the leaders plan. He will always give good input to try and help improve the plan. He believes that just because there is a leader doesn't mean you always have to listen to them. He will take up any position whether it be protecting a comrade or rushing right in. Hopefully it's rushing in because that's more fun for him.
Likes:
Smoking: One of his favorite past times is smoking with a good looking woman or smoking while watching a sunset.
Sandals: These are the most comfortable shoes to him. If he didn't have these he would be walking barefoot everywhere.
Noodles: He loves any type of noodles whether it be ramen, udon or even pho. The taste reminds him of his home town cooking.
Relaxing Music: Makes him very calm and happy.
Dislikes:
Sour foods: He hates sour foods. They make him sick.
The smell of paint: The smell of paint overall just smells terrible to him. If he smells paint he will feel sick and have to leave that area.
Loud music: Loud music gives him headaches. And makes him unhappy.
Motivations:
Fun: Something he thinks is fun will motivate him to do anything.
Love: Finding love is one of things he lives for. He believes that if he can find love he will find true happiness.
Improvement: Improving himself in any way possible. Whether it be in power or intellect.
Fears:
Bears: He was chased by a bear when he was a child. He still isn't over it.
Fear of the number 13: He believes the number 13 is bad luck and stays away from it at all costs.
Fear of dolls: He thinks they are just creepy. Especially ones with big round eyes.
General Appearance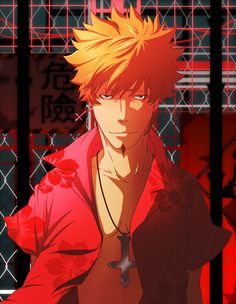 Height:
6'0 feet
Weight:
170 pounds
Hair:
Blonde. Very messy and unruly
Eyes:
Blue
Skin Tone:
Light
Appearance:
Arawn wears a pink aloha shirt left unbuttoned, a pair of dark-colored cargo shorts and black sandals. Earring on his right ear and occasionally will wear a necklace. Both are inverted crosses.
Guild/CouncilGuild:
Savage Skull
Tattoo:
In the middle of his left forearm. Color Platinum.
Rank:
D Rank