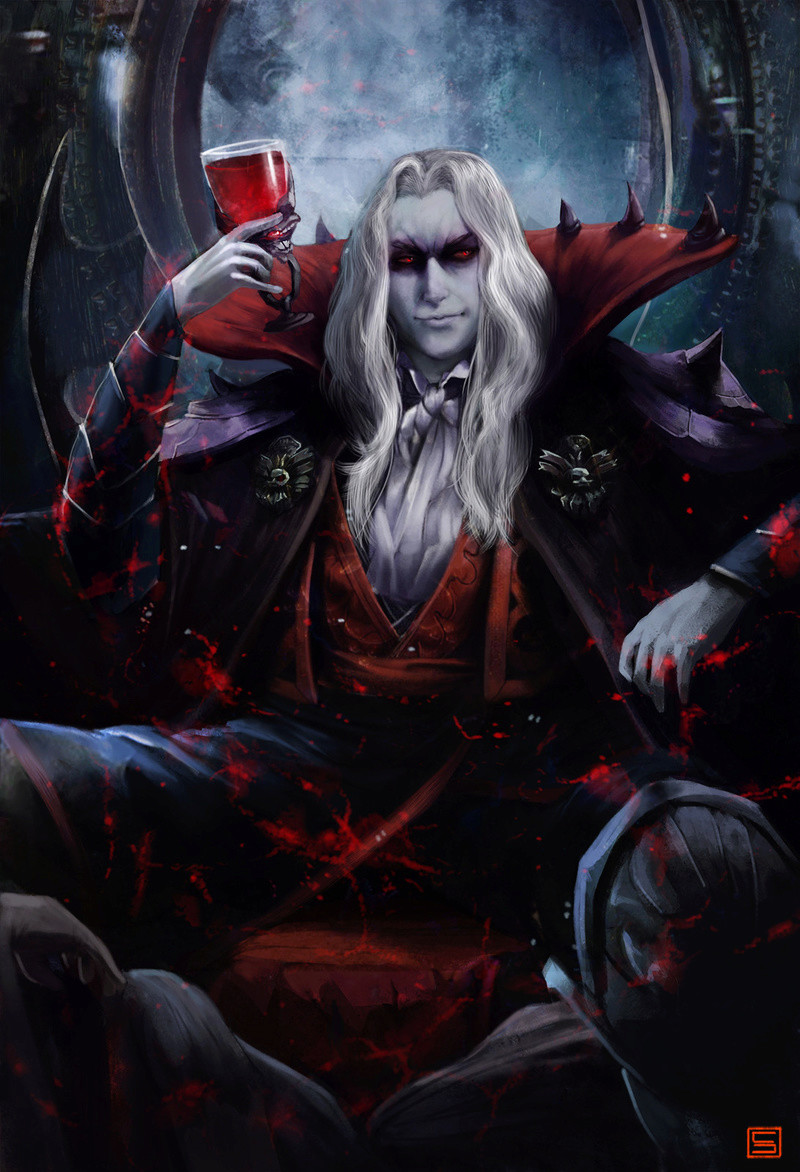 Name:
Lestat Drakulea

Gender:
Male
Age:
369
Birthday:
November 12
Sexuality:
Straight
Special Characteristics:
Lestat is an immortal mage, that performed a forbidden ritual upon himself. In doing so, his physiology changed greatly. He is no longer considered human, or even alive, though he clearly walks Fiore. He no longer eats in a normal sense. Lestat is only capable of ingesting the blood of others, to satiate any hunger he may have. This causes him to absorb the life essence from their blood, which empowers his infinite life. The user himself, actually does not have a single drop of blood inside of him, and simply appears to. If he goes a prolonged period, without drinking blood, his body begins to appear decayed. His skin looks aged, and he himself looking and feeling weak. The moment blood of another, touches his lips, even if the blood is poisoned, the liquid turns into magical essence. The essence is immediately absorbed into his body, purifying any poisons, and causing him to be rejuvenated. His skin returns from being dried, and wrinkled. To that of a fresh, young handsome man. Lestat has long canine style teeth, which easily pierce flesh. These teeth also provide a latching ability, allowing Lestat to lock down onto his prey. In doing so, he is capable of absorbing their blood at a much faster rate.
Personality:
Lestat was originally born to a small town prostitute, who abandoned him to a tiny local church, outside Magnolia. She could not pin point the child's father, and truthfully only wished to rid herself of the burden. The child grew up very observant of the world around him, and like a sponge soaked up many lessons, from the priesthood. His life was very structured, and strict, with no room for error. Determined to prove himself,  he reused to just accept his current role. He worked day and night, never complaining. He would receive lashings from a leather bound whip, starting at the age of four. The lashings could be for anything from walking to loudly during a priest's prayer. To forgetting his biblical scriptures. Regardless of all of this, he kept an optimistic out look on his experience. Lestat believed there was no error in the universe, and that everything was the way it was supposed to be. This however, was the eventual cause of him spiraling down into madness, after the death of his Wife.
Lestat grew to see the universe differently. That it would only favor those who snatched what they wanted. All those unwilling to make the proper sacrifices, remained where they were for a reason. They were just too weak and belonged exactly where they were. He knows that fate, favors the bold, and lives that every day. Over the many years, he has developed a well defined superiority complex. Believing he is the definition of perfection. Lestat began to dive deeply into blood magic, necromancy, and demonology. He wished to utilize his incredible magical aptitude and knowledge, in resurrecting his wife. No matter the cost, or price. Lestat is a cold man, who is not one who will judge a man based on his actions. No, he would rather just condemn everyone according to their race, religion, and social status in life. This well aged man is the type to gloat over a victory, as well as taunt weaker opponents. Lestat will gladly and willingly accept bribes, and prisoners of war. Lestat will slay a prisoner, or enemy who has yielded, without reason. Very goal driven type of person. Lestat refuses to let anything or anyone get in front of him and the finish line. To do so, would mean death, for anyone. If they are in his way, they must be removed. It is all for the greater good, the good being his best interest. Lestat was originally a man of the cloth, and yet has murdered more victims than he cares to remember. The demonic ex priest, turned rune knight, and now vampire king. Enslaves a multitude of women, and keeps them as sourcs of food around his compound. Among the many reasons he hates the magic council. His true belief is the magic council attempts to promote the mediocrity of Fiore and suppress the better and more capable mages. However, Lestat believes that it should be changed and structured differently. To where it is fixed in place to not only being a system serving the strongest, but being served by the weak. Lestat believes if you are capable of obtaining it, then its rightfully yours. The old silver haired mage, is one who believes whole heartedly in vengeance and revenge. Those who've wronged him, or the very small few he calls his allies, will feel his wrath. Or even worse, traitors. He will chase them down to the ends of Fiore. Lestat possesses an overwhelming desire to accomplish his goals, and is ruthless in his pursuit of them.
Likes:
*Blood - A natural born hunter of this thick liquid, as it is all he can ingest. The blood of others provides him with strength, magic, and of course immortality. Not to mention, his body naturally releases a large amount of endorphins, causing great deal of pleasure every time he has some. To drink blood isn't just a meal, but a euphoric experience.
*Lestat tends to see the world as black and white. Right is right, wrong is wrong. Although what ever he sees as right, is correct. Everyone else who has a different view is wrong. Lestat is a strict person, who sets very firm laws for himself and his followers. Finding comfort in structure, he will destroy anyone who breaks his rules.
*He is a man who believes whole heartedly in loyalty and honor. Keeping his word, even if it would mean his death in the process. Even known to allow an enemy, to remove his companion's corpse from the battlefield. Although he is not above desecrating said corpse, draining it of blood, before hand.
*Lestat is a a power junkie. Truly an addict for more power, of all kinds. From his magical aptitude, to a criminal organization, and especially his guild. The mage is always attempting to climb the ladder, reaching new heights. He cares less about anything when it comes to this. Although he doesn't usually bother to engage in pointless killing, he will kill a baby without hesitation to reach the next step on said ladder.
*The night time, and moon light. These things send a powerful exhilarating vibration down his being. The cool darkness always seemed to invigorate the blood mage.
Dislikes:
*Helping the weak, and innocent. These type of individuals are seen as either pawns, slaves or food.
*Committing treason / traitorous actions towards himself or the guild. This includes lying, abandoning or forsaking a promise made to any member. If a member of the guild refuses to assist or avenge a fellow member, this too, will induce his wrath.
*Lestat despises the Magic council, and all it stands for. Having witness first hand their truly heinous crimes, and unforgivable actions. One by one, He plans to pluck each member of their post and life.   
Motivations:
*Furthering his cause as of creating a massive following. To have a large compound, filled with slaves and demonic mutations.
*Dismantling the structure set up by magic council, and everything they have done since their creation.
*Creating a powerful structure, and maintaining it within his guild. Keeping order and Law as absolute. To reach a High level of authority inside of his guild, and in the dark corners of Fiore.
Fears:
*The bandwagon of fools, known as the Magic Council, discover's his plot to over throw them, before he can.
*The sunlight. Although Lestat can walk around freely in the sun, he is incredibly uncomfortable during this time. He will generally layer up with several long black garments, attempting to cover all exposed skin.
*Loss of Allies- Lestat swore to never love again, or allow other to enter his now cold and blackened heart. However the closest to this, would be his allies gained through his guild. Those he sees on an almost every day basis, and have helped him accomplish his goals. Naturally he built a sense of trust, although may be minuscule, towards these individuals. He would hate to lose these allies, in the future.
General Appearance
Height:
6'4
Weight:
190
Hair:
Long and wavy, reaching his lower chest. Silver, with a slight luminescent glow.
Eyes:
Red, with a slight luminescent glow
Skin Tone:
Grey
Appearance:
Lestat is taller than normal, though not very heavy set. In fact, he appear just barely under weight, skinny with toned muscles. His bright red eyes, burns fear into the souls of his enemies. His skin is grey, and cold to the touch. He gives off absolutely no body heat what so ever. A lover of fine garments, he is always wearing something fabulous. From a luxurious tuxedo, to his favorite blood red silk cloak. Fine jewels, medallions, rings, etc. All cherished greatly and proudly adorned.
Guild
Guild:
Grim Heresy
Tattoo:
Tattoo is bright red, and located on left side of Lestat' neck.
Rank:
C
Character Change:
Yes