Tsuuki Hebisuki :confused:  Basilisk Fang :confused: Serpent Dark Arts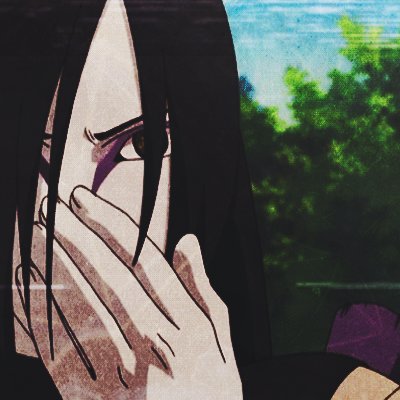 General Information
Name: Tsuuki Hebisuki 
Gender: Male
Age: 29
Birthday: December,24
Sexuality: Pan-sexual
Special Characteristics: 
The White Serpent


All members of the Hebisuki family that practices Serpent Dark Arts, under go a transformation known as 'The White Serpent'. The white serpent is the embodiment of the Tsuuki's spiritual energy and will; and thus becomes the Tsuuki's 'true form'. The serpent is about 11 meters in length, the exact width of the serpent is unknown; but it is thick and muscular. In this form the serpent's scales seem to be comprised out of other snakes, which aids in the caster's magic. Also the serpent has a head similar to Tsuuki's original form, with golden eyes and hair. Being a snake Tsuuki has enhanced speed and perception. 


Human form


For the sake of survival, Orochi avoids roaming around in his true form; which seems to be unsettling to humans. Thus, Orochi forces himself to posses a human body, which he then molds into a image of his original form. The body can either be a corpse or living, with each method having different consequences. A corpse offers no rejection, but eventually the body will decay and melt; forcing the White Serpent to find another host. A living body offers a healthier body that will not physically fail, but the host body can reject him. Either way the serpent needs to 'shed' his skin to survive.

Personal Information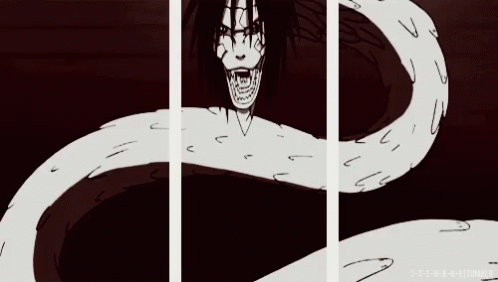 Personality:
 Tsuuki by nature, is a very introverted person. Incredibly reserved and anti-social, and cold to almost everyone around him. Though he is considered to be heartless and twisted, he is capable of show remorse or compassion; but usually over people he has knew for a long time. He is very analytical and he views the world as a big, complex experiment, and he recognize that as with all experiments, all factors are some how related. Thus he doesn't enjoy small talk, instead he prefers to either stray away from conversation, or engage in a intimate and immersive conversation, that is usually about a subject he is interested in. This serpent mage is rather observant, perspective, and unbelievably patient. Because of his serpent like qualities, he has a enhance senses of perception and he is almost always aware of his surroundings or detail. However, he presents himself as a aloof person who zones out of a conversation or grows bored easily. He presents himself this way to make it seem that he unaware and foolish, which in return gives him amusement and power over a person. He is not afraid to speak his mind when it comes to proving someone wrong however, he does know when to keep his mouth shut when around certain people.
A huge aspect of Tsuuki's personality is his god complex, he vaule himself above everyone else and enjoys striking terror in his first impression. Although he holds little value in the lives of others, he does show interest in the development of a certain people, or group of people; but will not hesitate to dispose of them if they get in his way. Due to his intense ego and senses of self, Tsuuki is rather sensitive and extremely vulnerable to criticism. He can also be rather emotional and has shown irrational frustration and anger, when in the face of failure, defeat, or criticism. Another fatal flaw is the fact that he is rather easily prone to boredom, and thus become argumentative in order to avoid boredom. Also Tsuuki takes joy in proving people wrong, and uses this to increase his own sense of self importance and feed into his delusion that he is better than everyone. Despite his flaws Tsuuki is incredibly intelligent and he seems to posses a well-versed knowledge in human anatomy and psychology, something that he uses to increase his charisma and ability of manipulation.
Enhanced charisma, enhanced ego, easily bored, and little value for human life; Tsuuki seems to have sociopaths tenancies. However, on the outside he presents himself as a aloof and charismatic introvert, which most people fall for. On the inside however, lies a blood thirsty, power hungry; serpent that is quietly hiding in the shadows waiting to strike. Tsuuki has no problem with killing people, and he only shows remorse when people were of use for him.  He is rather different in battle, there are many variables that play in his fighting style, but usually all battles are planned before hand. A battle with Tsuuki is not only on a physical plane but also a mental plane, he treats his targets like prey and has been known to 'play' with his food. His greatest weakness in combat; is his arrogance. Sometimes he firmly believes that he is indestructible and immortal, which leads him to attack recklessly, which usually ends him with him being wounded or crippled in someway. Oddly enough if the battle does not require a immediate victory, or he knows that he cannot win at this point in time; Tsuuki will gladly leave the battle and simply out live his opponent or wait for a better time.
Likes:


Chocolate: Even a crazy person likes to have a break and chow down on some chocolate. Hot or melted chocolate is his favorite, but cold chocolate would do just fine.


Results/Success: Seeing results within his experiments, is perhaps the only non-violent source of excitement Tsuuki has. You haven't seen true excitement or amazement until you see Tsuuki, marveling over his discover or success.


Snake/Serpents: This one is kinda obvious, Tsuuki loves snakes and anything serpent like. This is mainly because his family patron animal is a snake, thus he was born loving snakes


Compliments: What is more fun then hearing how good you are? Tsuuki takes pleasure in listening to others compliment him or any of his experiments.



Dislikes:


Criticism: His opinion is always right, no one can tell him he is wrong. Any source of criticism is treated with either annoyance or hostility.


Boredom: Granted Tsuuki is not a thrill seeker, but he does hate being bored. Being bored is misery for him, and he will do literally anything in order to avoid it.


Chicken: When Tsuuki was little his family had nothing but chicken for a year, eventually this has caused him to have a slight distaste for chicken. Although he will eat it, if necessary.


Cold Food: There is something about eating cold food that is simply dis-tasting for Tsuuki. Heck, even cold food like ice-cream, left-overs, or even eggs; can make Tsuuki shiver in annoyance.

Motivations: 


Immortality: Perhaps the motivation for anything that humans do. Tsuuki wishes to achieve immortality, and once he has achieved it to stay immortal. 


Perfection: Admittedly Tsuuki is a bit of a perfectionist and one of his main goals is to become the perfect being. But this is not everyone's definition of perfection, no this is Tsuuki's definition of perfection.


Revenge: Tsuuki's definition is revenge is rather broad and different from others. His revenge could simply be out living his enemy, or the classical definition. 


Mongoose Genocide: The natural enemies to snakes, and thus Tsuuki's greatest enemy. Getting rid of all the Mongoose would lead to snakes taking over, or so Tsuuki believes.

Fears:


Mongooses: Perhaps it is the snake like instincts taking over, or the fact that he is taking the snake theme to far. But Tsuuki get suddenly nervous and uncomfortable when he is around Mongooses, the natural enemy of snakes.


Fear of the Unknown: Everything Tsuuki does is designed to keep him informed and prepared. Not knowing something leaves Tsuuki vulnerable and unprepared, which could lead to death or defeat.


Fear of the Death: The Fear of death is similar to his fear of the unknown, not knowing what happens after you die terrifies Tsuuki. Also when you die you loose everything you ever had.

General Appearance
Height:
 5'6 ft 
Weight:
 123 lbs 
Hair: 
Waist Length-black
Eyes:
 Golden cat eyes
Skin Tone:
 pasty white
Appearance:
Tsuuki has a long face with pronounced cheek bones, golden eyes with slits for pupils  and purple marking around his eyes. He has extremely pale almost pastel colored skin, and black waist like hair that sometimes falls in his face. He usually wears plain grey grabs with black pants, and a thick purple rope tied in a knot behind his back. Under his casual grab he wears a black polo neck, and has been known to wear kimono's in the colors of purple, white, and black. When travelling he tends to wear a black trench coat with a high collar, for shoes he wears high socks and sandals.
Guild/CouncilGuild:
Basilisk Fang
Tattoo: Purple, on his back between his shoulder blades
Rank:
D-rank

Location;;
Muse;;
Word Count;;
Tags;;
OOC;;


Template (c) Izayuki