Name: Wolf von Nightcatcher
Gender: Male
Age: 16
Birthday: August 6th, 2001
Sexuality: Gay
Characteristics:
Personality: Outside of battle: Wolf is a polite person, who would probably apologize if you poured hot soup in HIS lap. He loves training! Wolf is very compassionate about his friends, family, work etc. and when those things are threatened he will do whatever it takes to protect them. His aesthetic is steam punk/grunge, but he is just kind-hearted on the deep inside. Wolf is also very mature and responsible, and can't tolerate immaturity and irresponsibility. He is immensely intelligent, probably equally as talented in the intelligence field, if not more, than the battle/fighting field. When angered, he goes into a state of ignorance, as he believes that fighting would be useless because people are too conceited in trying to get there point across in a fight, rather than trying to understand what the truly correct person is saying. If he does feel the need to fight, though, he goes into his inside-battle-personality-mode (See below)... Bad habits Wolf has seemed to adopt are his overly-competitiveness, while he also is not too hard to persuade into doing something, as long as he finds some appeal in it. He also can get a bit cocky, but those three are not his worst qualities: As pervious as this may sound, Wolf is a very sexual guy, and he already has lost his (gay) virginity; but he hasn't quite lost all of his innocence. He
does
love almost everything, besides things that abide by his dislikes (see below). Wolf is quite eloquent yet inspirational/motivational, and the glory of being a person who is able to inspire others humbles him, while at the same time, it feeds him the attention he loves and his thirst for being in a position of authority. Like it says in the battle portion, Wolf would rather much sacrifice his own self in exchange for anybody else, even if it may be someone he doesn't quite get along with, hence his sympathetic and kind trademark (for the most part.) Von Nightcatcher isn't socially awkward, but at the same time, he isn't personally popular--well, he has a reputable name, but he is the type of person to just have a few really close friends. It's also important to mention the facts that Wolf has a very inconsistent behavior, as he can get really discouraged by the smallest of things. Additionally, Wolf Von Nightcatcher is one of the most disorganized people on the planet, and this jumbled manor has gotten him into many tremulous situations, even though he yearns to be organized. To add on to all of what has been said, the mage is a generally bubbly person, whose adventurous demeanor always shine sunlight onto a rainy day. Wolf finds audaciousness, barbarism, and unsophistication some of the worst qualities one may have, because of the fact that this limits the person's future and mind to such little things, points, goals, paths of destiny, and etcetera. He is very 'artsy', and he greatly appreciates all works of art. When he's not training, questing, and etcetera, you could probably find Wolf in some theatre, either performing or watching something, going to an art museum, or playing at a coffee house. Wolf, as a side job of being a mage, is writing.
In battle: Wolf gets serious in battle. Wolf can be a bit overconfident, even if he obviously outclasses his opponent by a rank or two. He will try and teach them a lesson, and just act like it is barely a breeze, fighting this person. When fighting somebody that outclasses him, Wolf will not give up until he ends up on the ground, dead. Wolf is more of a leader than a soldier, as he naturally gives directions to people, calculating which people would fit best in which role of battle. He makes sure that he does his best in front oh his soldiers because he wants them to know that they will be protected by him and that they can win if they work together with him. As a "soldier", Wolf tries proving to the leader that he is capable of at least being the partner of the leader. If the leader is somebody like a guild master, Wolf will just cooperate, and if the guild master's health is about to be severely threatened, Wolf will sacrifice himself. Wolf uses his smarts in battle to make all of the calculations that can lead up to his ability to devise a plan to conquer his enemy.
Likes:
~Intellectual OR Inspirational discussions where he can make valued comments.
~Training- He likes training because he wants to rise to the top.
~Shopping- Surprisingly, Wolf LOVES shopping sprees especially when they are focused on one goal (i.e a shopping spree to go get new training supplies that will help him grow as a mage.)
~Indoors- Wolf prefers to be indoors over outdoors, but when battle and training is brought up, outdoor can automatically become his favorite environment to be in.
Dislikes:
~Judging people- Wolf cannot stand these people because he doesn't understand why they can't just accept other people.
~Offbeat/Off-pitch music/singing- IT WILL DRIVE WOLF INSANE!!!!!
~Not being challenged- Wolf will go on long rants, boycotts, you name it, just to be challenged to his full potential.
~Hypocrites
Motivations:
~Wolf always knows that if he does really well in anything, he would be promoted; (i.e D Rank to C Rank.)
~ Wolf knows that at the end of the road, something will have payed off.
~Family and friends- probably the most important one, Wolf will not rest until he knows his family and friends are safe and protected.
Fears:
~Wolf has a bad phobia of bugs bigger than a finger nail.
~Wolf fears that when he dies, death will really be a painful experience.
~Wolf fears he will be stripped of his magic and left defenseless, so he can't help save any of his comrades.
General Appearance
*I already had my Face Claim approved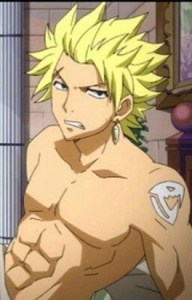 Guild/Council
Guild: Sabertooth
Tattoo: Color: White | Where: Right Shoulder
Rank: D-Rank
Lineage: Spirit of Corruption
Last edited by MagicalLegend on 11th April 2017, 2:35 pm; edited 2 times in total