Name:
Asteris 'Aster' Kaiser
Gender:
Male(This is what Alche is commonly referred to as, it is unknown if Alche is Male)
Age:
105,433
Birthday:
October 21
Sexuality:
Straight(?)
Special Characteristics:
He's a dragon.
Personality:
Asteris Kaiser is a dragon that puts himself above all else. He's a being that does not care for other's lives (unless of course he spends a lot of time with them and get to know them…) all that much. He is more thinker than fighter, being a magical expert rather than purely using his strengths to overcome his problems. That isn't to say he's against physical confrontation, he'd just rather take the easy and smart way rather than the tough and rough way. Of course, that being said, he can sometimes overestimate things and end up with a big mess that of course he has to fix because him fixing it would be much faster than having others do it. He's also a tad bit curious about things and will sometimes act on his curiosity. And as much as possible, try not to encourage him to do something dangerous until you really need to. Also, try not to tell him what he can't do, he's a dragon and he has dragonic pride. It just makes him want to do that thing you just told him not to do even more, he's very stubborn like that.
In battle, he's analytical and prefers to stay as far away from the action as possible. He's not much of a strategist but he's clever and cunning and also is capable to some degree of planning.  When put in charge he still acts the same as always, only he's careful not to involve his allies unless they really want to. He will inform them regularly of what he's going to do and warn them to stay away from the blast radius. If push does come to shove, he will throw himself in frontline and try to soak up as much damage as he can, that is if he cares enough about you, which isn't likely since he treats himself in very high regards and puts himself above all others.
Under someone else's command, he is able to cooperate and coordinate well with others. As long as they understand the concept of staying away from his range when he comes swooping in for an attack or attacking someone. When asked to, he will come in between his allies and their enemies, just as long as he actually cares about you. Under both circumstances though, there are a few things in common between them. Asteris prefers staying in the skies are raining death upon those he sees fit. He doesn't care if you're in his range, he's already warned you, he'll blast you. Him getting serious will often include the words 'Casualties' or something along the lines of 'Ahhhh!" And finally, he doesn't give up easily when it comes to fighting someone, no matter who it is he's fighting or for how long the fight keeps going, he will keep trying until he himself knows he cannot take any more.
Now take note, he doesn't actually realize that people are scared of his dragonic self but once he does find out he'll be very cross and upset and it will lead to one hell of a tantrum. He wants to be respected, not feared.
Likes:


Long drawn out speeches, because they sound epic and let's him show off how great he is.



Magical Tomes, they taste nice and some of them are a good read.



Special Hallucinogenic Herbs, they taste really nice and whoaaaah where'd that goat come from?



The crunch of bones being stepped on, They sound very…therapeutic

Dislikes:


Small openings, he can't fit in them



People who overreact, they make too much noise



Riots, too much of a mess.

Motivations:


Knowledge: His drive for knowledge fuels him to become stronger.



Money: He likes money, lets him get nice stuff.



Acceptance: He just wants to fit in in the world.

Fears:


Betrayal, he fears that people might turn against him.



Obsolete: He's afraid of being useless.



Gambling: It's...it's a very long story.

General AppearanceHeight:
10 feet
Weight:
2 Ton
Hair:
None
Eyes:
Blue
Skin Tone:
Blue and glowy.
Appearance:
(What is your characters general appearance. Physical and clothing is needed)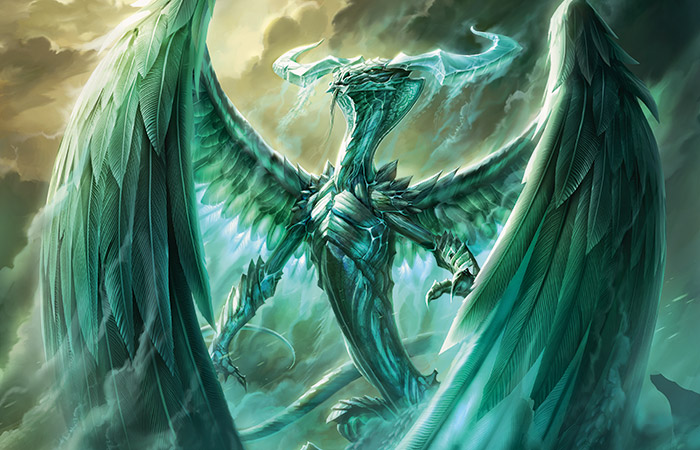 Guild/CouncilGuild:
Guildless
Tattoo:
There's an etching of some sort of dragonic rune on the 'palm' of his claw.
Rank:
D
Last edited by Asteris Kaiser on 21st August 2017, 6:50 am; edited 5 times in total (Reason for editing : New submission)