Job Description:

Job: Play Pretend!
Rank: Rank D
Player Requirements: 2 members only, D-Rank or higher, min of 150 word per post, min of 5 posts per player.
Requirements: Only male wizards can take this quest.
Location: Clover Town
Description: Serenity and Hope are local girls from Clover Town who's parents are coming to see them this weekend. The problem is they have been lying to them saying that they both had boyfriends who were mages as they were too ashamed to tell them that they were still single. Instead of telling the truth they've decided to hire wizards to pretend like they are their boyfriends.
Prize: 750 jewels each.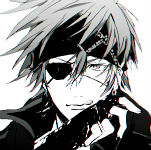 'Til The
Ink Dries
Lies and the lengths in which humans go in order to make their lie seem true was amusing but simultaneously annoying. Amusing because humans never ceased to amaze Ace when it came to the lies they create for the most trivial things like having a boyfriend. They were also annoying because that was precisely why Ace was in Clover Town.
"Hope doesn't have a boyfriend, Hope lies about said boyfriend, and now Hope hires a pretend boyfriend."
He ran a hand through his hair, single green eye closing in contemplation. Well, Hope had certainly hired a male that was excellent at
pretending
. Though Hope had no idea just what sort of mage she had hired. Luckily, Hope had a friend who was in the same predicament, and hopefully that friend hired a mage in which Ace could work well with. If not this trivial job would prove to be a waste of Ace's time, as most things often were. Releasing a quiet sigh, Ace's expression shifted into a more sociable one as he arrived at the meeting point, the two clients house.
N/A