Magic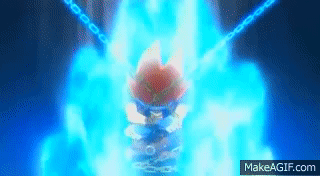 Primary Magic:
Cosmic Body Magic (Uchūtai Mahō)
Secondary Magic:
N/A
Caster or Holder:
Caster
Description:
Cosmic Body Magic is, literally, his own little, self-made name of his magic; Heavenly Body Magic. The reason to its name lays in its special use of astronomical objects, such as stars, light, meteors and everything else that appears from outer space. It's used on the manipulation of these concepts, and it can also be formed and casted from his own body, instead of bringing the objects from the upper skies. With this magic, the user can utilize these objects; light, meteors and etc. for various purposes, such as flying around like a shooting star and spawning meteors from outer space. The user can also perform powerful light blasts, similar to the cosmic light of a nebula.
Also things, such as planetary powers, can be used to the heart's content. The user can, for example, use the power that keeps all the planets/moons in orbits; gravity against the enemy, causing great disablement to them. Everything among the seemingly empty space is at his disposal.
Strengths:
1. This magic, although being able to spawn/summon several objects from space, is very effective in utilizing light.
2. It's effective against Earth and Dark Magic, easily shattering through it if of equal or lower rank than the spell.
3. It's very bright and wide, easily reaching great areas as range.
Weaknesses:
1. The magic focuses on speed a lot, but is also very bright and clear to see.
2. It's weak against Gravity Magic, as the astronomical objects fall beneath its feet (metaphorically).
3. The spells causing light and other, "basic" elements can be eaten by Slayers, such as light slayers and etc.
4. This magic doesn't focus a lot on defense.
Lineage:

Magician's Spirit:
Description: The first human gifted with the ability of magic became a powerful Sage of wisdom, and was the messenger of the Gods. Able to lift up mountains, part the oceans, conjure meteors, summon massive tornadoes, Open black holes out of thin air, call upon the stars themselves to come to his aid. However, he was not immortal, and though he did magnificent deeds and told the word of the Gods; he knew he would not live forever and that they would choose another. Unable to let go of his duties, he chained his spirit to the physical world so it can inherit a new host, and transfer his powers to them. Doing this however, relinquished all of his omnipotent power. Those who inherit his spirit, will gain him as a mentor of guidance; but will need to unlock the power of the magic themselves.
Ability: 25% increase to base MP as well as 25% to spell damage, ability to identify the enemies magic (Whether it's good / evil,  elements, and general nature).  Ability to summon mage to fight, able to communicate with an ancient spirit with vast information.
Usage: The user will passively gain an increase of MP and Spell power, as well as have the old Sage appear when needed for guidance. They can however, summon the mage to perform a powerful spell in times of great crises once per thread. Doing this however, will drain the user of their available magic, and relinquish the Sage's wisdom and guidance for the rest of the thread as well as suffering the effects of having 0% MP. The user must have at least 20% MP to summon the Sage to attack.
Spell: Flare of Solaria- Crash of the Majestic Sun; The Sage will appear next to the user and conjures a Meteor to fall from the sky upon a 30 meter radius + 15 per rank beyond D with an explosion of fifteen meter radius beyond that (+5 per rank beyond D),  for 200% user-ranked spell damage.  Range is 30 meters + 15 per rank above D away from the user.
Unique Abilities:
Cosmic Mana – The cosmic atmosphere is aiding him with support, sending down its own power to fill his magic power up. Imai's MP is increased by 25, which gives him a MP of 125 in total. Although, it has a drawback; his HP is lowered by 20% permanently.

Heavenly Kumite - Imai's body increases its melee damage by engulfing itself in a bluish flame of 'determination'. His melee damage (which includes weapon's boost as well) is increased by a certain amount of HP damage by the cost of 5 MP per post:
D-Rank: 5 HP
C-Rank: 10 HP
B-Rank: 20 HP

Falling Star – Imai engulfs himself in light and moves at a speed of 80 m/s for 3 posts (C-Rank). It increases by 20 meters extra per second per rank and has a cooldown of 1 post longer than the usage. When used, his speed is also decreased by 25% the first half of the posts of the cooldown.

Guidance of the Stars - By choosing one of the several constellations in the heavens, Imai can boost his stats by a certain amount. It depends on the season of this constellation, as well as the rank of the user:

Ranks and Seasons:

Seasons:


Winter = Endurance Boost
Spring = Melee Boost
Summer = Speed Boost
Autumn = Spell Power Boost



Rules Per Rank:


D-Rank = 25% Boost
C-Rank = 50% Boost
B-Rank = 75% Boost
A-Rank+ = 90% Boost
_______________________________________________________________________________
Signature Spells:


Name: Boosting Star
Rank: D
Type: Supportive, Light
Duration: 3 posts
Cooldown: 4(+each additional person being affected, other than the first) posts
Description: The user claps on the chosen person, thus leaving a special seal on the touched area which will begin engulfing them in a bluish light that boosts their speed by 20%. The user can support up to 5 persons with this spell.
Strengths:
1. He can boost his teammates' stats, helping them in combat.
2. He can quickly move around those chosen to get buffed.
Weaknesses:
1. It has no defensive roles, so no endurance-buffing or shielding with this spell.
2. If hit by a Darkness Spell, the effect will be cancelled directly.
3. If used on multiple people, then the cooldown is increased.
----------------------------------------------------------------------------------------------------------
Name: Nova
Rank: Character-Rank (C)
Type: Offensive
Duration: Instant
Cooldown: It's a Signature Spell... duh xD
Description: The user swings his hand in a vertical direction in front of himself, in which a light will emerge. This light will affect an area around himself with a radius of 60 meters as the light will travel around with a speed of 45 m/s. The light will deal one user-ranked spell damage in an instant. This light is directly connected to his body, thus granting him the ability to spare certain areas in that radius for his allies to be save.
Strengths:
1. It's a very broad spell that can be used to clear an area around himself.
2. It leaves great destruction on the surface around him, and yet is still friendly to his allies.
Weaknesses:
1. Other Earth Magic can block this spell if one rank lower or more.
2. Other Defensive spells can block it if of the same rank as this spell or higher.
3. Standing a good distance away from him can save the target from being affected by the attack.
D-Rank Spells:

Comet:


Name: Comet
Rank: D
Type: Offensive, Light
Duration: 2 posts
Cooldown: 3 posts
Description: The user charges into the target at a speed of 45 m/s, engulfed in a bluish, soft nebula, then dashing onto the target with the light. This nebula-like light is clearest around the person's contour. He can reach a range of 60 meters away from his earlier position with this spell.

Strengths:
1. It's a very bright/intimidating spell, easily showing wildness towards the target.
2. It's very fast and the user can quickly catch up on people.
Weaknesses:
1. It's very easy to spot, due to its brightness and wildness.
2. The user's track can be stopped by a defensive wall or other defensive spells of the same rank or higher.
3. The user can't stand still when using this spell, which gives him no opportunity at braking mid-way.


Dwarf Star:


Name: Dwarf Star
Rank: D
Type: Offensive, Light
Duration: Instant
Cooldown: 2 posts
Description: The user can launch a bluish beam of pure, nebulous light towards any direction out of his body; from his fingertips, elbows, knees, head, butt and etc. The user can cover a giant area with destructive light, or keep it to one, single beam. The blasts move at a speed of 33,75 m/s and covers an area of 45 meters in radius around the user (if decided to do Multitarget, which the user can wish).

Strengths:
1. The user can switch between Multi-target and a single blast, which falls to his advantage in different situations.
2. The beams of light can blur one's vision for a temporary time.
Weaknesses:
1. It's less effective against defensive spells than his other spells.
2. Wearing a kind of head cloth that covers some of your eyes can keep the opponent from getting temporarily blinded.
3. Offensive spells can easily find their way through this spell if of a rank higher than the user.


Rigel:


Name: Rigel
Rank: D
Type: Reflective, Gravity
Duration: Instant
Cooldown: 2 posts
Description: The user spawns a minor, black hole right in front of him, which has a size of 1x1 meter; although, its gravity can reach an area of 27 meters around the very hole. When a spell hits the user, a part of it will be reflected and launched back at the opponent by another white hole that'll appear right beside the black one; of same size and range. That means that if a D-Rank spell hit the black hole, then the white hole would reflect it all back at the opponent; and if a C-Rank spell hit the hole, then only half of its damage would be reflected and the other will hit the user, and then it continues like that. That means that this spell can only reflect the spell damage of its own rank.

Strengths:
1. It can reflect spellpowers back at the opponent.
2. Adds a 25% debuff at the opponent's spell for 4 times after being reflected. That means that if the opponent wishes to use the spell again, then its effect/damage is decreased for those 4 times.
Weaknesses:
1. Spells of higher ranks can break the hole and still cause some damage on the user.
2. It only spawns before the user, so he has to make eye contact to the opponent's spell in order to launch this.
3. The reflected "spell" can only move one direction, so the opponent can easily dodge it if capable of.


Zero:


Name: Zero
Rank: D
Type: Supplementary, Frost
Duration: 3 posts
Cooldown: 4 posts
Description: The user covers himself in a deep, cold, icy fog of nebulous light, which covers an area of 30 meters in radius. The frost travels 22.5 m/s, and around this area, everything begins to freeze down by the user's passing. If passing the opponent, their speed is decreased by 25% for the duration; a stinging cold will surround the target as well.

Strengths:
1. It freezes the opponents a little, giving Imai a safe head on the battle.
2. If near water/already existing cold (at least enough to spot snow), the effect of the spell is doubled.
Weaknesses:
1. It doesn't do damage at all; the stinging cold isn't enough to do any spell damage.
2. Any heat-based spells, such as Fire/Lava spells can remove the stinging feeling, and all of the debuffing spell's effects; although, the spell must be spawned max 5 meters from the opponent.
3. It's not as effective against Fire Mages in regular, only debuffing 20% instead of 25%.

C-Rank Spells:

Call of the Zodiac:


Name: Call of the Zodiac
Rank: C
Type: Summon, Light
Duration: 5 posts
Cooldown: 6 posts
Description: The user lifts up his hand as the stars on the sky answers his call; a summon of one of the constellation manifestations will descend from the heaven and team up with its caller. No matter the choice of constellation, the summon will be max 10x10 meters, move in a speed of 90 m/s and deal C-Rank damage in every hit.

On top of that, the summons' active is their stun ability as they can charge into a target and sacrifice their duration for an affect that, on top of the damage, will cover the target in a bluish, descending light that will cut down the speed of their movements by 50% for 1 post.

Strengths:
1. The user can cooperate with the summon, and thus advantage himself against the opponent in many ways.
2. When impacting with the target, the user can slow down his opponent and ease himself against the enemy.
Weaknesses:
1. The summon will go down if damaged by more than two C-Rank spells of power.
2. When damaged by one C-Rank spell, its attack power is halved, so it does D-Rank damage only.
3. Celestial Spirit Magic is double as strong against these summons, and they deal half damage to any celestial summon as well.

Sirius:


Name: Sirius
Rank: C
Type: Offensive/Reflective, Gravity
Duration: 3 posts
Cooldown: 4 posts
Description: The user lifts up his hands and begins to form a wide, black hole in a radius of 5 meters above his palms. He can control the sphere around himself in a range of 10 meters away from him (speed: 45 m/s), and despite the actual sphere's size, its gravitational effect can be felt if you're at least 60 meters close or less. The sphere will suck in its target by impact and deal C-Rank damage. The absorbed opponent will be sent through a completely black dimension in an instant, before being spit out through a white hole again in mere seconds. The range of the reflected attack/spell will be 60 meters and move at a speed of 45 m/s; it can reflect upcoming attacks of max its own rank and reflect them back at the opponent by spawning another white hole beside itself at the very same spot as the black one, but if absorbing a spell, the black hole will disappear immediately, despite the duration.
Strengths:
1. It can be used for both offensive and defensive purposes, making it versatile.
2. The spell is quick to appear in its full size, so it doesn't take long to spawn it.
3. The user has full control over the movement of the black hole, as long as it doesn't exceed the limits set for it.
Weaknesses:
1. It can't absorb or effect spells that are at least one rank higher than itself.
2. It can only absorb spellpower of a C-Rank spell before breaking.
3. Other Gravity Magic will cancel out this spell if at least one rank below or higher than this one.
4. It can't absorb non-physical spells (such as spiritual arts or gravity).

Nebula:


Name: Nebula
Rank: C
Type: Offensive/Supplementary, Stardust
Duration: 4 posts
Cooldown: 5 posts
Description: The user lashes out his hands as a giant fog erupts from his skin. The fog will cover an area of 60 meters in radius around him and expands with a speed of 45 m/s, having a dark-red and purplish color. Not only dealing C-Rank damage by contact, it also cuts off the successfully hit targets' spell power by 30% for 4 posts after being affected (although, only at night. In daylight, the debuff is halved).

Strengths:
1. This spell has a wide effect on the unlucky targets, both damaging and debuffing their statusses.
2. This spell also effects items/weapons with an amount of power.
Weaknesses:
1. It's ½ effective against Light- and Darkness Mages.
2. If using one healing spell/ability/item on yourself, the effect will vanish immediately.
3. Unfortunately, it'll only cut a person's spell power by 50% at night.

Last edited by Imai-chi on 30th October 2017, 10:55 am; edited 21 times in total