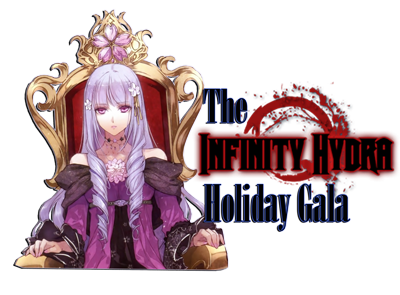 Soft white ice flutters around the mountains that Infinity Hydra resides within, the ice peaked hills provided a comforting view. Snow collects on the earth toned rooftop of the Guild Hall, shining from the brilliant light that erupts from the windows.
A soft musical melody can be heard as you step through the giant guild door's, and a sing song voice greet's the gathered mages.
Tables are covered in white cashmere cloth, and candles light the guild as you're escorted inside past the giant pillars that support the large building.
There are dazzling and sparkling backdrops, and a stupendous ice sculpture that doesn't seem to melt.
All of Infinity Hydra is turned into a Winter Wonderland, with a lit dance floor where couples swirl and sway to the beautiful music.


Hello everyone~ Welcome to Infinity Hydra's second Holiday Bash! The First one being such a hit, we have taken the liberty to invite all of Fiore's legal, guildless and independant mages to enjoy in the glory that is Infinity Hydra. That mean's Sabertooth, Fairy Tail, Blue Pegasus, Laughing Coffin, Black Rose, Lamia Scale, and even the Rune Knights are allowed to attend.

This will be taking place in the Mountain Village, the setting being IH Guild Hall, Starting December 10th and ending January 1st.
Formal attire is required, so grab a date and enjoy a christmas and snow themed Ball!

There are a few posting rules however!
To keep the event going and now blocked up, Everyone may post an intro in the initial Holiday Thread and allow other members to post as well. I am not going to give everyone a limit on the amount of times you may post, but please don't spam the thread with your conversations.
You are urged to create a Event Themed Thread separate from the main for social interaction, after giving an intro in the main thread.
If you stay tuned, there will be some exciting developments after Christmas!

The Main thread will start TOMORROW, and i hope to see you all there!