Job:

Job Title: The Princess of Joya
Rank: D
Player Requirements: Must be a Member of Fairy Tail. May only complete this Job once. May only bring one partner and they must be a Guildmate.
Job Requirements: Must roll 3 Monster dice. Thread must be 20 posts. 200 words per post.
Job Location: Joya (Tailwind Village & Tailwind Jungle)

Job Description: Joya, the home of the Neko race. Usually a peaceful jungle, with non stop parties, and love making; the mood in the entire jungle nation has been very grim as of late. The Princess of Joya and an entire entourage of her personal hand maidens have been kidnapped by the Kingdom of Pergrande; and are going to be sold as slaves, servants--and much, much worse.

The princess, and the handmaidens are very, VERY buxom, and gifted physically; as they are Nekos--very much desired by men not only in Pergrande, but around the globe. Once they leave Joya, there is no telling where in the world they will end up, and what they will end up doing.

The people of Tailwind Village, where the Prince and Princess of Joya live; is a HUGE village, with tents and nekos partying as far as they eye can see. However, at this time; there aren't any parties, any laughing, or any festivities due to the circumstances. There are however, beautiful curvy Neko women and handsome young Neko boys everywhere.

The Prince of Joya has contacted Fairy Tail to help with this issue, since Fiore is further across the world from Pergrande than Joya; and the Prince doesn't want to risk all out war with Pergrande at this point. He and his sister, rule Joya together; as twin brother and sisters. Without her, the balance of power is shifted, and the Prince just honestly misses his sister and is worried sick about what they might be doing to her.

Your Guildmaster has sent you to Joya to help the Prince.

Journey into the Tailwind Jungle with the Prince of the Nekos, find the Pergrande Battalion, and rescue his sister, the Princess of Joya and her Handmaidens!

Enemies:
Weak: Pergrande Knight x20- A knight from Pergrande who isn't anything spectacular. But they wear some decently heavy armor; and seemed to have been practicing for more than half their life with their weapon. Takes one hit of C-Ranked damage to defeat them, or 2 hits of D-Ranked damage each. They use anything from Longswords, Battleaxes, Maces & Flails, and the Bow and Arrow.

Normal: Pergrande Calvary x10 - A large group of Knights on Horseback. They carry shields, and lances and are very difficult to catch up to. One of them may try to put the Princess on Horseback and ride off to escape. They are skilled riders, and will try to surround you with their horses or run you over. Takes one hit of C-Ranked damage to defeat them, or 2 hits of D-Ranked damage each. If you damage the horse, it will probably fall over and drop the Knight onto the ground.

Strong: Pergrande Young Paladin - A young swordsman who was more gifted than the rest at fighting against Magical opponents, and as such he was inducted into the Holy Order of the Paladins of Pergrande. Knights who specialize in witch hunting, monster hunting, and combating the supernatural. He has incredible resistance to Magic; as he was tortured during his own training like all Paladins; he also seems to be very good at blocking and parrying Spells with his sword. He wears magic resistant armor like all Paladins. Takes 3 hits of C-Ranked damage or 6 hits of D-Ranked damage to defeat this young paladin.

Boss: Pergrande Holy Order Paladin - An elder Paladin who has seen it all; and has probably been on more witch hunts than you have Jobs. He is already grey, and has long hair; but he looks like a body builder even with armor on. He carries a longsword, and a shield with Pergrande's emblem emblazoned upon it. He specializes in blocking just about anything with his shield, and using the environment to his advantage. It is said he is on a special mission from the King to kidnap the Princess of Joya and to sell the rest of her Handmaidens into slavery; for reasons unknown, the King of Pergrande wants the Princess as his own personal servant; and this Holy Order Paladin wants only to fulfill the wishes of his grace. Stop him at all costs. Takes 4 hits of C-Ranked damage or 8 hits of D-Ranked damage to defeat him.

Reward: Double XP (Equivalent of 2 D-Ranked jobs completed), the Friendship of the Prince and Princess of Joya, the love of twenty Handmaidens, and 5,000j


Made by Heero-chama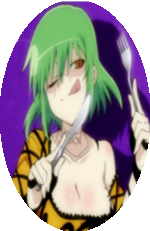 It had been very early in the morning an Zolona had just finished getting dressed. Hope there somethings fun to hunt on the job board today. She hadn't really been able to any fun fights or anything fun to destroy lately. Zolona had head for her front door, she had noticed a paper on the floor right before the door so she leaned out and read it. So yet again Heero is pairing me up with someone random and this one better be more fun then the last one. She had put the note paper into her pocket while she finally had gotten out of the house and she walked to the walked to the guild hall.

Zolona had got to the guild hall in no time and kicks the doors open causing a very loud sound ripples though the air. As she had walked into the guild hall and saw there had been only one other person in there. The guild hall being this empty had most likely been cause it was so early in the morning an most of the others are still asleep or still out on a job. That has to be her. If not I'll just have to wait for the later raiser to wake up. Then she had sighed at her thought of the female over there not being one she was looking for. Zolona had quickly walked over to the other female that was sitting at a table, Are you Christine? She stud still right next to her while waiting for her to say something back.

@Modesty
-
Word Count: 263
-
Posts Made: 1
-
Template Made By @Tyriel
_____________________________________________________________________________________
⨀
Jian Liu the Stalker
|
Unknown
|
Unknown
|
Unknown
⨀
Jobs:

Completed:
D:0
C:0
B:0
A:0
S:0

Working on 0/3:
Open
Open
Open

Exp: 0/150
Theme:

Unknown