Flower Hunt!

Cr1tikal




---

Posts

: 1756


Cosmic Coins

: 8


Dungeon Tokens

: 0


Age

: 31


Experience

: 0

Character Sheet


First Magic

:

FrostFire Dragon Slayer




Second Magic

:

Cosmic Slayer




Third Magic

:
rolling for attacks/blocks!
_____________________________________________________________________________________

NPC




Posts

: 23580


Mentor

: Admin

Character Sheet


First Magic

:


Second Magic

:


Third Magic

:
The member '
Iayui
' has done the following action :
Dice Rolls
#1 'Damage Dice' :
--------------------------------
#2 'Block Dice' :

Ninetails Derpfox



- - - - - - - - - - - - - - - - - - - - - - - -

---

Position

: None


Posts

: 2261


Cosmic Coins

: 0


Dungeon Tokens

: 0

Character Sheet


First Magic

:

Soul




Second Magic

:

Ice




Third Magic

:
Seikatsu looked around the area. He knew it was flat grassland, and the wolf was in front him. Seikatsu took a deep breath, and put himself in a meditative state. He connected his body and mind with the world around him. Seikatsu felt the slight breeze, gently caressing the blades of grass around his feet. He smelled the the scorched land, just outside his shadowy bubble and saw the world through the eyes of a soul. Seikatsu could see his opponent clearly now. The outline of the massive creature was bright, strong, fierce. Seikatsu took his stance, holding the Scythe at and angle while waiting for the wolf to move.
The large wolf charged at Seikatsu, aiming directly to shred the soul wizard's body in half with its mighty jaws. Seikatsu put the pole of his scythe out in front him, assuming that would be sufficient to stop the giant wolf thundering towards him. The wolf's teeth were caught by the pole of Seikatsu's Scythe, but he was able to lift Seikatsu and send him flying back.
Seikatsu unfurled a set of wings and went for the large wolf, keeping to the side of it. The wolf attempted to snap at Seikatsu but missed, and in return Seikatsu ran the smaller blade of his Scythe across the wolf's torso leaving a huge gash. Seikatsu tucked his wings away and rolled forward to ease his landing. As he slowed, Seikatsu spun around and got hit in the chest by the wolf's enormous paw. Seikatsu slammed on the ground and saw the wolf's mouth wide open, and closing in. He quickly pulled his Scythe in front the mouth, and caught it.
The wolf jumped backwards realizing his attack had failed, and darted for Seikatsu again. He headbutted the wizard, sending him in the air, and followed by smacking Seikatsu with his paw again. Seikatsu stood up and took a few breaths while he let his head stop spinning.
Seikatsu removed his robe top, exposing his well built chest and the glowing scar running from his right eye down behind his jaw, to his neck, and across to his left arm ending at his hand. Seikatsu grabbed the pole of his Scythe, his knuckles crackling loudly. Flashbacks of the training Seikatsu endured with Altsoba, the training he did with his daughter, and the training he completed as a child flushed his mind with unparalleled resolve.
Seikatsu was now ready to truly begin the fight. And prepared to do battle within the massive black dome.
HP: 40%
MP: 55% (+10% 5th post regen)
Active Effects:
Seikatsu Deals +75% more damage (spirit of Night + Demonic Influence)
Enemies:
Weak: 3/3
Normal: 16/16
Strong: 0/1
Boss: 0/1

NPC




Posts

: 23580


Mentor

: Admin

Character Sheet


First Magic

:


Second Magic

:


Third Magic

:
The member '
Seikatsu
' has done the following action :
Dice Rolls
#1 'Damage Dice' :
--------------------------------
#2 'Block Dice' :

Cr1tikal




---

Posts

: 1756


Cosmic Coins

: 8


Dungeon Tokens

: 0


Age

: 31


Experience

: 0

Character Sheet


First Magic

:

FrostFire Dragon Slayer




Second Magic

:

Cosmic Slayer




Third Magic

:
With a howl as it leaped at her, the wolf managed to succeed in pinning her to the ground. 'Shit!' That was the only thought in her head as she scrambled to try and get out from underneath the wolf. She brought her uninjured arm up to try and hit the creature in the face, but was instead met with teeth biting into her wrist. With a startled and pained scream from the female, the wolf let go to try and bite at her throat. With both of her arms now injured, she kicked out as hard as she could to get the wolf off of her. She managed to flip it over, getting scratched along the top of her head in the process.

Watching blood dripping down from the wound on her head, dripping past her left eye, she got up all the way and looked over at the monster that had wounded her enough for one day! It was still righting itself and getting up, apparently feeling the injuries like she was. "Okay, I'm tired of getting bit and scratched today! At least when it's to injure! With that said she charged at the beast, planning on finishing the wolf off with a decent strike to it's throat. The wolf, seeing it's chance to take out the girl once and for all, charged as well. With a great leap, the wolf tried to pin her again.

There was the sound of bodies hitting each other and a startled yelp that sounded like it came from two different voices. This was due to how the situation played out. The wolf had managed to take the Lamia Scale mage to the ground, but it had managed a chest full of her sharpened fingernails in the process. Blood ran out profusely, one of the nails having struck it's heart, as the wolf quickly bled out and died on top of her. With a groan of pain, the winning combatant rolled the dead being off of her as she shakily stood up and turned towards where Seikatsu had last been seen.

Looking back at the body of the lone wolf one more time, Aiyana slowly ran towards the black bubble to find out what it was. If possible, the young woman would also try to help the other mage to take on the giant wolf he had tasked to himself.
---------------------------------------------------------------------------------------------------
HP: 57%
MP: 60%
_____________________________________________________________________________________

Ninetails Derpfox



- - - - - - - - - - - - - - - - - - - - - - - -

---

Position

: None


Posts

: 2261


Cosmic Coins

: 0


Dungeon Tokens

: 0

Character Sheet


First Magic

:

Soul




Second Magic

:

Ice




Third Magic

:
Seikatsu heard a loud yelping sound from outside his little world of darkness and figured Aiyana had won. Seikatsu charged at the large wolf with his scythe ready to swing. As he approached the wolf rolled to a side and grabbed Seikatsu by the leg. It threw Seikatsu close to the wall of the black bubble, and then charge at him slamming Seikatsu with his massive head. The scythe had snapped in two, causing the bubble to explode releasing black particles to rain down on the area.
Standing next to Aiyana, Seikatsu slowly got up.
'I won't lose.' He said to him self.
Seikatsu put on a big crooked smile, and said calmly.
"Kom och hjälp mig...
jag...
behöver...
dig...
igen..."
The pieces of the shattered scythe rose from the ground and shattered, splintering into more shards of silver and black piece before making their way towards Seikatsu. A cold wind picked up and encircled the soul wizard followed by the black tendrils and wisps from the ground infusing itself with Seikatsu. The shards attached them selves to Seikatsu's body covering his spine, head, neck, arms, and hands. On his head was a helmet that had two rectangular slits at the eyes, and wrapped around his face. Where his mouth was the shadowy power of Seikatsu's Demonic Influence showed as teeth. His back was lined with metallic spines that ran all the way down, turning into a long sharp tipped tail that was fully functional. His arms were covered in a weave of metal, and his hands had claws that rivaled the sharpness of his allies. Seikatsu took a breath, and then opened his eyes. The suit began to glow with a dark black, light blue, and crimson smoke to it. Seikatsu charged at the wolf with his claws wide open ready to ribbonize the beast. The wolf moved to a side, and Seikatsu outstretched his tail and made a huge gash on the side of it.
Seikatsu landed on the ground using the claws to stop his momentum and came back at the beast. The wolf made a swipe at Seikatsu, but he ducked under it and grabbed the paw. Seikatsu uppercutted the wolf, leaving a scar running under the side of its jaw, up and over the wolf's eye.
Seikatsu was then knocked again in Aiyana's direction. He slid to a stop in a crouched position and stood tall.
"Stand With Me." Seikatsu said ominously.
A blue mist swirled around Seikatsu, and took on the form of a faceless man holding a long sword.
Seikatsu put his hands at his sides, as if reaching for the grip of two sword that were definitely not there. His wings materialized on his back, and spread out ready to launch the wizard forward.
The wolf lines itself up with Seikatsu, both looking ready for a final shot at each other, a true test of skill.
The wolf and Seikatsu flew towards each other at light speed. As the two passed by, it seemed as though nothing happened, and then a four cuts appeared on the side of the wolf that Seikatsu passed. Seikatsu hands held two light blue swords with dark blue highlights slowly moving throughout them, both covered in blood. His tail was slowly moving through the air, with a bit of flesh stuck to the tip of it. And the blue mist around Seikatsu, with the warrior inside it had disappeared, and dropped a splat of blood on the floor. The wolf topped over, and Seikatsu stood up, with a huge cut on the side of his arm that had taken the force of the beasts fangs and walked over.
Theme Song for making a Difficult Choice:
Seikatsu pulled a sword out from the sheath on the other side of his waist, while all over with a red gem faintly glowing near the hilt. He looked Aiyana in the eyes and said coldly to her, both heroes bleeding and beaten.
"Here lies an opponent who has fought valiantly." Seikatsu said complimenting the great beast.
"He niether hates you, nor wishes you harm.
An opponent you haven't fought.
An opponent who was left to die by another.
What will you do?
Walk away, and let him suffer until he is slowly granted death? Or..."
Seikatsu held out the sword.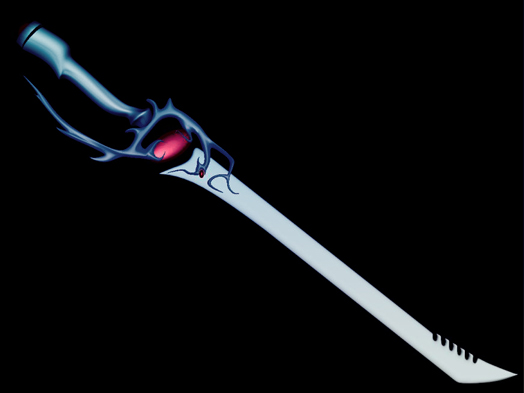 HP: 20%
MP: 50% (D Rank Spell)
All Enemies Defeated:
Spell Used:

Double Strike
Rank: D
Type: Soul
Duration: 1 post
Cooldown: 5 posts

Description:
Seikatsu seems to have a fan. Seikatsu may call upon a single soul to assist him in his next attack. Seikatsu's next blade attack, will be followed by the strike from a soul. This deals D rank damage to whoever Seikatsu cut, and can not be blocked, but can be avoided.

Avoided: The soul strikes in the exact same spot Seikatsu cut. So if the target is moving, or get's knocked back, or jumps to a side they can avoid the hit entirely. The only time a moving object will EVER be hit, is if that object is moving so slow that it cannot get out of the way. Example: Seikatsu cuts someone in the chest, and they move a couple inches to the side. That opponent will be hit in the exact same spot, at the exact same angle, just a couple inches to the side of Seikatsu's cut.

Why can't it be blocked by physical? Because ghosts phase through objects, the reason this deals damage is because the ghost is slicing into an opponent's soul. However, a ghost is not immune to the elements... Fire, Water, Wind, Lightning, Light, and Darkness are all very effective at taking care of this.

Casting:
Seikatsu takes a breath, and says "Stand with me" when he's ready to attack. At this moment, and blue mist will appear around Seikatsu, and follows him until his next strike, where the spirit will cut the exact same spot Seikatsu did.

Strengths:
1 It can-not be blocked by Metal, Earth, Ice, Armour (unless it has "Soul resistance")
2 It can be used with Seikatsu's Soul Sword, or any physical sword he's using at the time
3 If the attack lands, the opponents will take D rank damage added to the previous attack

Weaknesses:
1 The accuracy of the attack is almost 0% if a target is moving
2 The spell can be stopped by Fire, Water, Wind, Lightning, Light, and Darkness
3 Requires Seikatsu to use a bladed weapon, and will not occur if Seikatsu is using a bow, whip, or anything else that isn't a sword
4 Only triggers 1 time, and then has a 5 post cooldown


Cr1tikal




---

Posts

: 1756


Cosmic Coins

: 8


Dungeon Tokens

: 0


Age

: 31


Experience

: 0

Character Sheet


First Magic

:

FrostFire Dragon Slayer




Second Magic

:

Cosmic Slayer




Third Magic

:
As she grew close to the bubble it exploded! She wasn't sure what had happened in the blackness of that area but Seikatsu, whom had landed next to her, looked like he could use a good time recuperating after they got back to town. The tall man mumbled something to himself, not quite loud enough for her to hear what it was, but he then calmly said something in a language the woman would probably never have the pleasure of learning. Unsure as to if she should help in this fight, given how focused the two were on each other, she stood there until Sei was knocked towards her again. Jumping to the side so as to not be knocked over as well, she landed on her injured wrist.

A sharp hiss left her lips as she stood back up and walked next to him before he went back into the fray. A head on collision happened, resulting in the wolf talking too many hits to manage as it fell to the ground. It appeared the other mage had been injured as well, though nothing grave. He walked over the the injured girl, standing in awe of what had happened, before he began a speech that made her freeze.

He wanted her, HER, to decide what would happen to the massive wolf. A creature, already defeated in battle, that had no qualm with her in the slightest. Terror filled her mind at the thought of killing one she knew nothing about. It held nothing against her, and had only fought Seikatsu in what would be considered honorable combat; one on one. Even so, she couldn't stand the thought of something, or someone, having to die a slow death such as the one the tall mage suggested if she didn't do it herself. Tears starting to form around her eyes she reached out for the sword, her hand shaking from the emotion and exhaustion, and gripped it in the hand that could close around it tightly; the injured wrist of the other making it hard to use that hand for such a task.

She wasn't sure why the sword felt heavy in her hands as she looked at it. Lack of training with weapons? Or maybe the amount of beating she had taken throughout today? Knowing the Lamia Scale member couldn't answer such questions, Aiyana slowly walked towards the massive wolf as it stared at the two of them. She walked up to it's head, the creature making no noise at it breathed loudly as it lay there dying. "I'm so sorry, but I just can't let you suffer any longer." The tears that had been slowly forming finally started leaving trails down her face as she hefted the sword into the air, poised above where the heart of the wolf would be, before slamming it down.

With what sounded like a relieved sigh, the wolf expired. It took almost all of the young woman's strength to pull the weapon back out, falling to her knees as a sob left her mouth before she grew silent. This kill felt different. It wasn't one in combat, but a mercy killing.
_____________________________________________________________________________________

Ninetails Derpfox



- - - - - - - - - - - - - - - - - - - - - - - -

---

Position

: None


Posts

: 2261


Cosmic Coins

: 0


Dungeon Tokens

: 0

Character Sheet


First Magic

:

Soul




Second Magic

:

Ice




Third Magic

:
Seikatsu looked down at the sobbing girl, and gently picked the sword from the ground. He flicked the sword, swinging the blood from it before resheathing it. He kneeled down and began rubbing her back, the cloak he let her use prevented his claws from filleting her.
"If it makes you feel better, I'm just at good at mercy killings as you are..." he said softly.
Seikatsu gently removed the cloak from Aiyana, and rubbed the metal shards off his arms, allowing them to fall on the cloak. He wrapped it, and tied the cloak, using it as a carrying bag.
"The first time I had to do one, was when I was ten."
Seikatsu sat next to Aiyana, and maintained a voice that implied Seikatsu had feelings.
"My people, the Tribe of Souls, all arrange marriages. As children we form bonds with each other, and promise our hearts to whomever we feel the strongest ties with."
Seikatsu's eyes grew slightly duller.
"But not I. When I was a child, I had no power. No other child would play with me.
My fiance, Istas, had too much power, and the others were afraid of her because she couldn't control it. Our bond forged when she was attacked by wolves.
I tried to save her.
I don't know why, I didn't even know her.
Heh, I was a lousy hero. A wolf slashed me on the chest and knocked me out.
Istas, for the first time, was able to control her power and ended up saving me...
We trained together for three years after that, and on my tenth birthday I woke up in front her.
Her house was on fire... a fire set by my hands while I was asleep.
My demon told her that if I didn't kill her, that she would kill Istas.
Istas gave me permission to kill her, she said it was merciful to die by her man's hand.
I had to do it... it was my duty."
Seikatsu stood up with a tear running down his face.
"When morning broke, I awoke in the middle of the village to find I was the new chief.
I was the only one alive...
Or so I thought."
Seikatsu walked over to the area with pillars connected by arcs, and found the flower he was looking for. He pulled a few dozen of them, and walked back to Aiyana.
"After being on my own for ten years, a mercy killing truly is merciful compared to what I've had to do before.
Recently, I single handedly poisoned, assassinated, drowned, butchered, and tricked 59 people in one day... all in order to capture their captain who was a slaver.
It was someone who was being cruel to others, yes.
But keep in mind at all times...
Life is Sacred, and no life is worthless.
While all life holds value, mortals such as ourselves are powerless to judge its value."


Seikatsu signaled for Lisa to take them back to Magnolia town where the two of them gave the flower shop owner the flowers.
"If you ever need to find me, have your little shadow friend leave a note here."
Seikatsu handed Aiyana a small piece of paper with a picture of a tree with an arrow on it.and walked away, with the bad of sword shards on his back.

Cr1tikal




---

Posts

: 1756


Cosmic Coins

: 8


Dungeon Tokens

: 0


Age

: 31


Experience

: 0

Character Sheet


First Magic

:

FrostFire Dragon Slayer




Second Magic

:

Cosmic Slayer




Third Magic

:
The girl silently watched Seikatsu as he cleaned and re-sheathed the sword she had used to kill the beast before kneeling down to comfort her. Luckily the cloak she had been loaned kept her back from being shredded with the claws the other mage had currently. While the words that left the man's lips shouldn't have been very comforting, but with the way she felt they felt as good as a cold drink on a hot day. Still unable to say anything through the raw emotions she was feeling, the man sat down and told Aiyana what she assumed was the story of his childhood.
It definitely helped with her perspectives. As Sei stood up, the girl not noticing the tear drop due to looking down as he did so, Aiyana thought about what he had said. Not every death had to be about someone being good or bad. Sometimes a life had to be taken, or it could be worst. Sometimes it was one's duty to do something they didn't want to, but it had to be done. Lost in thought, the young woman jumped a bit as the man came back and started talking again. He talked about mercy killing as something less cruel than simply killing or leaving people to die when they were already beyond help.
The last thing he said, before she slowly got up so they could ride on Lisa, was what helped the most that day. Hearing him talk about the sanctity of life and how none was ever useless allowed her mind to clear enough to realize he was right about all of it. Staying silent all the way up until the task was completed, the woman didn't speak again until he handed her a paper and told the girl how to reach him in the future.
"Thanks, and not just for letting me tag along. If you had just left me there after that I'm not sure what I would have done." With that said the two split ways, until they meet again. One had gained insight on this adventure, while the other showed how much experience they had had in life. Aiyana hoped to one day be able to help others as Seikatsu had helped her.
_____________________________________________________________________________________