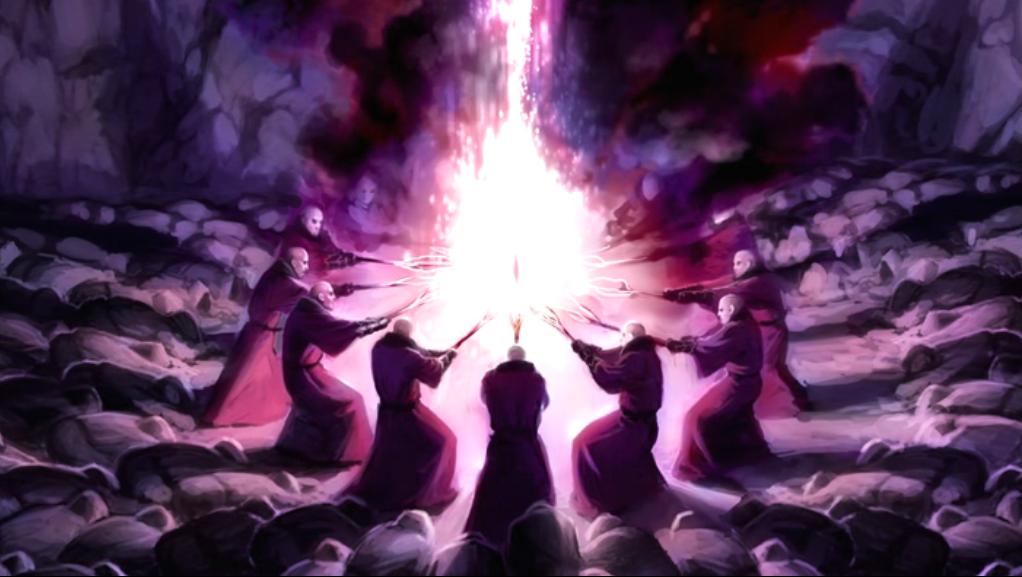 ---
|Primary Magic| Dark Sorcery |Caster Magic|
---
A form of lost magic developed and practiced by a unknown figure within a unseen realm. The magic focused on using corrupting and dark energies in order to manipulate the natural world, and the forces of reality through the uses of incantations and gestures. By those against whom it was used, Witchcraft was also called Dark Sorcery, was described as the full destructive power of the malefic force or Dark magics. Its power was gained from negative emotions, and grew stronger and more corrupting with each expression. This form of magic is complex and strong users of this ability was said to channel the dark energies to warp minds, alter the environment, and destroy whatever obstacles stood in their way. The unseen figure granted the knowledge of the foul act through a book known as the Codex. This book eventually fell into the hands of the Valkhorion family, which was then passed down to Victor. The power of this magic drove Victor's family insane, and soon the unseen figure claimed the souls of his parents. However, Victor was able to outwit the figure and claim mastery over this dark arts. The corrupting powers contain within this magic did not leave him untouched, and he has become slightly more unnerving than most people.
Altering Darkness
It is common knowledge that this magic involves the manipulation of darkness and shadows. By itself, darkness can be used to cloud everything into total darkness, but by accessing a dimension of dark energy it can be channeled to devastating effects. It can be shaped and manifested in various ways, and often used to overwhelm a enemy with dark energy. 
Altering Mentality
The main power of sorcery comes in the form for the user to exert mental dominance over a opponent. Sorcerers or Witches, who commonly practice this path of sorcery can conjure realistic illusions that could physical harm a opponent, radiate a horrific aura that will strike fear in nearby allies, enhances their abilities of persuasion, and some could dominate the mind of others. 
Altering Reality 
The second main power of sorcery comes in the form in the manipulation of reality and nature. Users of this branch of magic doesn't generally have a concern for the natural order of things, and often alter the natural order of things for their pleasure. Sorcerers or witches, who practice this path of sorcery can conjure spirits form the unseen realm, conjure powerful storms or hurricanes, taint the area with corrupt magic, and then finally use a form of living magic. 
Strengths|Weaknesses:


Strengths|
S| False Elements: User can shape darkness into a mimicry of a certain element, making it somewhat dangerous for a Dragon Slayer to eat. He can also use his magics to manipulate nature by corrupting it, making 'corrupt elements'

S| Versatile: This magic offers different types of spells that could easily be used for almost any combat situation. It offers: AoE spells, DoT Spells, Single targeting spells, Defensive spells, Debuff & Buff spells. 

Weaknesses|
W|Friendly Fire- Some of theses spells take place within a certain area. So if a ally is within that certain area, they can then be affected by the spell. Lastly, some of the spells are illusion based and open to everyone, meaning that some illusions can confuse allies. 

W|Unholy Magicks- This form of magic involves the uses of channeling the malefic forces and it is classified as unholy magic. Because of its status as unholy magic or dark magic, it is weak against light magic or holy magic of higher rank. 

W|Spell Casting- Most if not all of the spells requires some sort of gesture of incantation to be committed in order to activate the spell. Thus if the user was incapable of speaking or moving his hands, then they will be unable to caste certain spells.  

W|Slayer Weakness: The sorcery in which is used can manipulate the forces of nature, and to some degree create 'corrupted' elements. Theses elements although corrupted can still be consumed by those that could eat the elements. 

---
Unique Abilities 
---
Birds Eye View:

Avis Oculus Visum- There exist a strong bond between his pet raven, Ainur and himself. This bond was created through a ritual in which a witch or sorcerer transforms their pet into a familiar, allowing the two to communicate through a telepathic link. This ability allows him to take over the mind of his raven, allowing him to control the bird as if it was his own body. However, doing so would leave his actual body vulnerable to attack so this would be something he wouldn't want to do in the middle of combat. 
Aura Constructs:

Creare arma essentia: Literally translating into essences create weapons, which essence is another word used to describe aura. A basic unique ability that must be mastered in order to be considered a real sorcerer, it involves manipulating ones aura to create items or weapons. Theses constructs are usually a purple in nature, and they are equivalent to weak grade equipment: only last for one thread or until disassembled. 
Disk of Flight:

Creare orbis de fuga: Literally translating into create a disk of flight, a common spell in which he uses often. This unique ability is infact a lessor spell that Vincent has mastered since he was a little squirt, and it is one of the most basic spells a little witch can learn. It creates a purple magic circle large enough so that only the user can stand on it. Which when he does stand on it allows him to flight a ranked sprinting speeds. 
Last edited by Mitatron the Malacath on 23rd December 2017, 5:44 pm; edited 2 times in total