Name:
Matray Yaho'ganay Zeros
Alias:
Advent
Nickname(s):
Vee
Gender:
Male
Age:
16
Birthday:
Undisclosed
Sexuality:
Undisclosed
Special Characteristics:
Matray has several sets of purple unique requiem runes over his body.
- One smallish one on his left foot
- One smallish one on his right foot
- A medium vertical one on the left hand side of his chest (glows through his clothing)
- A long one going up his left arm
- A single set of golden runes that starts in one eye and continues in the other eye these (change to be a golden crimson when angry or 'Death's Displacement' is in effect though when angry his eye's also turn completely black other than the coloured runes which glow crimson but unlikely to see these as he keeps his eyes covered.)
- Can hear voices of people within they cycles (life, death, rebirth, spirit), nine of which stalk/haunt
- Uses the voices of people within the cycles when doing his magic.
Personality:
When speaking about Matray it's best to start thinking Cheshire cat given the goofy grin he usually wears and is always up to something and it's not often wither or not what kind of outcome will come from said 'something'. Very easy going in almost every aspect of his life. Under no circumstance will he start a fight as he sees no real point in beating the brains out of someone so will try and avoid them as best he can even when there seems to be no other option available. This being said when pushed to his absolute limit, he can and will still fight as well as the next person can, though because of how his brain works even his fighting style is more than a little unorganised unless focused which makes him a harder to predict (unless he's pissed off, then it's you wanna take him down before he can get near you).
He is very flighty by nature by that I mean that he will be dead set on one thing such as a chore or job then stop, even mid fight (on occasion) if something like a feather or butterfly fly by and completely forget what he was doing with the sudden urge to see where the thing that peeked his curiosity is going until something else grabs his attention or he gets bored. (Normally the latter would be the thing occurring.) You might be blessed and he'll remember what it was he was doing and go about doing it though I wouldn't get your hopes up on it being anytime soon after he forgets. The reason for this is that his mind is rather chaotic given how he has set up the protections against his magic, this means how he takes in and assesses information is far different from what many would class as normal. Due to this it seems to most that he has no cares what so ever, but this is far from the truth if anything he has more to deal with but keeps it to himself not wanting to taint others.
One thing he loves to do is play and experience new things it keeps him happy and prevents his other side showing its head to often, though if they don't keep him interested he is prone to make them so, so be warned. Yet as his fathers son he is also prone to protect the things he deems worth his time and effort, which he does so very well. If he calls you friend then he would try to forfil your every wish regardless of what it costs him or anyone standing in his way; on the other side of things if he calls you enemy you might end up on another planet or plain of existence... if not dead or trapped inside his magical theatre. Like I said think like a Cheshire cat. If its fun, then he'll do it.
Where Advent is care-free and fun loving two things he does protect with a vengence is his past and his magic type, so not much is known by him including his biological name; so when he goes to introduce himself it's by the nickname 'Advent'. The little that is on record is that he was raised in the ruins of an old city inside a forest somewhere but he refuses to name the forest or whereabouts it's located. It's hard for anyone to understand why he does what he does and if he even plans anything, but whatever the reason he has gained the respect of others. Though outside battle 'Advent' acts whimsically scatter brained, inside battle his mind somehow seems to calm itself enough that he can concentrate on the task(s) at hand (for the most part) and he prays for the poor souls that have got him to the point that he has had to concentrate. Even though he is blind that doesn't slow him down any, if anything he sees it as an advantage in his favour. Due to his carefree nature and outlook he gets on with everyone and everything however that same whimsyness makes him unable really to take on a leader position or follow the lead of others unless there is a matter of urgency.
Corruption:


Advent is in a unique position with his magic, some may actually call him double damned given just how bad requiem magic is on a persons mind, but Advent's magic comes from the veils of life, death, rebirth and soon celestial meaning that his magic is tainted beyond that of a natural Requiem's. Every spell he casts will give him one point of corruption regardless of wither or not it says as such in the spells description however others may give more depending on what kind of spell it is. These spells will have him roll for the corrupting marks. Every ten corrupting marks he gains he becomes just a little more twisted on his view of the world and those within them.
Using his unique ability 'Inner Peace' Advent is able to purify himself completely of any corrupting marks on his body.

There are ten stages of corruption that Advent can obtain and if he gets to the last stage there is no coming back from him and must be retired.

Stage 1
Advent seems much like himself though a little more serious than what is normal for him. Faint markings almost resembling bruises can be seen on his sleeved arm.

Stage 2
Advent seems less like himself and more in control of his thought process and acts like a regular person. The markings become darker and almost seem angry.

Stage 3
Advent at this point Advent starts to question whom he can trust, like the stage before he seems more in control of his thought process. Pale markings can now be seen around his neck, no change is seen within the earlier markings.

Stage 4
Advent at this stage seems almost a little paranoid, his magic has a 10% chance to effect his allies and 10% less chance to effect his enemies if they can make a good enough argument that is. The markings become a little darker around his neck, the bruises on his arm looking more like purple soars.

Stage 5
Advent is at the half way point he now hears dark whispers making him question things he knows for certain to be true or untrue. The soars on his arm now begin to open, the wounds themselves remain purple but they ooze a dark inky viscus liquid like substance that corrodes anything it touches. The marks on his neck now becoming soars and new markings start to appear faintly on his chest and back. At this stage his magic is 25% more likely to effect his allies and 25% less likely to effect enemies if they can make a good argument.

Stage 6
Advent starts to seem more like his old self in regards to being sporadic, however, the dark whispers have become louder and he begins to trust them. His personality becomes darker the ooze on his arm moves down his body, the soars on his neck now open repeating much the same pattern that the of the wounds on his arm, the wounds on his back and chest becoming brighter and angrier while new wounds appear lightly on his legs. His magic at this stage is 35% more likely to effect allies and 35% less likely to effect enemies if they can make him listen.

Stage 7
Advent no longer seems sporadic, the whispers have gotten to him his personality becomes dark and morbid taking pleasure in other people's pain half the time. Now and then he seems to become aggressive over the slightest thing he ordinary wouldn't do so. The wounds on his back and front now break the skin following suit with the wounds that came before it.The wounds on his legs become darker showing that the next stage is that they will become soars and potentially open. At this stage Advent's magic is 50/50 on wither it will attack allies and enemies alike.

Stage 8
Advent becomes stoic at this point, he is calculating and cunning nothing like his old self, taking pleasure in the darkest of things most of the time unlikely to listen to anyone whom stands against what he wants. His legs are now covered in soars but unlike before the viscus liquid goes around his own system. He wears a conceded smirk at the best of times. At this point his magic is 75% more likely to effect his allies and only 25% likely to effect what should be the enemies seeings as they likely think the same way he does.

Stage 9
Advent remains stoic in personality but is more likely to be aggressive to those he once called allies the soars on his leg now open doing as the soars before it had. At this stage dark soars are instantly seen on Advent's face, it shows he is almost at the point of no return.
His magic will effect his allies 90% of the time, he is more likely to commit murder, inhumane experiments and other atrocities just because he can. At this point it's unlikely anything will get through to him. (feel free to try though there's a slim chance he could still be saved)

Stage 10
Advent is past the point of no return, his mind breaks to the point he is nothing more than a mad man and you either have to take him down or he will take you down. The only way to save him would to be to get him to the graveyard of requiem's and leave him there to live out the rest of his natural life. The soars on his face would have opened and he will attack enemy and ally without thought.
Likes:
-Animals, they're less drama than people.
-Nature, it's quiet and helps him somewhat manage to stabilise his scattered thoughts.
-Games, he's pretty much a big kid who wants to play all the time.
-People, they're fun to play tricks on especially if they annoy him.
-Books, he enjoys learning.
-New experiences, without them life would just be boring.
-Zeno, they're linked so to hate him would be to hate himself
Dislikes:
-People, in general he sees them as drama and problems that give him headaches.
-Bullies, he might not get on with people in general but he still won't stand for people picking on those weaker than themselves.
-Shoes/being levitated, when not connected to the ground he tends to panic as he can't feel vibrations.
-People snooping into his past
-Loud noises, he was raised in a place it was quiet
Motivations:
-Learning, what's life but an endless lesson
-Exploring, brings new experiences
-Finding his past, because of the way he processes information at times he can't recall things that have happened in the past.
Fears:
-Loss, he doesn't know what exactly he fears losing at current he just knows that he fears losing it. (Welcome to Advent's mind)
-Unable to protect, though it's rare for him to get truly close to people when he does he fears not being able to protect them.
-Corruption, he knows power corrupts but fears that magic can do the same especially if in the wrong hands.
General Appearance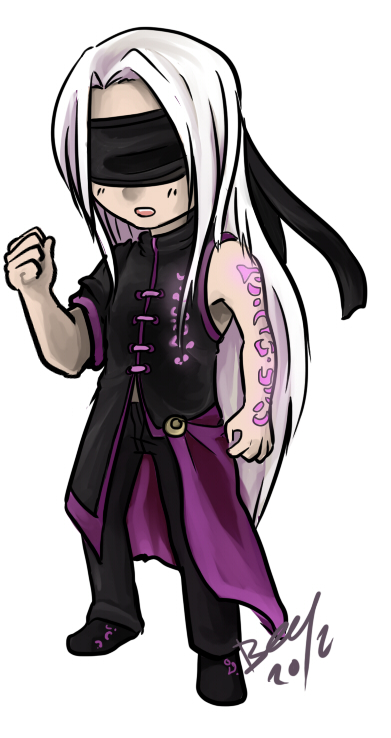 (I commissioned this art on another site by a user who was using the username MonMon)
Height:
5'7"
Weight:
53kg
Hair:
White
Eyes:
(eyes are covered by fabric normally that he doesn't like taken off) Moon blue with golden runes
Skin Tone:
pale
Appearance:
(points to the image above)
Guild/CouncilGuild:
Sabertooth
Tattoo:
Left cheek (white, periwinkle border)
Rank:
A
Last edited by Tamashi on 23rd September 2018, 3:54 pm; edited 10 times in total