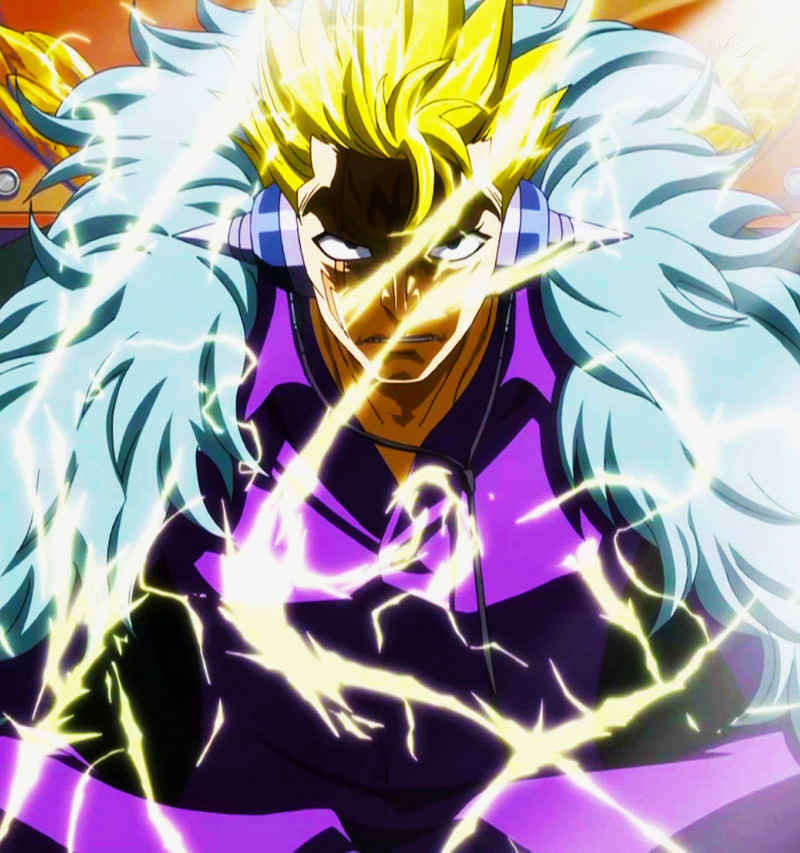 Magic
Primary Magic:
Lightning (Kaminari)
Secondary Magic:
N/A
Description:
Lightning is a powerful element, and it has always been. Ever since ancient times, the sparks in the heavens have been an object that people wished to master. Now that the concept of magic spread across the lands, people have made it possible; the ability to utilize, manifest and control electricity to their deepest content. There are many sides of one element, and that goes for lightning too. Shen discovered this magic as it was naturally for him to be near thunder, which had been a part of his childhood as he watched out of the window in rain storms. Lightning was the closest element to him, in which it was what manifested in his early days of training his magic powers.
Lightning is an essence to power, an essence to speed. Its potential is unlimited, and it's supposedly unique, unmatched by any other natural element in the nature (generally weak against some in terms of effectiveness) when it comes to heat, power and magnitude. By turning magic power into the nature of lightning, then one can hope to conquer these essences and master the powers that were long wished by those who came before you. Light is brought out by the sudden picture of a bolt, it passes you faster than the blink of an eye, and the pain is immense and the very sound only follows up afterwards. There are many strenghts in this nature, and it seems to suit Shen the most.
Strengths:


The element is very, very fast in particular, and this speed can be easily utilized in many useful ways as a magic.


The magic is very effective against Water/Metal Magic as it clearly engulfs the other elements, thus dominating over these kinds of magic if used against him.


The magic is also very effective to Darkness magic and users.

Weaknesses:


It's not very effective against Earth/Nature Magics as they clearly subdues lightning if hit by it. Thus, the power is cut by half when used against this magic.


It's fast and very wild, though it can also be very loud. It's definitely not a magic for stealth attacks.


It's also very wide and easily affecting people nearby you; in this case, if the user is contacting with water during a spell, then it bursts out and is a danger for all around him.


Due to its special trait that Shen bears, when eaten by any Lightning Slayers, it'll give 50% extra of the spell's cost of mana to the one who ate it on top of the original energy that's consumed.

Lineage - Chaos Eye:

Chaos Eye:
Description: A demon made a deal with a man that had lost vision in his left eye. The man was to become the demon's vessel in return the eye would be restored to its full capabilities. As the demon's usage of the vessel was no longer needed, the man settled down and had children. His children however unlike the man had one red eye that could predict a chaotic event.
Ability: The user can see a glimpse of the future for a brief minute, but causes great strain on the user's body. Upon activation, the user of this lineages gains the foresight needed to predict enemy attacks and thus gains an increased chance to avoid them.  It takes the appearance of ghostly echoes in their vision.  Can be thwarted by the very skilled who react to your own reactions,  or by others with similar ability.
Passively they can get visions of the future for plot reasons.   They are occasionally plagued by nightmares of their own death.
Usage: Passive for plot purposes / Active for battle purposes. Active lasts for 1 post with a 10 post cooldown and even though the user knows the next move this does not mean they can dodge everything that post and the attacker can simply outmaneuver them if able.
Unique Abilities:


Elec-Flexes; Having the forces of lightning to utilize, a bolt will circulate around Shen's skin as he proceeds to act in an instant. His body's speed is increased by either 50% (which is the passive amount, as in he is always 50% faster) or 75% when this happens, making him capable of avoiding dangers faster than average people on his level. However, if choosing to raise it up to 75% (above the suggested 50% increase), it makes him more fragile to offensive spells and attacks; he'll take 10 points more Health damage per hit.




Chaos Bolt; Due to a slight influence from his weird eye, a certain phenomenon can change his way of battle; his lightning becomes a deep shade of red, his speed boost and all spell's speed are increased by a certain amount. This is a more remotely utilized ability that works in different levels that he's set for himself, and each increases a certain stat - but with its drawbacks. If wanting to 'go beyond', then he has to have stayed in one of the forms for at least 1 post in order to go further and unlock level 2 or 3 or more (although, this doesn't count if he skips straight to the last level). The user can skip to a random level, but if wanting to go higher after using that level, then he has to wait for a post, and he can only go one level up at a time. Also, he can't go backwards; he can't just skip from level 3 to 2. In that case, he has to cancel the entire ability and wait for the strain (mentioned below) to go away:
Level 1: He and all spells' speed are increased to 25% of the original speed. When entering this level, he'll gain 10% more fragility to other spells (other spells deal 10% more damage on him), which will fade away after 3 posts.
Level 2: He and all spells' speed are increased to 1/3 (or 33%) of the original speed. When entering this level, he'll gain 25% more fragility to other spells. That'll go away after 5 posts.
Level 3: He and all spells' speed are increased to 50% of the original speed. When using this level, he'll gain 50% more fragility to other spells. When going to the third level, his red eye affects his very magic as it lights up completely; thus, he also gains the ability to effortlessly predict moves that are either physical attacks or more than 25 meters away from him when launched, thus dodging those spells of max double as fast as him or lower (this can only be used against 5 spells). The drawback is that when using this ability, the body's defense is reduced, so that he'll gain 50% more damage from his opponents (as mentioned earlier) and a 20% decrease in spell damage, unless if he decides to cancel the ability at a certain time (in that case, the fragility and drawback will only last for 9 posts). Otherwise, if not cancelled, that drawback will stay until the thread ends, due to overstraining his body has consequences.




Elec-Body; His body is getting more and more dangerous to contact as he fights. After using 20% MP, his body will gain high, static currents that'll deal 25 HP damage to anyone who touches it. When near anything metallic, it only has to be max 10 meters away from the user, until it effects it.




Magnetic Pulse: With this ability, every magnetically potential object (for example iron weapons and etc.) can be pulled, moved and launched by Shen without having contact to it (taht only applies to items with no owner). A magnetic field will surround the lightning mage in a radius of 90 meters around him (as it functions as a multi-targeting ability), collecting all magnetic objects that he can get a hang on. Then, he can use them to his heart's desire.
In combat, if the opponents (whose rank shall be either the same as Shen's or lower) wield an iron weapon, then he can affect the directions of mentioned's blade so that it's more difficult to land a good hit. He can also pull the weapon off of the opponent's hands and 20 meter away from them, but that's only possible if Shen is 50 meters near or less. Also, when done it once, he has to wait for 4 posts until being able to pull opponents' weapons off their grab again.

Signature Spells:

Name: Shock Flash
Rank: D
Type: Lightning, Counter (not offensive)
Duration: Instant
Cooldown: Once Per Post
Description: Shen unleashes a small voltage around his body, while just about to receive a hit from any opponent. When hit, the voltage will cause his muscles to react almost instantly with a D-Rank spell damage amount in a swift counter-knockback at the assaulter, powered up by electric impulses. If hit by a long-distanced D-rank spell or attack, then Shen will have to charge with a speed of 45 m/s in a distance of 60 meters to counter.

Strengths:
1. It's very efficient against martial artists (or mages that use melee attacks…) that mostly relies on close combat, thus giving Shen many opportunities for a counter.
2. It can keep him at a high pace in close combat.

Weaknesses:
1. It only works against offensive spells of the same rank, physical attacks or direct hits from weapons.
2. Shen still receives damage from the other opponent's attack. This spell just lets him respond instantly.
3. If the opponent stays far away, then any long-distance attacks will deal damage to him, but not countered against (no damage will hit the opponent if mentioned stays too far away).
_____________________________________________________________________________

Name: Fighting Bolt
Rank: User's Rank
Type: Lightning, Offensive
Duration: 1 post
Cooldown: Once Per Post
Description: Shen's body illuminates the area as a yellow aura combined with electric bolts surrounds him for a brief moment, covering his arms, feet, legs, torso, head… yes, all the way around his fingertips, a cloak that'll function as a spell itself by boosting his combat prowess. This spell will do his rank in spell damage by every hit that he lands on any opponent. After having done one act, then the cloak will disappear as soon as it appeared. It's efficient in close combat and can accompany another attacks if close enough.

Strengths:
1. Shen's melee damage is powered up by using this spell.
2. Even though that Shen's body doesn't speed up, he can swiftly stack up damage by landing this spell on top of another attack that is recently used.

Weaknesses:
1. While in this form, Shen actually takes more damage. A drawback of 25% more damage that he'll receive through any physical/spell attack that contacts him if hit at the very same moment that he activates it.
2. It only lasts for enough time to do a single action or attack. He can't kick and then send another fist at the same time/post.
3. It can't accompany/follow up on an attack that does more than 1.5x spell rank damage along with itself.
D-Rank Spells:

Kaboom Thunder:

Name: Kaboom Thunder (Dodonrai)
Rank: D
Type: Offensive, Lightning
Duration: Instant
Cooldown: 2 posts
Description: Shen lifts up a finger and points it towards the opponent. The next thing that happens is that a bolt, a literal, minor lightning bolt is launched from that finger and towards the target with quick precision. It can reach a distance of max 60 meters away from the user in a speed of 45 m/s.

Strengths:
1. It's very fast to be launched.
2. It's a good way to deal damage to anyone near him.

Weaknesses:
1. Distance is a great way to avoid this spell; by having your distance from Shen, you can avoid letting this spell be used.
2. If the opponent wears any non-conductive items that are being hit directly by the spell, it cuts 25% of the spell's offensive power away at contact.
3. It requires quite the precision. Therefore, if Shen is moving during this spell's activation, then the speed is cut by 1/3, making it go 30 m/s instead.

Snap-Vanishing Voltage:

Name: Snap-Vanishing Voltage (Shoushitsu Den'atsu)
Rank: D
Type: Defensive/Offensive (Counter-Evasive), Lightning
Duration: Instant
Cooldown: 2 posts
Description: Shen's body leaks out a surge of electricity by merely being contacted by a D-Rank spell or a C-Rank spell. What happens is that the bolts block the amount of damage that takes to activate it, then moves Shen with a speed of 45 m/s towards one target. If the target is closer than 60 meters (or precisely 60 meters away), then Shen will show up with a counter punch that'll deal D-Rank spell damage.

Strengths:
1. It's a very efficient spell to counter people's attacks with and can easily be used, even beyond Shen's consciousness in the beginning of it as it merely needs contact to be activated directly.

Weaknesses:
1. If the target is more than 15 meters away, then the spell will pretty much leave him open for another spell to be launched.
2. It can only be activated if hit by a spell that deals the amount of two D-Rank spells' damage.

Current Charge:

Name: Current Charge (Genkou Denka)
Rank: D
Type: Buff, Lightning
Duration: 3 posts
Cooldown: 4 posts
Description: Shen sends magical currents through either his body or through a weapon, thus covering it with a pretty cloak of lightning. The spell increases melee damage (user-ranked melee + weapon damage = melee damage) by 20% during the sustained period.

Strengths:
1. It's a very useful spell if wielding a weapon.

Weaknesses:
1. If the weapon is destroyed, then the amount of mana that was used to this spell will once again be taken away from the user during a fight.
2. If a Lightning Slayer eats the spell's lightning, then they'll gain a boost in melee damage by the same percent.

Lightning Chain:

Name: Lightning Chain (Raikusari)
Rank: D
Type: Buff, Lightning
Duration: 3 posts
Cooldown: 4 posts
Description: Shen touches a solid object nearby him; the surface, a box or something physically contact-able. When doing that, he manifests a magic circle on that object, which cuts down any opponent's speed by 12.5% and gives it to the user and his allies, thus giving them a boost in speed by 25%. It can affect (as in take away speed and give speed to) max 5 opponents and 5 allies, including the user.

Strengths:
1. It's a quick way to support his allies during battle.
2. Speed can be critical during a battle, so this spell will easily supply with that if needed.

Weaknesses:
1. If no solid object is nearby (at least as non-solid as water), then the spell can't be unleashed.
2. If contacting magics that are super-effective against this magic (and at least the same rank in power), then the opponent can cut the duration by 1 post and increase the cooldown by 1 post.
3. The user has to touch the solid medium with his hand; not with his leg, or knee, or even elbow.
C-Rank Spells:

Volt Grenade:

Name: Volt Grenade
Rank: C
Type: Offensive, Lightning
Duration: 2 posts
Cooldown: 3 posts
Description: With one hand, the user focuses electric voltage across his fingertips, so that they meet at the center of his handhold. The bolts begin to form a small sphere of unstable forces of electrons (which are purple at the beginning), before expanding in size to that of his entire handhold. Thus, after turning color to the classic yellow, he throws it like a lit grenade (speed: 45 m/s) towards the target, in which the sphere increases rapidly to the size of max 5x5x5 meters. When reaching its max range (30 meters) or if contacting any solid object, it explodes and transforms into a bursting, vertical pillar of destructive lightning (60 meters in radius) that'll keep raging for the duration. If hit by the spell, the target will be dealt full C-Rank spell damage per hit.

Strengths:
1. It's fast to be launched away, so it has a good chance at hitting any opponents in very few meters From him.
2. Thus being active for 2 posts, the spell can break through a defensive spell of the same amount of power (it does 40 damage times two, so it can break through a B-ranked defense spell and less. A-ranked would be too powerful)

Weaknesses:
1. Any metal spell can actually cut off its duration. By being redirected/absorbed by such conductor, the burst won't happen. It'll still hit something, but it won't keep bursting out from the point of impact.
2. Although that it can break through defensive spells of its own rank or one rank higher or lower, if hit by a C-Rank defensive spell, it'll just begin to burst directly without trying to reach the opponent (having ranged, defensive spells will work a lot against the Volt Grenade).
3. If hitting a water surface, the burst will just turn into a wide-spread, 0.5 meter tall and 60 meter wide carpet in radius, made of bolts that'll be in danger both for the opponent AND his teammates. Thus, the efficiency of this spell will be cancelled (no breaking through defensive spells of its own rank).

Arm Crasher:

Name: Arm Crasher
Rank: C
Type: Offensive/Defensive, Lightning
Duration: 2 posts
Cooldown: 3 posts
Description: Shen's entire arm begins to burst out electric bolts that cover the body part like spikes. By charging with a speed of 90 m/s (range: 100 meters), he swings his clenched fist + arm downwards, slamming the opponent to the ground. It does 75% of a C-Rank spell's amount of damage, but he can use it to slam away a spell of max 1 B-Rank or lower.

Strengths:
1. It's activated almost instantly, so it's very effective in melee combat.

Weaknesses:
1. It's not very ranged (less than the max range for such a spell), so hitting distanced people is out of the question.
2. If hitting any opponent directly, he only slams them down, not upwards. He can't give any uppercuts or any other directed punches than this one down-slam.

Electric Drive:

Name: Electric Drive
Rank: C
Type: Offensive, Lightning
Duration: 2 posts
Cooldown: 4 posts
Description: Shen's body dissolves into a cloud of electric impulses that charges towards the target with a speed of 90 m/s (max range: 120 meters). When the almost invisible waves of yellow aura contacts/reaches the opponent, the electric bolts will scatter out and launch massive knocks, before letting Shen recollect his form right behind the enemy.
By redirecting the bolts, he can even go through offensive spells of the same rank with a size of max 45 meters overall in order to reach the target. Although, his limit goes to only being able to phase through 3 C-Rank spells or 1 B-Rank spell damage (that includes weapons' skills as well in terms of damage limit).

Strengths:
1. Shen's body mass is completely dissolved, making him untouchable by physical attacks.
2. It's a nice way to close in on an opponent, and it sure looks flashy.

Weaknesses:
1. Metal spells of the same rank or higher can directly redirect his charge, thus interrupting his drive.
2. He can't break any defensive spells of the same rank or higher. Therefore, if the enemy has covered himself up with a defensive spell, then Shen will be left wide open for 1 post.
3. Other Lightning Magic can recollect his body structure, thus making him vulnerable for any attack.
[/b]
Last edited by Shen on 30th September 2017, 11:21 am; edited 11 times in total